Georgetown Coalition for Public Spaces Petitions to Improve Streateries
By
September 18, 2023
8
1189
•
---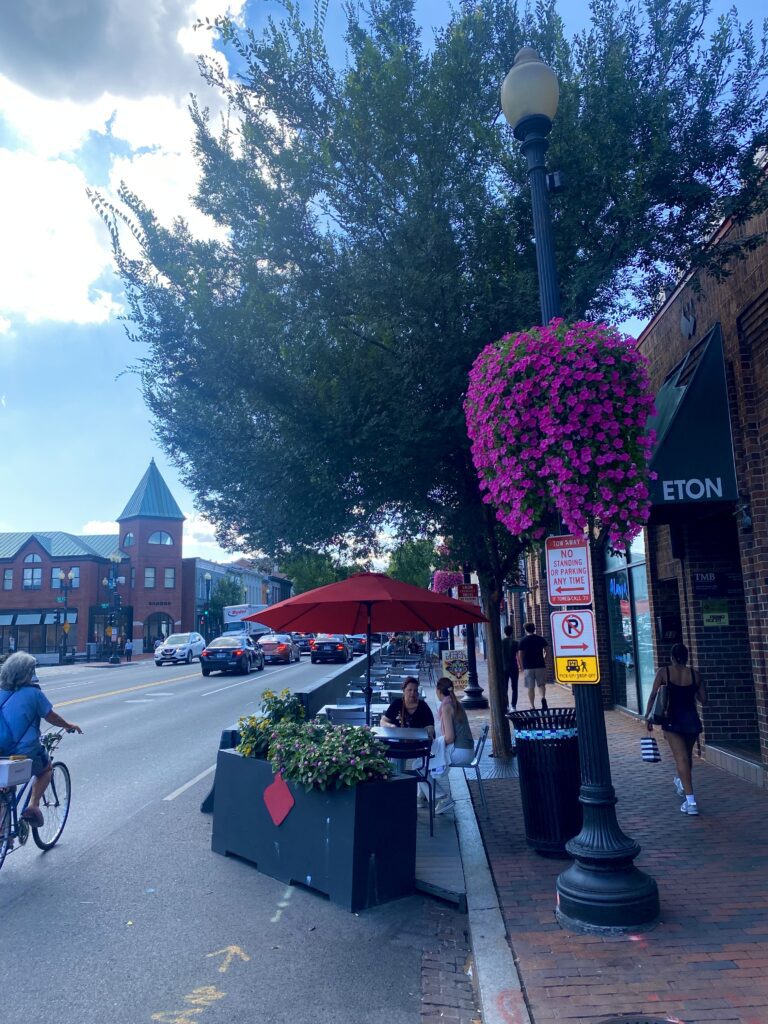 Where do you stand on Georgetown streateries? 
A petition calling for "common-sense re-adjustments" to Georgetown's streateries programs, launched by the Georgetown Coalition for Public Spaces (GCPS) and signed by former Georgetown Advisory Neighborhood Commissioners Tom Birch, Ron Lewis, Elizabeth Miller, Monica Roche and Bill Starrels, has garnered hundreds of signatures according to former Georgetown ANC 2E Chair Elizabeth Miller.
In a Sept. 20 post to the Georgetown Forum listserv, GCPS member Miller asked attendees: "Do you like outdoor dining in Georgetown? Would you also like to see some common-sense adjustments?" She informed The Georgetowner the next day: "Within 24 hours, we have 500 signers to the petition!" 
"During the pandemic, the Georgetown Business Improvement District (BID) worked with the DC Department of Transportation (DDOT), and the Georgetown-Burleith Advisory Neighborhood Commission (ANC2E) to create spaces in Georgetown for outdoor dining and social distancing," GCPS writes on its website. "The BID expanded their Pilot to include other uses of the public space such as non-dining lounging areas, bike/scooter racks and bus waiting stops." 
But, now several years after the pandemic, many problems have surfaced with the streateries and sidewalk programs, GCPS argues. "While there has been some increase in visitors due to the outdoor dining and certain streateries look lovely," they contend, "many are not well-maintained and the [Georgetown] BID pilot has come with serious ramifications to our public space." 
According to GCPS, such problems include:
Increased congestion, traffic, and parking issues.

Operational issues include rodents, some wider sidewalks/streateries sitting unused, and frequent untidy trash management.
Poorly defined and enforced streatery design considerations resulting in aesthetic concerns including jersey barriers, cheap plastic furniture, dead plantings, decaying plastic decking, chipped furniture – all resulting in the erosion of the beauty and charm of historic Georgetown.
The resulting issues are compounded by the fact the city is delayed in issuing their permanent streatery guidelines for public comment. It is unclear if these city-wide guidelines will address whether streateries are allowed on main arterial roads like M Street and if the city has the capacity to address and enforce these issues raised by communities and residents throughout the city.
For instance, NYC's capability for enforcement and historic neighborhood standards were carefully considered.  We urge DC to follow NYC's example and carefully consider how standards will be enforced, and that a draft enforcement plan, with status updates, be in place for public review.
So, what position does the GCPS petition take? "As residents of Georgetown, District of Columbia (DC) and community members of the wider DC metropolitan area, we, the Georgetown Coalition for Public Spaces (GCPS), are committed to having beautiful, sustainable and evolving uses for our public spaces," the petition begins. 
While "many lessons – positive and negative – have been learned" from the Georgetown BID Wider Sidewalk and Streatery Pilot, "now heading into its fourth year," the petition argues, it is time to "proactively address issues" arising from the program while a "longer term and holistic plan for these public spaces emerges."
"We urge action in order to maintain the charm and livability of historic Georgetown, and to keep our focus on a future vision," the petition says. Any new permitting for streateries and expanded sidewalks must therefore include: 
There should be no plastic deck style sidewalks except directly in front of open restaurants. All other jersey barriers should be removed.

Like

New York City

, the streateries should be seasonal if they sit empty for large parts of the year.

Negative environmental impact, extra cost for city services (e.g. snow removal), and loss of parking fees/income should be taken into account.

Appropriate budgets should be in place for installation, removal, maintenance, and storage of streatery materials during off-peak seasons.

Georgetown streateries must follow strict aesthetic conditions that are enforced by the Pilot sponsor or appropriate city agencies, and reviewed by the Old Georgetown Board (OGB).

As the permit holder, the BID is responsible to proactively work with the community to address documented issues.

If the BID cannot do so, the permit should be revoked and restaurants can directly apply to the city for a streatery permit by

visiting DDOT Public Space Permits.

Any extension of the BID's permit must align with community-wide priorities and timelines. Therefore, the BID's streatery pilot must be re-evaluated at the end of 2024, which will be nine months after the

Georgetown Access and Circulation Study

recommendations are issued. This Study, which has implementation funding, is working on a holistic vision for these public spaces. How public spaces are used on M Street and Wisconsin Avenue will have direct impact on what will occur on Georgetown's side streets, especially with regard to transportation needs such as micro-mobility flow, pedestrian needs and parking. These inter-dependencies and trade-off's must be weighed by the community.

Note: click here to participate in the public survey for the Georgetown Access and Circulation Study.
The petition concludes, "Together, let us work toward creating beautiful public spaces that benefit residents, businesses, students and visitors alike while preserving the unique character that makes Georgetown so special. Join us by signing the petition today." 
In addition to former ANC members, signatories to the petition include prominent Georgetown business owners (and neighborhood residents) Daphna Peled of Pillar & Post, AnnMaria Naldine of Amina Rubinacci, Zoe Feldman of Zoe Feldman Design, Carine Krawiec of Carine's Bridal, Sara Swabb of Storie Collective. Other influential residents include Steve Kleinrock of KSA Architects, Mr. and Mrs. Thomas E. Crocker, Deborah Winsor, Christian Zapatka Architect, PLLC, and Robert Hughes, general manager of Violet Salon. GCPS requests signatures to the petition by Sunday, Oct. 1.
The GCPS website urges supporters of the petition to lobby the Old Georgetown Board prior to its Oct. 5 meeting, the office of DC Historic Preservation, Joe Sternlieb of the Georgetown BID, ANC 2E, Ward 2 Council member Brooke Pinto, the Chair of the the DC Public Space Committee, Elliot Garrett, and the DC Public Space Committee.
Some of GCPS's petition points are up for debate, of course. On their website, they post a gallery of photos purporting to give "evidence of poorly maintained jersey barriers, trash management issues, poor quality of plastic decking and furniture," but a few of the pictures simply show everyday people sitting or lounging, restaurant tables not bussed, scooters left on sidewalks or planters with wilted offerings in the cold weather.
The environmental impacts and safety aspects asserted by GCPS might require further study as well. Removing jersey barriers might result in less pedestrian and diner safety and opening up more parking on main thoroughfares might attract more vehicle congestion. Installing and removing them in different seasons might also be more energy-consuming. 
Fortunately, GCPS has acknowledged that many streateries are "lovely" and have attracted visitors, and the coalition has shown willingness to consider the upcoming recommendations of the Georgetown Access and Circulation Study going forward. By citing New York City's more successful approach, the coalition makes a reasonable case that more can be done to improve the streateries and sidewalk experience in Georgetown. 
If you have opinions or comments on Georgetown's streateries and expanded sidewalks, please send them to Editorial@Georgetowner.com.