Museum of Failure at Georgetown Park: A Success
By
September 21, 2023
0
1528
•
---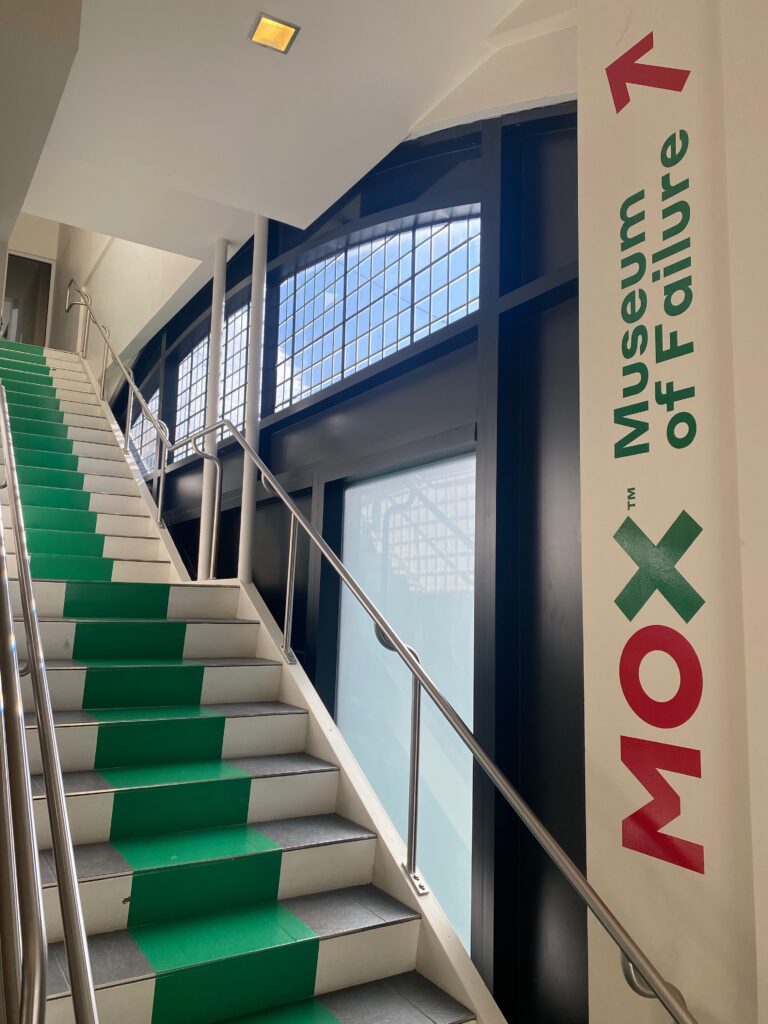 Looking for a successful museum visit in Georgetown? Don't fail to visit the pop-up Museum of Failure – a "collection of failed products and services from around the world" – at 3270 M St. NW in Georgetown Park, now through December 2023. 
It's not merely a romp through history's greatest commercial and technological failures, but dedicated to teaching how innovation succeeds through playful experimentation, meaningful risk-taking, and the study of lessons failures can teach. 
Curated by Icelandic-American behavioral and organizational psychologist Dr. Samuel West – originally for a Swedish museum installation in 2017 – the Museum of Failure was designed not only to stimulate productive discussions about the importance of learning from failure, but to increase organizational acceptance of failure as a fruitful adaptive process.
Enthusiastic about the show, West said, "We have food stuff, high-tech stuff, old items, new items. They're obscure items from around the world. You walk around in the museum and you see the Big Boys: Google, Apple, Microsoft, etc. You see they failed when they tried something new, when they pushed their boundaries. And they're all at the museum to teach us we need to accept failure and there would be no progress without failure."
"It's a cool, fun exhibit. With some of these, it's like 'What were they thinking?!' " enthuses Martin Biallas, CEO of SEE Global Entertainment, a global touring exhibitor, managing this nomadic pop-up that's hopped from one major city to the next with much acclaim – Taipei, Paris, Shanghai, Hollywood, Calgary and Los Angeles and most recently Brooklyn, New York, and now Georgetown in Washington, D.C.
The Georgetowner spoke with Yohanna Guttman Herskowitz of Global Art Exhibitions in New York, one of the organizers of the Georgetown exhibit. "Georgetown is such a great place and we really love the people," she said. "We actually feel it's a really good fit… and we have the right audience in Georgetown." 
Herskowitz and her exhibition partner Josephine Bodogh of JB Contemporary, normally work from New York with contemporary and old-master works, respectively, but they said, "We have to do this show," when West's theme of learning from failure made an impression.
"It's really not something we typically do," Herskowitz said, "but, I feel the moment is so right for a show like this. We want people to take meaningful risks. We have a big world with social problems that are never going to be solved if we don't… If we only try solutions we 'know are going to work,' we're never going to solve anything. And, I feel young people need to build some resilience and understand that failure is part of that journey, and not necessarily just to give up."
Following a visit to the museum, I asked Herskowitz about the playful intentions behind some of the teasing presentations surrounding major failures.
"We are making fun because we're trying to take the stigma out of failure," she said. Not only do the exhibits poke fun at the museum itself at times, but there's an intentional message for young people. Failure is "not as bad as people think," she said. "We're living in a world where social media really amplifies everything, so young people may be more risk-averse because a failure follows them forever or might seem bigger than it is. So, yes, we're making light of failures, so people can be a little more comfortable with a failure" in their lives.
Herskowitz takes inspiration from the Thomas Edison museum in New Jersey which dedicates an entire exhibit to the great inventor's flops and failures. And his inspirational quote about all the experiments he conducted to invent the lightbulb is prominently displayed: "I have not failed 10,000 times," the Wizard of Menlo Park said of his unsuccessful experiments before landing on the right solution to making the lightbulb,"I've successfully found 10,000 ways that will not work." 
But how does West actually define "failure"?
An original Segway (2001) is on display, and the exhibit text crystallizes, with a dose of snark, why it's featured. "This is a first-generation Segway, and it was a marvel of technology. Since Segways are still being sold, you may wonder what the Segway is doing here at the Museum of Failure," it says. "A failure is defined as a deviation from expected and desired results.The Segway was supposed to revolutionize how we mobilize! 'Segway will be to the car, what the car was to horse and cart. City infrastructures will be planned around the Segway.' It was predicted that the two-wheeled people transporter would be a game changer and the company would reach $1 billion in sales. The electric chariot/scooter was pricey, impractical and, let's face it: uncool. It never came close to living up to expectations. Today, the Segway is mostly used by security guards in shopping malls. Sadly, a later owner of the company died doing what he loved, plunging off a cliff while test-driving a new off-road version of his beloved invention. The most important reason the Segway is in the exhibit is because it illustrates the definition of failure."
In the vast open spaces of a former gym at Georgetown Park, the museum presents, with a very pop-up European feel, a wide assortment of provocative installations, including Bad Taste (about food and beverage disasters), Failure of Progress, provocative and funny exhibits on Elon Musk, Donald Trump (remember Trump Ice, Trump Vodka, Trump Resorts, Trump Steaks, Trump Shuttle, Trump University and Trump the Game?), Mark Zuckerberg's Metaverse, Digital Disasters, Failure to Innovate, Failure in Motion (of course, the Titanic is included, but have you heard about the good ship Vasa that sunk on its maiden voyage in 1628?), and the amusing, What Were They Thinking? 
Browsing the exhibits, Gary Arlen, a journalist and tech writer from Bethesda offered a positive appraisal. "It's snarky, which I like. It's smarmy. As a longtime follower of things that seemed like a good idea at the time, I think they've got some good stuff here… How they gathered some of this all together is pretty impressive, including the porn collection over there." When asked if it was "failed porn," he offered that it depends. "What's the measure?," he said wryly.
Some of Herskowitz's favorite exhibits are the sillier failures, such as the Hula Chair, once featured for its ridiculousness on the Ellen show. Designed to "work the abs" while at the office, the wildly rotating chair seat, with differential speed settings, churns the user awkwardly, spinning in the most ludicrous way. "I mean, it's ridiculous in and of itself, but it's even more ridiculous when you think it was designed for the workplace and people with a desk job – that's really crazy," Herskowitz said with a laugh.
Paige and Rick Glidden from College Park, Maryland, also enjoyed the exhibits and especially the Hula Chair. While Paige was surprised about Starbucks's olive oil and coffee brew, Rick has his heart set on purchasing a Hula Chair. "I would legitimately buy one if there were one available," he said. "He definitely wants to," confirmed Paige.
Herskowitz also couldn't help but chuckle at the UroClub or Tinkle Club, "the golf club that's also a urinal… which is hysterical," though perhaps useful?
One creepy failure on display, and now noteworthy given the success of Barbie in theaters, the 1970s introduction of Barbie's "little sister, Skipper." "The way it was marketed was, you get two dolls in one. You have a prepubescent Skipper and a grownup Skipper. And when you crank her arm, she grows an inch and develops breasts. So, very creepy…. I imagine there weren't too many women sitting around that table when they came up with that idea," Herskowitz said.
Then, there are Jarts, or lawn darts – with a heavy, sharp spear point at the tip – the infamous yard toy that injured up to 6,000 kids and killed several before being banned in the 1980s. "I mean, everyone who had a lawn had that game, and yeah, people got hurt but I don't think we gave it much thought," Herskowitz said. "And now when you look at them, they do look rather weaponized and you say 'Maybe it wasn't such a great idea.' "
And there's nothing like the Coolest Cooler (2014), the beverage cooler idea launched from a Kickstarter campaign that raised $13 million. The absurd contraption was just the thing for outdoors, combining flashing lights, a Bluetooth speaker and a built-in blender.
Other wild highlights at the museum include spray-on condoms (seriously?), Harley-Davidson cologne, mis-branded beef lasagna a la the Colgate corporation, and the DeLorean automobile. 
Speaking of automobiles, Herskowitz owned up that the museum's "own fail," with its inability to display the Cold War era nostalgic car from East Germany, the Trabant, constructed in the U.S.S.R. Despite the car's poor design, it still sets off quirky memories of life behind the Iron Curtain for many. "People have a lot of affection for this car that has no gas gauge, no seatbelts, no directional signals," she said. But it couldn't make it up the freight elevator for display.
Or how about the hilarious Rejuvenique (1982-1988) beauty mask, promoted by Linda Evans from "Dynasty" in the 1980s. The facial contraption made to be strapped on to your face to send electronic currents through your skin's pores three-to-four times a week for 15 minutes, was intended to  "tone [your] facial muscles with electricity." Unfortunately, one reviewer said the mask also "felt like a thousand ants are biting my face." Never approved for licensing, it also looked like it was  "taken straight from a horror movie." 
Visitors are also attracted to the crazy food failures. Several were laughing at edibles that were not properly vetted for edibility. Olestra (1996-1999) was enthusiastically offered to the public as the ideal fat-free chips option, but had to be yanked because of "unpleasant side effects," such as — wait for it — "diarrhea and anal leakage." Even Starbucks is mentioned for its current offering, the Oleato, combining coffee and olive oil, "a match made in stomach hell." Of course, New Coke, or Coke II, and Crystal Ice Pepsi are included among these beverage failures as well. 
At the end of the show, visitors are invited to share their own personal failures on the Failure Confession Wall. "Short stories are written on colorful paper and taped to the wall. Some are funny about catastrophic cookie baking, squandered Bitcoin fortunes or failed romantic ambitions," West said. "While others are more reflective: 'I failed to teach my children that failure is ok', or 'I've failed because I was so afraid of failing …' "
The Museum of Failure makes a wonderful visit for the whole family and especially young students. An app with QR codes can direct viewers to quirky, humorous and informative videos and extra information. Herskowitz added that she's especially hopeful that many U.S. schools are introducing the notion of failure into school curricula in order to encourage informed risk-taking and innovation. "Our kids need to learn how to be resilient," she said. Even Teachers College at Columbia University is offering a semester class around structuring failure into learning about innovation. 
The Museum of Failure pop-up exhibition runs through December 2023 and is located at 3270 M St. NW in Georgetown Park. For more information go here.