Cookie & Kate's Classic Chimichurri Sauce
By
October 5, 2023
0
788
•
---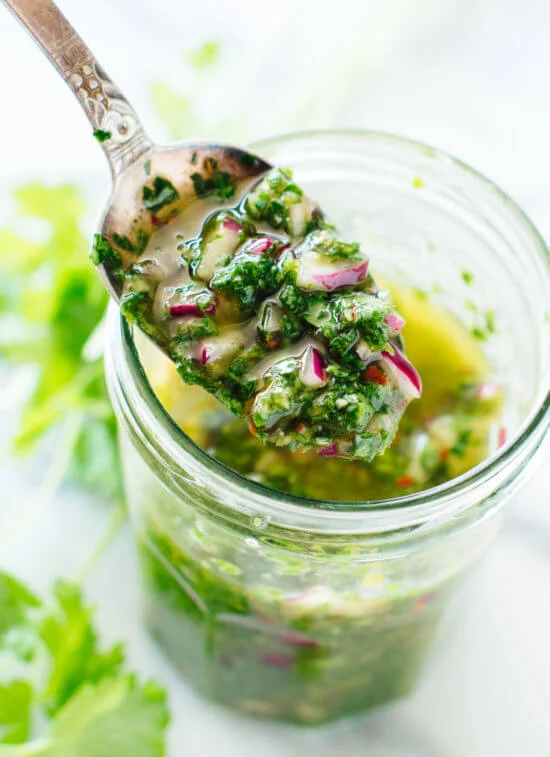 It's grilling season! Let's talk all about chimichurri sauce. Chimichurri is a bold and refreshing herbed sauce hailing from Argentina.
There are two kinds of chimichurri sauce, green and red. This recipe is for the more common green variety (chimichurri verde).
Authentic chimichurri verde is made with parsley, garlic, red onion, red pepper flakes, red wine vinegar, and olive oil. These simple ingredients yield a spectacularly delicious green sauce.
Some chimichurri recipes call for fresh cilantro in addition to parsley. However, several Argentineans have told me that they don't actually add cilantro in Argentina. I took their word for it and made my chimichurri sauce with just parsley. You'll also see some recipes with oregano, whether fresh or dried; I like it better without.
Uses for Chimichurri
Chimichurri verde is typically served on steak in Argentina and throughout South America. It's not just for steak, though. Chimichurri sauce is lovely in meatless preparations. It brightens up smoky grilled vegetables and hearty roasted vegetables, like Perfect Roasted Sweet Potatoes, Roasted Beets, and Roasted Cauliflower Steak. It goes well with mushrooms, carrots, and potatoes, no matter how they're prepared. I love chimichurri on scrambled eggs or fried eggs, too, and whole grains like brown rice or wild rice, farro and quinoa. It's undeniably great with chickpeas, as shown in my Chimichurri Chickpeas recipe, and also nice with black beans. It might even be good as a salad dressing or spread onto grilled corn on the cob.
How to Make Chimichurri
Chimichurri is so quick and easy to make! I love how my chimichurri turns out after a whirl in my food processor. Traditionally, chimichurri is made by hand in a mortar and pestle. I don't have the patience or the time to make it by hand, and I think you'll be thrilled with the results if you make it in a food processor as directed in the recipe below.
Ingredients
1 cup packed fresh flat-leaf parsley leaves (leaves from 1 large bunch, about 1.2 ounces — a few small stems are ok)
4 medium cloves garlic, peeled
½ cup extra-virgin olive oil
¼ cup red wine vinegar
½ teaspoon fine sea salt, to taste
½ teaspoon red pepper flakes, to taste
½ cup finely chopped red onion (about ½ small)
For more fresh, herbed sauces, don't miss my recipes for basil pesto, tzatziki and shatta (herbed jalapeño hot sauce).  You might also enjoy my favorite guacamole and green goddess hummus!
For full recipes and instructions visit Cookie & Kate.