The City Tavern: Fascinating Past, Promising Future 
By
November 6, 2023
0
536
•
---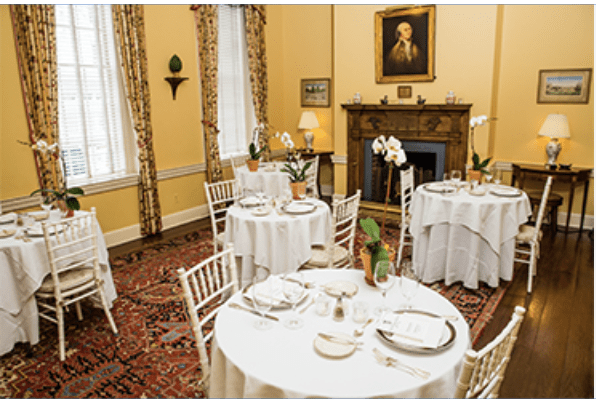 By Hailey Wharram
The City Tavern Preservation Foundation hosted its Welcome Fall Neighbors Reception on Oct. 25. The tavern's Bliss Room and adjoining terrace were abuzz with jovial chatter, hors d'oeuvre devouring and a bubbling excitement for the future of the organization.  
The City Tavern's future is bright because of its rich past. Located at 3206 M St. NW and listed on the National Register of Historic Places, the 3-and a-half-story brick Georgian building is not only one of Washington, D.C.'s oldest, but the sole remaining tavern from the Federal Era of the United States. Built in 1796, this communal gathering space has hosted presidential visitors such as George Washington, John Adams, Thomas Jefferson, Lyndon B. Johnson and Ronald Reagan, just to name a few.   
Independent from the City Tavern Club, the City Tavern Preservation Foundation (CTPF) is dedicated to maintaining the tavern's facilities and bringing the public into the space by hosting a variety of free educational and social events. Their educational programming includes guided tours and lectures which tackle, according to their website, "the City Tavern's history, its famous patrons, including our country's Founding Fathers, its historical relationship with slavery, its 18th-century architecture and interiors, and many other subjects." 
On Dec. 1, the foundation will hold its annual gala that raises funds for the City Tavern's building and legacy.  
"Just like any old house built in 1796, the tavern's got lots of things that are starting to fray around the edges and some things that are starting to fall apart completely," said CTPF's new Executive Director Leslie Maysak. "We want to be able to preserve the tavern in perpetuity, and there's going to be a lot of fundraising involved in that."  
Maysak — formerly an executive director of the Citizens Association of Georgetown as well as a former executive director of the Georgetown-Burleith Advisory Neighborhood Commission (ANC 2E) — began her job at the end of August. While she's only worked for CTPF for a few months, she's already found herself impressed by the organization's steadfast commitment to their mission.   
"The space of the tavern is so beautiful, restful, historic and awe-inspiring, but the people I work with are the best part of the job," Maysak said. "Everyone is so dedicated to what they're doing. They really care about preserving the tavern itself, and everyone who goes to work is always ready to roll up their sleeves and do what needs to be done on a small staff and a small budget. I really appreciate that start-up kind of feeling."   
The club owns the building. However, the foundation is hoping to purchase it if the club puts it up for sale, according to Maysak.
One individual who's particularly passionate about CTPF's mission is Andrus Seferlis. Though currently serving as CTPF's vice president, Seferlis will replace Zana Metelski as president after her retirement in the coming months. A licensed D.C. tour guide, Seferlis's breadth of knowledge on regional history shines through in conversation.   
"For the future of the City Tavern during my tenure, I hope we'll be a lot more focused on community, awareness and programming not only inside the tavern but also outside the tavern. I look at this city as not only my hometown, but also a place that's so misunderstood and under-explored. One of my goals is to let people know what is here," Seferlis said.   
Kamakshi Bhargava is another member of CTPF's Board of Directors. A Georgetown University alumna, Bhargava has been a member of the City Tavern Club since 2018 and joined CTPF's board in January. Since joining the foundation, the tavern's unique status as a site of "living history" has captivated her.  
"I look nothing like the founding fathers of America, and I'm probably nothing like the people who were the initial customers of the tavern. In fact, the tap room was only accessible to men when the building first opened," Bhargava said. "However, now I'm a part of this building's history too. Being here makes you feel closer to the story of America in a way I probably would not feel at such a personal level if I went and visited a museum and everything was behind glass doors. The whole living history aspect of this place never fades for me."  
More information about the City Tavern Preservation Foundation (CTPF) and their upcoming events can be found at Citytavern.org.