Up & Coming
---
Sea of Hope Concert
June 4
The Epiphany Choir and Youth Orchestra under the direction of choir director, Sang Wook Ko, will present their second annual "Seeds of Hope" Concert at Epiphany Catholic Church on June 4 at 7:30 p.m. One of the featured works will be Mozart's Mass KV 220 well as other magnificent offerings. Donations will be accepted for the Seeds of Hope Foundation working to give seeds and technical advice to those who badly need food. (2712 Dumbarton Street NW, Washington DC, 20007).
Georgetown University Children's Medical Center Diabetes Gala
June 4
In an effort to raise awareness for diabetes, Georgetown University Children's Medical Center is hosting a Gala with dinner, music, dancing, and auctions featuring vacations, sports memorabilia and restaurants. The event will be held at Georgetown University Conference Center, 3800 Reservoir Rd., NW Washington, DC 20007 on June 4 at 5:30 p.m. Tickets are $15-$40. Contact Tk275@georgetown.edu or call 202.342.2400.
KateNation Kickoff
June 7
You can help! KateNation, a nonprofit connecting people with disaster relief, is inviting prospective volunteers to Paolo's Ristorante on June 7 from 6 p.m. – 8 p.m. Enjoy Paolo's delicious cuisine while participating in a raffle on a few disaster preparedness items and disaster supply kits. Entry is $25 a person. Additional donations accepted at the door or online at KateNation.org. Telephone: 703.309.5337
IN & OUT
---
OUT — The Magic Wardrobe, a children's clothing store at 1661 Wisconsin Ave., NW, was closed July 19 by the D.C. Office of Tax and Revenue because of unpaid taxes.
IN — Mego Inc. has opened at 1419 Wisconsin Ave., NW, in the space formerly occupied by Jan's, according to the D.C. Mud blog. The upscale retailer sells upscale clothing predominantly made of cashmere. ?
In & OutDecember 6, 2012
---
IN:
Bonobos Guideshop, a menswear business which originally started online, is coming to Cadys Alley. Customers can stop by and check out the shop, then order online to get the clothes in a few days. It is another example of cyberbusinesses — like Tuckernuck clothing — setting up a brick-and-mortar presence, to increase their consumer base. It already has other shops in Bethesda and New York.
Alex and Ani, a small jewelry shop at 3070 M St, is ready to open for holiday shoppers. Founded by Carolyn Rafaelian in 2004, the business is named for her two children. Offering necklaces, bracelets, earrings and rings, the business is also distributes licensed products, such as those for the U.S. Army and Marine Corps and Major League Baseball.
Amazon Andes, a shop at 1419 Wisconsin Ave., NW, is selling cashmere products from South America, we are told.
OUT:
Streets of Georgetown, a clothing store concept by the HMX Group which sells such iconic American suits as Kickey Freeman and Hart Schaffner Marx, will close next month because of the parent company?s Chapter 11 filing. Meanwhile, check out the store for some great discounts. The swanky men?s store at 1254 Wisconsin Ave., NW, has been open for little more than a year. (Its address is a former location of the Georgetowner offices in the 1980s.)
The Watergate Exxon — that expensive gas station at the corner of Watergate West at Virginia Avenue and Rock Creek Parkway — has closed temporarily. Owner of the property, D.C. gas czar Joe Mamo had disagreements with the former operator. The tony petrol stop will be renovated. As to paying top dollar for premium gas, we shall see if that returns, too.
Businesses post-notes:
Dixie Liquor employees, Sean and Court, were photographed by Georgetown University students at their place of business and then had their images blown up into masks for students at the Georgetown-Tennessee basketball game at the Verizon Center Nov. 30. As seen on TV, the Dixie Liquor employees endured the prank at what was considered a truly terrible game for the Hoyas — even coach John Thompson III said that it was the worst basketball game he had been a part of.
Tudor Place, Georgetown's Washington Family Connection
---
It is the nooks and crannies. The sleuthing, the surprise at the bottom of a box, learning about the hands that touched the bowl, dusted the lamp, paid the bill. The ghosts at Tudor Place have plenty of stories to tell. Like every beloved old house, Tudor Place still retains the imprint of its people, the family who built it and lived in it for six generations.
At Tudor Place, the past is not only present, it vibrates. In the bottom of an old box, Tudor Place staff found, under layers of old papers, a big piece of wallpaper. The piece is, according to Tudor Place's executive director Leslie Buhler, probably one of the largest samples of late 18th-century wallpaper in existence. It is finds like this that make an old house come alive — the tastes and foibles of the very real people who once inhabited it. "Because the house is so intimate," Buhler says, "people really connect with it."
But even in a town where only the very latest polling data is news, people still care about what came before the rattle of the Metro bus and the latest scandal. Leslie Buhler looks out her window at the Tudor Place gardens below. "We did a paint analysis of the front door, and it turns out it was verdigris. The house itself was a golden color. I think about riding on a horse down here from R Street . . . it would've really made a wow!"
It still makes a wow. Think of seeing it through the eyes of a first grader who's never before left her neighborhood. The house's size, the tall old trees, the history; the place is fantastic. One of Tudor Place's most successful programs brings about 3,000 school kids a year from all over Washington to visit. They can try on colonial costumes and learn about the past. Some classes do performances and recitals out on its South Lawn at Q and 31st Streets.
Education is one of Tudor Place's most important tasks, Buhler says. To bring people in, the old house offers everything from Girl Scout programs to birthday parties to lectures and crafts classes for adults. Once people come inside the front gate, the sense of another era is inescapable. And, as Buhler says, "because we're in the nation's capital, many people here and who visit are interested in history."
Preservation, of the house and its grounds, of the objects and artifacts, is Tudor Place's other major goal. There are more than 15,000 objects in Tudor Place's collection, and all of them tell a story. Two years ago, Tudor Place threw a party to welcome home an old friend: a chest-on-chest that George Washington kept in his bedroom. In 1816, it moved to Tudor Place, and, after some wanderings, in 2010 it came home again. After repair work, it now lives in the upstairs hallway. Preserving those old vases, spoons and books, and their histories, is expensive. Even the old trees need expert attention. Tudor Place spends between $25,000 and $30,000 each year maintaining its trees.
Even the ground underneath those trees is worthy of preservation. Tudor Place's old outbuildings lie underground, waiting to be uncovered. The remains of a smokehouse are on the grounds, and the remnants of a dairy are just north of the property. Intriguingly enough, Tudor Place's archeologists have found no trace of a freestanding kitchen building.
"The hardest challenge is grabbing peoples' attention and helping them understand why Tudor Place is important, and why they should help fund it," Buhler says. Tudor Place's annual budget is more than one million dollars. Buhler says it ought to be about $1.5 million annually to run smoothly and provide enough for upkeep and conservation. But, like almost all art institutions these days, Tudor Place scrambles for every dollar.
The staff must also convince potential donors and even potential visitors that it is a worthy place for attention even if George Washington didn't sleep there. He didn't — the house was built in 1816 by Martha Washington's granddaughter and her husband. But the lives they and their children led, the people they knew, the things they ate, are of great interest even if no president ever darkened the sheets.
Tudor Place, 1644 31st St., N.W. — 202-965-0400 — TudorPlace.org [gallery ids="100500,118118,118117" nav="thumbs"]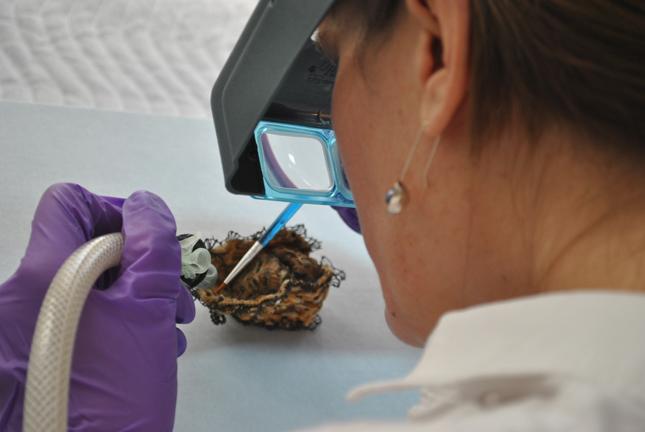 Gant Opens M Street Store
---
Gant has opened in Georgetown, marking the brand's continued retail expansion outside of New York. The 2,000 square-foot store opened its doors at 3239 M St., NW, near clothiers J. Crew, Rag & Bone and AllSaints Spitalfields. The new location will sell a curated assort- ment from all collections including Gant, Gant Rugger and Gant by Michael Bastian.
"Georgetown, specifically M Street, has become a key shopping destination in recent years, especially for men," said David Arbuthnot, chief executive officer of Gant USA. "Expanding into Georgetown was a natural step as Gant's aesthetic is grounded in our authentic American East Coast heritage."
Washingtonians may be familiar with the space that Gant now calls home. Once a popular live jazz bar called Saloun, the build- ing's renovation maintained and upgraded key architectural elements of the original design, paying homage to the lounge that came before it.
Gant's Georgetown location joins the brand's existing seven retail locations, includ- ing Gant Rugger neighborhood shops and a Fifth Avenue global flagship in New York City, a Gant Campus Store at Yale University. It also recently opened Los Angeles and Boston locations. Gant plans to open four to five additional North American stores in 2013 and is also looking at several spots in the U.S. and Canada. The Sweden-based brand — with $1.23 billion in global sales last year — is owned by Switzerland-based Maus Frères SA. Gant was founded in New Haven, Conn., in 1949. For more information, visit Gant.com, or call its M Street store at 202-625-1949.
Tuckernuck Sets Up Showroom on Potomac Street
---
On-line boutique Tuckernuck, named for an island off Nantucket, has established its first brick-and-mortar retail presence at 1052 Potomac Street, NW. Based on "a classic life- style that spans generations," the clothing con- cern of American styles (some might call it preppy) promotes "a timeless look based on ease, traditional and American cool." Founded in May 2012, Tuckernuck is a woman-run busi- ness: "Yes, gents, we're all ladies, and we're all willing to help with any styling questions you have." (Three of the ladies went to the National Cathedral School.) For more info, visit www.Tnuck.com, or call 202-670-1265.
Jonathan Adler Finally Opens at N & Wisconsin
---
After several delays, the Jonathan Adler store at 1267 Wisconsin Ave., NW, has opened. The maker and purveyor of pots, pillows, acces- sories and furniture is located at the corner, where the Kids Gap store used to be, across from Martin's Tavern. The Adler whimsy and practicality are on full display throughout the large store, which shows off a Washington bust of sorts and D.C. pillows. Amid everything else, in time for Hanukkah, beginning Dec. 8, the store offers unique dreidels and menorahs. Visit www.JonathanAdler.com, or call 202-965-1416.
[gallery ids="101079,137307" nav="thumbs"]
Say 'Bienvenido' to Massimo Dutti
---
Georgetown's fast fashion appeal continues to expand . . . locally and globally. Massimo Dutti opened at 1220 Wisconsin Avenue, NW, its second U.S. location after New York. The company is headquartered in Spain.
Next to the Third Edition and described by Thrillist as a "European J. Crew," Massimo Duti offers well-priced, updated fashions for men and women. Considered especially fetching: a classic, yet modern, dress and a nice assortment of jackets, leather or not.
Wrote the New York Times on Nov. 27 of the newly opened store on Fifth Avenue: "New to the States, Massimo Dutti has the same parent company as Zara, which means a large-scale invasion may be imminent. It is the old-school Banana Republic to Zara's Gap, more refined and more expensive and, in this case, more desir- able. . . . This might be the least expensive way in the city for a man to dress up. Prices are rea- sonable for clothes that are worthy simulations of expensive Italian and British styles."
Ins & OutsNovember 1, 2012
---
**Bowling, Bocce Coming to Georgetown Park**
That bowling might be going to Georgetown Park was first reported at a meeting of the Citizens Association of Georgetown and DCist.com two weeks. There is more to the story.
*Here is how the Washington Business Journal reported on the situation:*
Another piece of the Shops at Georgetown Park puzzle is falling into place. Vornado Realty Trust has an all-but-done deal to lease roughly 30,000 square feet to Chicago-area entertainment-restaurant chain Pinstripes. The chain, which features indoor bowling and bocce courts, hopes to open by the third quarter of 2013, Pinstripes founder Dale Schwartz said. Pinstripes plans to sign a formal lease with Vornado once it gets zoning approval. It is scheduled to plead its case at a zoning hearing in January, Schwartz said.
The chain, which opened its first location in the Chicago area about five years ago, put D.C. on a list of top markets across the country as part of a nationwide expansion. The restaurant would be its fifth, with three in Illinois and one in Minneapolis. Schwartz said Georgetown Park met the criteria Pinstripes is seeking out.
?We?ve been looking all over the country for high-quality, select-communities,? Schwartz said. ?The D.C. market, it?s just a very, very attractive market, and also a market that we would envision over time doing two or three locations.?
Pinstripes is the latest of several new tenants Vornado is lining up at Georgetown Park, with other recent additions including a combined T.J. Maxx-HomeGoods and an expanded J. Crew.
Ultimately, Pinstripes envisions adding at least two other locations in the metro area, including in northern Virginia and suburban Maryland. Schwartz put Rockville among the likely expansion towns in Maryland. It is also planning restaurants in Kansas, California and Texas, Schwartz said.
For those struggling to envision how fine dining, bowling and bocce intersect, Schwartz describes it more along the lines of fine dining than bowling and bocce. ?We?ve really redefined entertainment dining in a very high-quality, sophisticated way,? Schwartz said.
Pinstripes has retained KLNB Retail as its local brokerage firm and RDL Architects to plan out its space at Georgetown Park.
**Coach John Thompson, Jr., Honored at Nike Store Debut**
Sports legends were on hand to open the new Nike store in Georgetown Oct 25. The Vornado-owned building that formerly housed Barnes & Noble is now a three-story, 31,000-square-foot store that carries a wide range of Nike?s athletic gear at 3040 M St., NW.
Homages to Georgetown University athletics are present in numerous areas of the store. Displays include gear from Georgetown?s track & field team and a display case of Georgetown University Air Jordans.
In the entrance of the building is a commemorative display honoring former Georgetown University men?s basketball head coach John Thompson, Jr., who coached at the school from 1972 to 1999. A neon-sign quotation by Thompson reminds athletes not to ignore life beyond the court. ?Don?t let the sum total of your existence be 8-10 pounds of air.?
Tim Hershey, head of North American retail for Nike opened the ceremony. Hershey manages Nike?s 202 stores in North America. He explained how the store received 4,500 applications to work there, which were eventually whittled down to 500 interviews, and finally, to 171 employees working in the store today. One employee said he was in three weeks of training for his sales position.
Michael Jackson, who played point guard on Georgetown?s 1984 NCAA championship team, is now Vice President and General Manager of Basketball in North America at Nike. Jackson remarked on the new store and presented Thompson with a one-of-a-kind, commemorative jacket honoring his career in the basketball. Also at the event was Georgetown great and former New York Knicks star Patrick Ewing.
Thompson, who is on the board of directors at Nike, was characteristically to-the-point. ?I?d rather eat a bug than what I?m doing right now,? he said.
Thompson spoke about Nike?s commitment to Georgetown University?s basketball program when the team needed support. ?Nike was one of the few corporations who jumped in when we needed help,? he said.
On his quote in the store, Thompson explained how he convinced his former player, Jackson, to leave the NBA to pursue a career off the court. He emphasized that there is more to life than basketball. ?If that?s what defines you totally, you?re a damn fool,? Thompson said.
Current Georgetown University basketball coach John Thompson III also spoke about the new store.
After the ceremony, Thompson, Jr., was joined by his son, his two grandchildren, Michael Jackson, Tim Hershey and Jack the Bulldog for the ribbon cutting. Afterwards, eager shoppers poured in to see the new store for themselves. Along with sports gear in other sports, such as that of the Washington Redskins, the store will manage a running club.
**EastBanc West End Library Project Delayed**
A D.C. nonprofit is delaying the construction of a new library in the West End, according to the Washington Business Journal. The D.C. Library Renaissance Project wants to end a deal between the District government and developer EastBanc that would result in a new West End Library at 23rd and L streets NW. The nonprofit has appealed the decision of a Zoning Commission order, which is now before the D.C. Court of Appeals.
**In: Buffalo Exchange Opens on M Street**
The empty store at 3279 M St., NW, once a Annie Creamcheese retro clothing store, is set to be re-born as a Buffalo Exchange, a resale chain with more than 40 thrift stores through the U.S. that focuses on style trends for its customers who can buy or trade clothing. Buffalo Exchange was founded in Tucson, Ariz., in 1974. Another Buffalo Exchange is already on 14th Street.
Here is how the store explains itself: ?Buffalo Exchange is unique because clothing and accessories are bought, sold and traded locally with store customers. You?ll also find brand new merchandise and accessories.?
**Economic Forum Highlights ?Fiscal Cliff,? Dynamic D.C.**
The Georgetown Business Association joined with the New York-based Financial Policy Council to produce the first-ever D.C. Financial Policy Economic Forum at the City Tavern Club Oct. 18. It was the FPC?s first-ever event in Washington, D.C.
The forum, introduced by GBA?s Janine Schoonover and moderated by Davis Kennedy of the Current Newspapers, enlisted the advice of former Rep. Jim Moody, D-Wisc., high-tech consultant Ray Regan, Ward 2 Councilmember Jack Evans and tax lawyer Payson Peabody.
The surprisingly lively wonkfest ranged in topics from the global and national econony to parking in Georgetown. Moody, who holds a Ph.D. in economics from Berkeley, said he was ?very worried about direction country is taking.? Evans, who went to the Wharton Business School, said, ?Now, D.C. is the most dynamic city,? and then called for a way to make many immigrants — and who are not — legal. He got the most applause of the evening. Pollster Ronald Faucheaux of the Clarus Research Group highlighted the main take-away from the forum, as he spoke about the consequences of Congress and the president not dealing with automatic budget cuts, also known as ?fiscal cliff?: ?In December, there will be the most important decision in U.S. history.??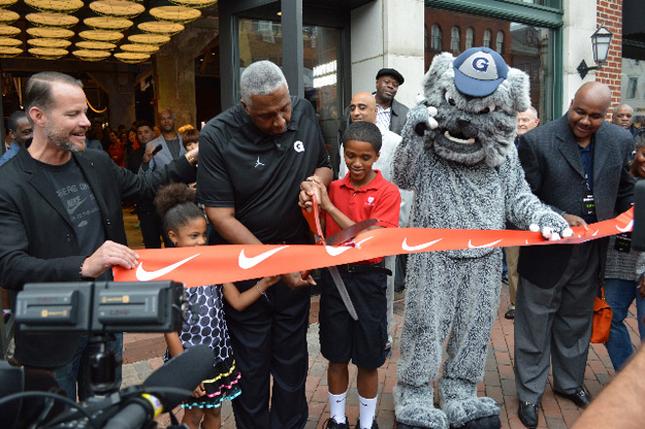 John Fluevog Brings Funky Footwear to the District
Nico Dodd •
October 15, 2012
---
This Wednesday, footwear company John Fluevog celebrated the opening of its ninth U.S. store at 1265 Wisconsin Ave. NW. The shoemaker, founded in 1970 in Vancouver, CA, makes funky, comfortable shoes that are popular among creative types. Company founder John Fluevog was at the event, where fans old and new were checking out the new digs.
"We've been doing business in New York since about 1990," said Fluevog. "Our website's really busy here, so [opening a store in Washington] seemed like a natural thing to do."
Katherine, the D.C. store manager, said that the company had been looking for a storefront in Georgetown for about two years. Previously, D.C. shoppers could find Fluevog shoes at Smash!, the punk music and clothing store that used to be at 3285 1/2 M St. NW, where Jinx Proof Tattoo is currently. Smash! is now located in Adams Morgan at 2314 18th Street, NW.
"We've always prided ourselves on being a little different," said Fluevog. "We've never really been in, like, a mainstream area. So, this is the closest to a mainstream shopping area that we've been in."
The company is planning to open another new store in Minneapolis.
Washington has a reputation for dressing conservatively, especially when it comes to footwear. Amber Smith, a sales associate at the store, is also a lawyer for the IRS. Even though her job calls for suiting up and buttoning down, Fluevogs work in her office environment.
"I'm not a heels person," said Smith. "I like a Doc Martens-comfy sole. I was thrilled when I got into this more conservative work world and learn that I could actually wear comfortable shoes."
John Fluevog shoes are handmade around the world, and the company offers many vegan options.
"There is really good conscience behind the shoe," said Smith. "It's all about construction, durability but also fair labor. The standards are very high." [gallery ids="101003,133550,133521,133543,133531,133538" nav="thumbs"]