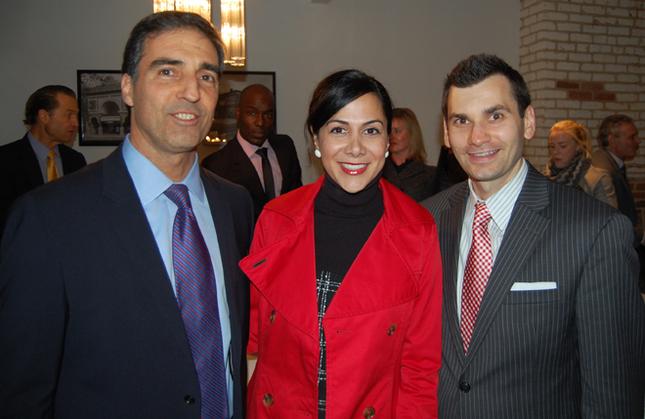 The Georgetown Business Association announced its nominated 2013 officers at a board reception at the George Town Club Nov. 14. New year's top officers are slated to be: president, Riyad Said of Wells Fargo; vice president, Janine Schoonover of JSWGroup; treasurer, Karen Ohri of Georgetown Floor Coverings; secretary, Molly Quigley of Clyde's Restaurant Group.
After the board meeting, the GBA held its monthly networking reception across the street at Sara Mokhtari's T-square Loft above her Wisconsin Avenue boutique, Tara D.C. couture consignment.
The GBA's next event is its Annual Reception and Holiday Party on Dec. 12 at Dumbarton House. Brian Armstrong of the George Town Club, Terry Bell and Deborah Bell of Ilo Salon and Zubair Popal of Cafe Bonaparte and Malmaison are up for awards at the annual meeting.
Announcement of the GBA Officer and Board of Director Nominees:
NOMINEES FOR GBA OFFICERS
President
Wells Fargo – Riyad Said
Vice President
JSW Group – Janine Schoonover
Secretary
Clyde's Restaurant Group – Molly Quigley
Treasurer
Georgetown Floorcoverings – Karen Swarthout Ohri
PROPOSED GBA 2013 BOARD OF DIRECTORS
New Nominees (to be elected by Membership at Annual Meeting)
2013 – 2016
(1) Georgetown University Lauralyn E. Beattie
(2) Tony & Joe's Dean Cibel
(3) Bank of Georgetown Tyisha Cottman
(4) Eastbanc Barry Greenberg
(5) Long & Foster Margaret Heimbold
(6) EagleBank Andrew Peters
(7) Cox Graae + Spack Architects Joanna Schmickel
(8) Capital Restaurant Concepts Representative Name TBD
(A few additional candidates were unable to confirm their participation by our deadline for notifying the board. If they express interest in the future, the board may hold a special vote to consider their nomination.)
Re-elect 2013 – 2016 (to be elected by Membership at Annual Meeting)
(1) Law Offices of Joel Bennett – Joel Bennett
(2) Clyde's Restaurant Group – Molly Quigley
(3) Wells Fargo Advisors – Riyad Said
(4) Ilo Day Spa – Gary Walker
2012 – 2015 (No Action Needed)
(1) Georgetown Club – Brian Armstrong, GM
(2) HSBC – Rokas Beresniovas
(3) House of Sweden – Cecilia Browning
(4) Latham Hotel – Michael Damion
(5) Georgetown Resident – Edward "Chip" Dent
(6) Ginsberg & Helfer – Alan Helfer
(7) ReMax Allegiance/Georgetown – Tanya Sabel
(8) Wedding Creations – Ed Solomon
2011 – 2014 (No Action Needed)
(1) The Georgetowner – Sonya Bernhardt
(2) Tudor Place – Leslie Buhler
(3) Dumbarton House – Karen Daly
(4) Strasburger Attorneys – Kathy Darling
(5) Georgetown Floorcoverings – Karen Swarthout Ohri
(6) Café Bonaparte – Zubair Popal
(7) JSW Group – Janine Schoonover
(8) Wedding Creations – Hope Solomon
(9) James B. Wilcox, Jr., PLLC – Jim Wilcox
Ex-Officio (to be elected by Membership at Annual Meeting)
(1) CAG – Jennifer Altemus
(2) The Georgetown Current – Davis Kennedy
(3) ANC 2E – Bill Starrels
(4) Councilmember Vincent Orange – Elizabeth (Beth) Webster