A New Way to 'Vanquish' Stubborn Body Fat
By
November 18, 2013
0
1726
•
---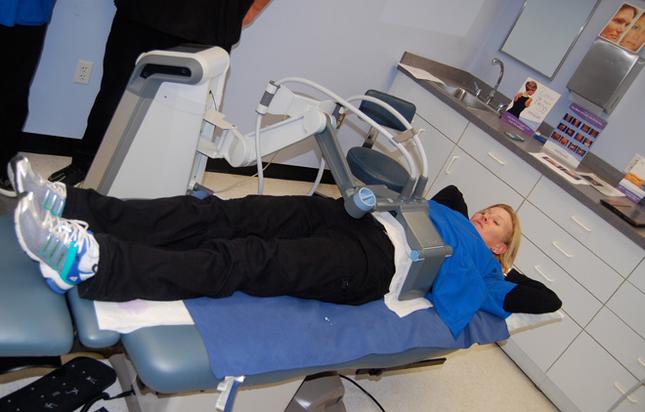 Imagine a heating pad that can blast away fat in just 30 minutes. Sound too good to be true? Well, not only does the technology exist, but it's right here in Washington, D.C. The newest non-invasive solution in body contouring, Vanquish, can be achieved at DC Derm Docs on L Street.
Marilyn Berzin, M.D., and Dale Isaacson, M.D., who run DC Derm Docs, held a special reception Nov. 6 to introduce this latest technology. They and their downtown office have been featured in Washingtonian Magazine, ABC7 News and more. Derm Docs is the first to offer Vanquish in the D.C. area.
"It is very exciting technology," said Berzin, who, like Isaacson, has received Vanquish treatments.
Unlike other non-invasive fat reduction methods, Vanquish produces immediate results. Liz, a patient at DC Derm Docs, was pleased with her post-Vanquish body. "I saw results right away, but they weren't dramatic," she said. "The results were more dramatic with each additional treatment," she added.
Results will vary depending on the person. If patients undergo the recommended four treatments, spaced about a week apart, everyone should get results. "You'll get at least an inch," Isaacson said. "But I've seen an average of 2.5 to 3.5 inches lost in those receiving four treatments," he added, referring to patients receiving Vanquish around the waist. Also, unlike other procedures, Vanquish can target the belly and love handle areas in a single half-hour session. Other common focus areas are back pockets and saddlebags.
Vanquish utilizes radio frequency to melt away a layer of fat cells, without even touching the patient's body. Patients will not experience pain, but rather heat, redness and, perhaps, some swelling. The machine literally burns the fat cells, killing and leaving them to be excreted in the urine. For this reason, patients are told to drink plenty of water, at least two liters, in the day before, of and after treatment.
Liz talked to The Georgetowner, while undergoing her fourth Vanquish treatment: "It feels like a heating pad," she said. "In my other treatments, I brought a book and came in before heading to the office," she added.
The ideal Vanquish patient is someone who has a few stubborn inches to lose. If diet and exercise just aren't working, or if there is an upcoming special occasion, maybe Vanquish is the answer.
DC Derm Docs charges $550 per session for the first four sessions and additional treatments are only $350. Shelling out $2,200 for a slimmer waist? Pain-free? Without diet and exercise? Somebody pinch me.