Jhane Barnes Honored at 'Portfolio in Motion Uncut'
By
May 21, 2014
0
1434
•
---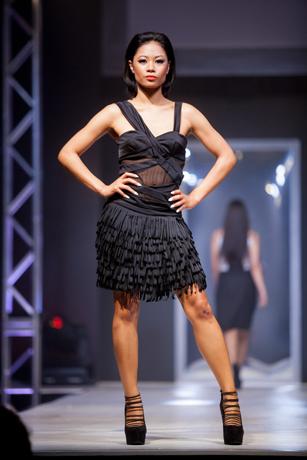 Redskins apparel, evening and bridal wear, swimwear, menswear and children's clothing – Marymount University's 2014 student fashion show, "Portfolio in Motion Uncut," highlighted a bit of everything. The lines of alumni were also featured at the May 1 show, inspired by industrial art.
Designer Jhane Barnes was in attendance and received Marymount's 2014 Designer of the Year Award in recognition of her innovative menswear and textiles and her creative use of mathematics in the design process.
Jummy Olabanji, Emmy award-winning reporter and anchor at WJLA-TV, served as Mistress of Ceremonies. Olabanji also teaches a fashion research and communication course at the university. In the professional-quality production, created by the fashion merchandising students, the jury-selected garments were modeled by Marymount students from across the university. Set design, lighting, music and choreography provided a clean, minimalist, cutting-edge environment to showcase the innovative fashions on the runway.
In addition to the senior lines, there were themed scenes that included fashion-forward Redskins fan wear and garments made from fabric donated by Eileen Fisher, Marymount's 2012 Designer of the Year.