Cocktail of the Month: The Chestnut Old Fashioned
By
December 20, 2017
0
784
•
---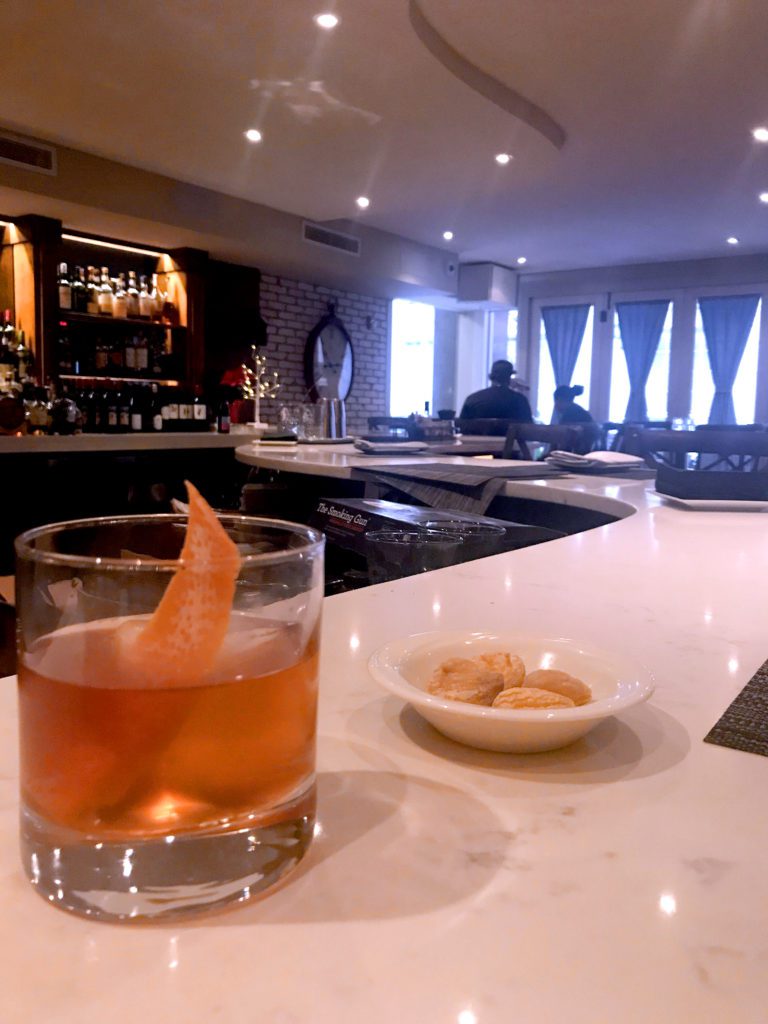 "Chestnuts roasting on an open fire, Jack Frost nipping at your nose …"
This standard tune, whether crooned by Nat King Cole, Frank Sinatra or the multitude of artists that have covered it, instantly transports us to an old-fashioned wintry holiday season, filled with traditions like "yuletide carols" and "mistletoe."
Roasting chestnuts — at one time inseparable from winter, snow and fireplaces — is nearly a bygone custom. Never having enjoyed them as a child, I tried them for the first time when I moved to New York. I remember the sweet, fragrant scent wafting from street corners near Times Square or Rockefeller Center where I worked.
Street vendors equipped with large metal pots would sell them in small bags for a few dollars. Slightly sweet and a little chewy, this warm, nutty snack was a delightful way to take the bite out of frosty weather — and a nostalgic treat that complemented the Big Apple's magical holiday decorations.
More recently, the New York Daily News has reported that this tradition is fading away. The handful of peddlers who still sell them are relegated to a couple touristy spots, where they provide visitors with a sentimental experience. According to vendors, fewer people are buying the toasty treats and the cost of selling an imported product has contributed to the decline.
Chestnuts are often perceived to be an American crop, but the ones sold on New York streets come from Italy. According to the American Chestnut Foundation, more than a century ago, nearly 4 billion American chestnut trees were growing in the eastern U.S. Native Americans ate them and chestnut was a preferred species of tree for log cabins in colonial America.
Since chestnut ripening coincided with the Thanksgiving-to-Christmas holiday season, roasting them became a wintry pastime. When roasted, the flavor of chestnuts sweetens, so they go well with holiday cakes and cookies.
However, in the early 1900s, a blight killed off the vast majority of chestnut trees. This is why most of the chestnuts sold in the U.S. are imported from China, Korea or Europe. If you want to try the tradition yourself, chestnuts can be purchased at supermarkets such as Harris Teeter or, in Georgetown, at the "social" Safeway. If you don't have a fireplace and have no place to start a bonfire, they can be baked or broiled in your oven. Agora Farms, located in Eastern Market, has chestnut recipes on its website.
A more adult way to enjoy this festive nibble can be found at Le DeSales, a French brasserie in the Golden Triangle district. The restaurant's bar is already known for innovative tipples like the DeSales Rickey, a spin on D.C.'s official cocktail, and the Goldenbeard, a rum concoction named for the facial hair of chef Raphael Francois.
Through the end of December, Le DeSales is serving a potable liquid version of roasted chestnuts. The whiskey-based Chestnut Old Fashioned is made from a combination of clove and chestnut rosemary simple syrup, Koval bourbon, Angostura bitters and chestnut smoke.
According to GM Geoff Bosworth, the chestnut smoke is created by combining wood chips with ground chestnuts and using a smoking gun to fill the glass. The flavor it imparts is mild, complementing the bourbon with notes of wood and smoke and a nuttiness. It has a very "wintry" smell, but is soft on the palate.
The aroma is an enchanting flashback to a Manhattan Noel, coupled with a nip of bourbon. Since it can be savored inside a cozy restaurant, there's no need for folks to be "dressed up like Eskimos" and (with a slight change to the lyrics) it can be enjoyed by "kids from 21 to 92."
"Although it's been said many times, many ways — Merry Christmas to you!"
The Chestnut Old Fashioned
.5 oz. clove and chestnut rosemary simple syrup
2.5 oz. Koval bourbon
2 dashes Angostura bitters Chestnut smoke to fill the glass
Combine the first three ingredients and pour into an old-fashioned glass. Top off with smoke.