Obama Portraits Unveiled at National Portrait Gallery
By
February 12, 2018
0
1757
•
---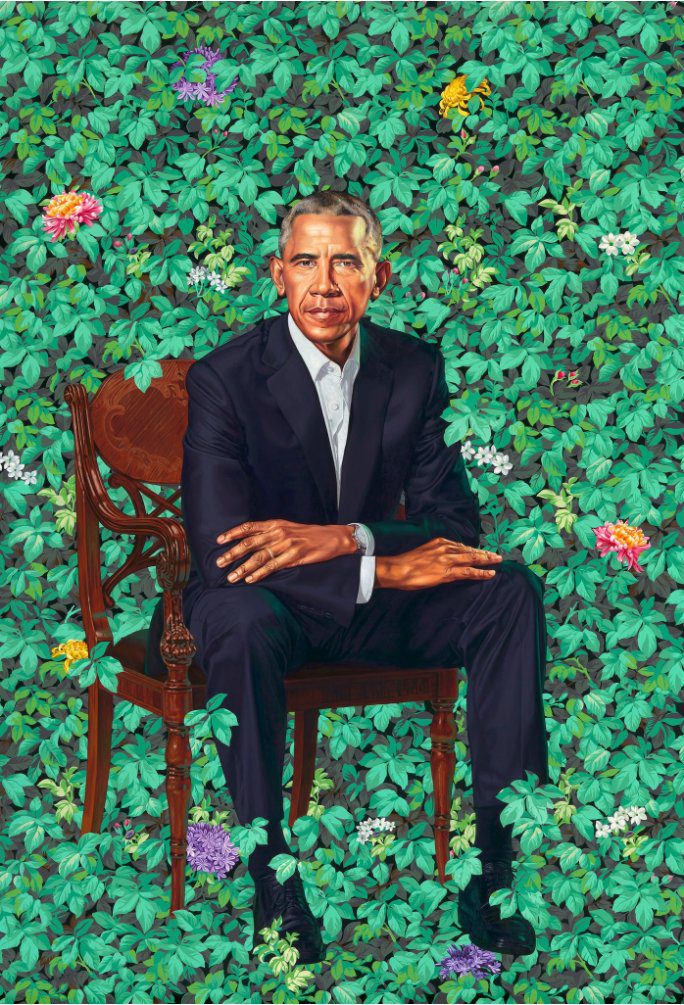 The former first daughters — Malia, who's at Harvard, and Sasha, who's at Sidwell Friends — weren't at the National Portrait Gallery this morning, Feb. 12, but the invited guests nonetheless gazed upon four Obamas: two Baracks and two Michelles.
The three-dimensional former president and first lady posed with their two-dimensional counterparts: just-unveiled portraits by painters Kehinde Wiley and Amy Sherald.
Though the larger-than-life-size works depict their subjects centered, seated and looking out at the viewer, they aren't a matched pair. Each is true to the style of its creator (the artists were chosen by the Obamas).
Barack, in a blue suit with open collar, sits in an 18th-century chair, more or less floating in a profusely leafy background. Peeping out are flowers: jasmine for Hawaii, blue lilies for Kenya, chrysanthemums for Chicago. Wiley is known for depicting contemporary African Americans, both ordinary young people and celebrities, in ornate settings that reference baroque and rococo portraiture.
"I had to explain that I got enough political problems without you making me look like Napoleon," the former president said.
In her portrait, Michelle is shown in a gown by designer Michelle Smith. No chair is visible due to the enormous floor-length skirt, mostly white with sections of black, gray, yellow, pink and red geometric patterning. Her face and (famous) shoulders and arms are painted in shades of gray. The background is a flat, robin's-egg blue.
The son of a Nigerian father and an African American mother, Kehinde Wiley, 40, was born in Los Angeles. The Brooklyn-based painter has a Bachelor of Fine Arts degree from San Francisco Art Institute and a Master of Fine Arts degree from Yale University. Former New York Times culture reporter Lee Rosenbaum tweeted (as @CultureGrrl) about the connection between Obama and Wiley: "Both had absent African fathers & devoted American mothers."
Less well-known (until now), Baltimore-based Amy Sherald, 44, was born in Columbus, Georgia. She has a Bachelor of Arts degree from Clark Atlanta University and a Master of Fine Arts degree from the Maryland Institute College of Art. She also studied in Norway with painter Odd Nerdrum. In 2016, Sherald's entry came in first in the National Portrait Gallery's Outwin Boochever Competition, held every three years. The prize was $25,000 cash and a commission, which became the Michelle Obama portrait, similar in style to her winning work, "Miss Everything (Unsuppressed Deliverance)."
Among those present at the private unveiling of the portraits were: Joe Biden, Eric Holder, Valerie Jarrett, Shonda Rimes, Steven Spielberg, Michelle Obama's mother Marian Robinson and Portrait Gallery Director Kim Sajet.
The two paintings will go on public view tomorrow, Feb. 13. The Michelle Obama portrait will be up through November with other recent acquisitions; Wiley's portrait of Barack Obama will be on permanent display in the America's Presidents gallery.