Business Ins & Outs March 7, 2018
By
March 7, 2018
0
1178
•
---
By Selma Khenissi and Robert Devaney
Coming: Man-Free Co-Working
The Wing, a co-working women's club with locations in New York City, is set to open its first location in Washington, D.C., in early April, at 1056 Thomas Jefferson St. NW. Besides working and meeting spaces, the Wing will have an eatery that (pending approval of its liquor license application) will serve alcoholic beverages. Membership starts at $215 per month.
In: South Moon Under Rises
South Moon Under, which opened in 1968 as a surf shack in Ocean City, Maryland, opened its 29th location — its first in the nation's capital — Thursday, March 1, at 1065 Wisconsin Ave. NW. The night before, the owners, CEO Michael Smith and Chief Creative Officer Patricia Darrow Smith, welcomed a lively group of neighbors, fashionable shoppers and VIPs, ranging from chef Spike Mendelsohn to Chris Wallace of Fox News.
Nearby South Moon Under stores are in Arlington, Virginia, and Bethesda, Maryland. With three new locations in Atlanta, the company is planning more across the U.S. The Smiths previously worked for White House Black Market retail stores.
In the past, the space has held a Nadeau Furniture store, a Ralph Lauren Rugby store and Houston's Restaurant.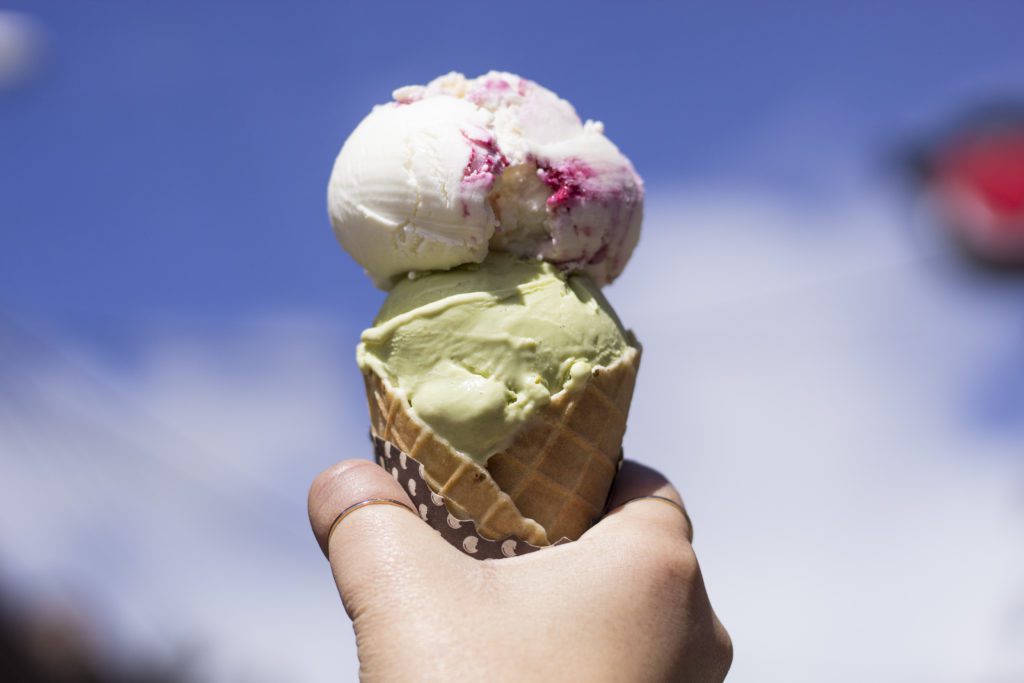 Closed for Renovations: Häagen-Dazs
The 3120 M St. NW Häagen-Dazs location is closed, as the papered windows indicate. A sheet of paper says that the ice cream shop has been closed for renovations since Feb. 26. As of this writing, the store remains shuttered — and there is no known reopening date. For those who enjoy a Häagen-Dazs treat while shopping, the nearest location is 703 7th St. NW in Gallery Place.
Four Seasons' New Land Owner: China
The government of the People's Republic of China has taken control of the Anbang Insurance Group, according to news reports. The 2800 Pennsylvania Ave. NW property where the Washington, D.C., Four Seasons hotel sits has been owned by Anbang since 2016. It is not yet clear why the Chinese government acquired the insurance group. Headquartered in Toronto, Four Seasons Hotels and Resorts operates 109 hotels worldwide and is majority-owned by Bill Gates and Prince Al-Waleed bin Talal.
Coming: Eatery at Wisc. & O
Prince & Princess is abdicating its corner at 1400-1404 Wisconsin Ave. NW. After decades, the hip, casual clothes and shoe spot will morph into a restaurant, according to the Alcoholic Beverage Regulation Administration placard on the storefront and its manager. The sign reveals: "New Restaurant, serving Spanish cuisine/tapas with a vegetarian infusion. Sidewalk Café with 20 seats. Total Occupancy Load is 350 with seating for 200." Kenzo LLC is the business; the rebuild will take some time.
In: 1310 Kitchen & Bar
In the space the Daily Grill occupied in the Georgetown Inn, at 1310 Wisconsin Ave. NW, is a new restaurant called 1310 Kitchen & Bar. Some of the menu items have an international flair, but in true Washington style the restaurant's happy hour is featured on the sidewalk board.
Moved: Fuel Body Lab
This exercise-focused place, located at 3214 O St. NW for almost seven years, has moved to 2934 M St. NW, on the second floor. A sign nearby indicates its "New Home." Area residents are invited to enroll in group classes, take private lessons or simply drop by to do Pilates, barre and other types of workouts. For frequent exercisers, an unlimited membership option is available for a monthly fee.
Renovating: L'Occitane en Provence
Located at 3106 M St. NW, this store — part of a chain that specializes in body products for men and women and fragrance products for men, women and home — is being renovated. A storefront sign at the closed location, known for its canine water station, reads: "Unveiling your new boutique this March." L'Occitane continues to sell its products at suburban locations and online.
In: Insomnia Cookies
For those who miss the Mrs. Fields and Selma's gourmet cookie businesses, this oven-fresh Georgetown arrival is welcome. The store, located at 3204 O St. NW, delivers until 3 a.m. daily. Flavors that most people who grew up in the U.S. will be familiar with are featured, priced at $1.80 and up. The calorie-conscious will appreciate the information about the calories consumed per menu item.