Woolly's New Artistic Director: Maria Goyanes
By
November 21, 2018
0
432
•
---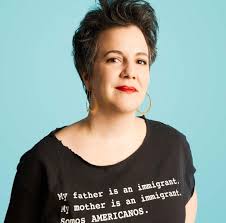 It's another hectic midweek evening and Maria Manuela Goyanes — stepping into her new role as Woolly Mammoth Theatre Company's artistic director, following co-founder Howard Shalwitz's retirement — has been on the go for what seems like forever.
"I know, I know. I've been running all the time," Goyanes said, excited by what appears to be a love match in its beginning days.
Shalwitz, now director emeritus, wrote in a statement: "I am thrilled about the selection of Maria Manuela Goaynes. I can't imagine Woolly's future in better hands."
Goyanes brings a hugely impressive resume and history, dense with production credits, bursting with a barely imaginable diversity of ideas and defining an artistic comfort zone where the ordinary fears to tread.
After getting her undergraduate degree from Brown University in 2001, she worked under Oskar Eustis (also one of her teachers at Brown) at Trinity Rep in Providence, Rhode Island, then spent 14 years at New York's legendary Public Theater, where she became director of producing and artistic planning. Her rise at the Public was paired with stints at Soho Rep and the pioneering 13P playwrights collective.
Also in that thick theater thicket was her work as co-teacher of an Elements of Producing class for graduate students at the Juilliard School, as a faculty member at New York University's Playwrights Horizon's Theater School and as a guest lecturer at Bard, Barnard, Brown, Columbia, Marymount Manhattan, the University of California San Diego, the University of Texas and Yale.
Sounds like, in the very least, a heavy workload, accompanied by bouts of theory and intellectual exploration. It's all true, to be sure, but just beneath all that is the stuff that marks a genuine affinity with Woolly. It's the people, the outreach, the idea that theater is the most personal of arts — but that it has to be done right to reach the most people and have the biggest impact.
And it doesn't prepare you quite for the voice, which is high energy, down to earth, not at all out of breath. If the D.C. theater scene needs a kind of queen or loudspeaker, Goyanes has it covered.
"I love Woolly and Howard and everybody I've met, but I'm still feeling my way here, too, and that's exciting," she said. "You have to remember, I'm a New Yorker, and the daughter of immigrants, a first-generation Latinx American." Her father, Pedro, a bus repairman for New York City Transit, came from Spain, while her mother, Violeta, a schoolteacher, was from the Dominican Republic. Raised in Jamaica, Queens, she has lived in New York most of her life.
Goyanes wanted to be a director, which she has done and continues to do, but it was in the theater administration arena that she's made her mark, where her ideas bloomed and continue to spread. The Public Theater is a kind of holy grail of the new theater, with a New York flavor and, more important, a constant influx of theater artists looking to push the envelope.
"As a producer, you make things happen, you work with everyone, pulling plays and artists and actors together. You help put things on a stage from the first line that occurs to a writer to the fullness of a production," she said.
"Theater is about our lives, my life, and I'm interested in plays and writing that are meaningful to me in terms of who and what I am. That's why we go to theater, to come in touch with what's important to us, what we dream and imagine and live."
The connection to Woolly — where the 2019-20 season will be the first she creates for the company — becomes more obvious when you look at the product. Goyanes is drawn to specific, original, diverse writers, like Sarah Ruhl and, of course, Lin-Manuel Miranda, for whose megahit "Hamilton" she was associate producer at the Public.
She was executive producer for Ruhl's "Melancholy Play" and routinely finds sharp, powerful and affecting new playwrights and composers like Cush Jumbo, Robert O'Hara, Alex Timbers and Michael Friedman ("Bloody Bloody Andrew Jackson," which was seen at Studio Theatre in recent years). She is a big fan of Branden Jacobs-Jenkins, whose "Gloria" ended its run at Woolly recently.
Learning that I'm a big Ruhl myself, she let me know that the gifted playwright had a book of essays coming out, then riffed on Jenkins, whose crazed, funny and powerful "An Octoroon" is unforgettable.
We had a half an hour. It went by in five minutes, because in her voice you hear the gifts of an original artist with vision, a kind of apostle due for some coffee. If you look at the history of Woolly in this city, and the plays and the playwrights — from Craig Wright to Harry Kondeleon to Nicky Silver and so on — and see where the Public's Lab Series (as expressed in Suzan-Lori Parks's "365 Days/365 Plays" project) intersected in this city, you can see what Goyanes is attracted to in Washington.
"You want to bring people into the theater, and meet all the challenges of that, but you also want to bring theater out to the city and the neighborhoods," said Goyanes, who sounds like the advocate that live theater is looking for in our app-happy world.