Taiwanese Tea Cocktail
By
December 7, 2018
0
951
•
---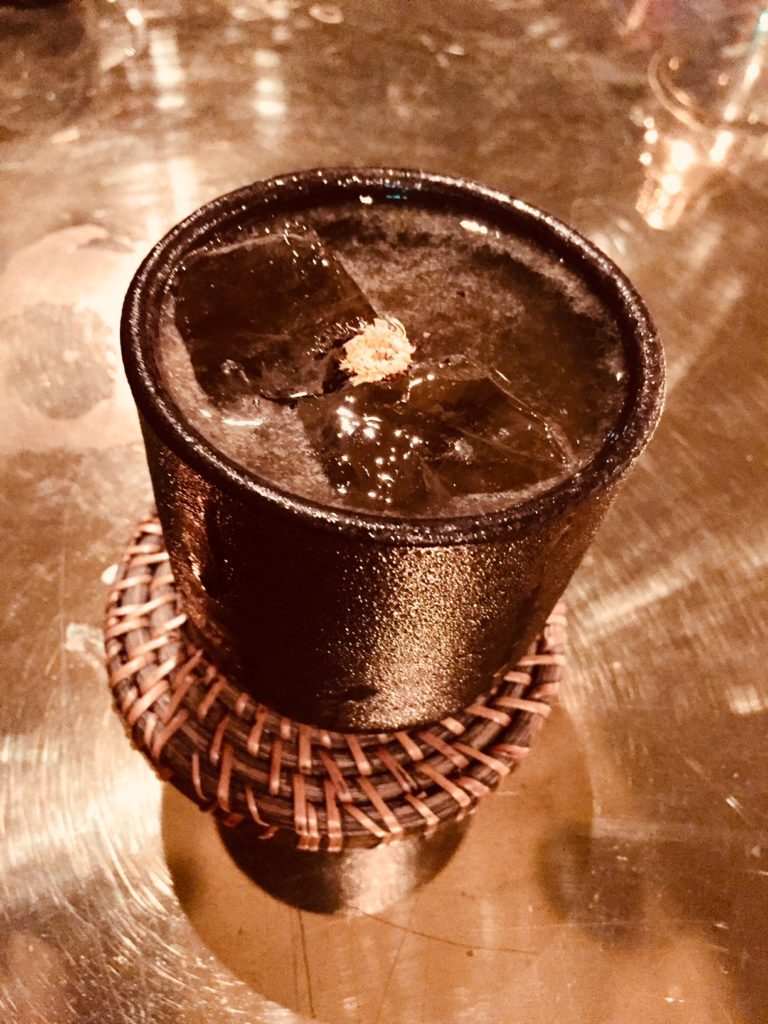 When moving to a new city, it can be challenging to find new places to eat, drink and play. I found Taipei more trying than other locales, though, due to the city's love affair with hidden speakeasy bars.
For example, in the buzzy Ximending neighborhood, a local had told us about a hip watering hole housed in a former cinema. My friends and I came across a building with Bruce Lee posters prominently displayed outside. We surmised that this was the place.
Oddly, there was no entrance, no box office and no sign of life inside. But after pressing a small button near what appeared to be a loading dock, a metal gate lifted, exposing a dark corridor that led to a swanky, curtained-off lounge. The bar, called Hanko 60 (no signs, it's the street address), was decorated with movie paraphernalia and had an impressive list of cocktails, many showcasing local ingredients.
Perhaps the most extreme case is the hotspot Mozi, which is tucked inside a secret passageway in a working barbershop. I arrived on a Thursday evening to see a man getting a cut in one of the chairs. A signed adorned with a leaping stag outside simply states: "Mozi Hair Salon."
Since I had arrived a little early, I took a seat in the waiting area. As I waited and watched the typical beauty shop activities around me, I started to question whether this secret space really existed. I was only reassured when a group of three women, all dressed to the nines, arrived. Soon afterward, a bookshelf in the back of the shop rotated as a bartender stepped out, revealing an entranceway into a sleek and stylized space on the other side.
Apparently, I'm not the only customer that has found Mozi perplexing to locate. Since the barbershop shuts down around 9 p.m., late- night revelers need to navigate their own way through the empty salon and find their way. You must push a secret book to gain entrance. According to founder Thomas (one name only), "A lot of customers pass by, they hear the songs, but don't know how to get here."
Thomas, who has spent time in the States, was inspired to open his Taipei bar after seeing the great New York speakeasies such as Angel's Share in the East Village. "I'm really fascinated by Prohibition culture in the U.S.A.," he said, "flappers and the allure of the 1920s."
My first drink, called the Promised Land, was everything that I would expect in a subtropical locale, and more. It started off with the scent of flowers from G'vine, a gin distilled from grapes, infused flowers and orange flower water. This melded quite nicely with a tropical puree of orange, passionfruit and pineapple. A house-made green apple syrup added a hint of tartness and a jasmine tea-infused vodka cut through the sweetness with a floral tinge.
Taipei itself is drowning in tea shops, selling hot and iced varieties, fruit teas, milk teas and bubble teas. While the States may be flooded with coffee houses, in Taiwan meeting at a tea shop is a staple of socializing.
The next offering, called Grandpa's Tea, featured tea as the star flavor with a one-two- three jab of Earl Grey-infused Gordon's gin; Tiffin, a tea liqueur; and teapot bitters. This tipple is a throwback to the days when tea was one of the dominant ingredients in punch. Lemon and grapefruit juice keep this cocktail on the sour side; the only sweetness comes from a bit of honey and simple syrup. It was served in a satiny pewter mug that gave it a chic look on the sophisticated silvery bar.
While it tasted nothing like anything my grandfather ever imbibed, it had a refined and classy taste, years away from any of the "sweet tea vodka" cocktails popular with American 20-somethings.
The drink recipes at Mozi are confidential, but I managed to make a poor-woman's version on my own. To infuse the gin, let two Earl Grey tea bags sit in a bottle of gin for a few days. Tea bitters can be purchased on Amazon and another variety of tea liqueur, Tatratea, is available in the U.S.
Ingredients
2 oz. Earl Grey-infused vodka
1 oz. tea liqueur
2 oz. fresh grapefruit juice
.5 oz. fresh lemon juice
.5 oz. honey
dash of bitters
Combine all ingredients in a shaker
and serve over ice.