Tudor Place Lawn Torn Up for Cistern Project
By
March 18, 2019
0
1478
•
---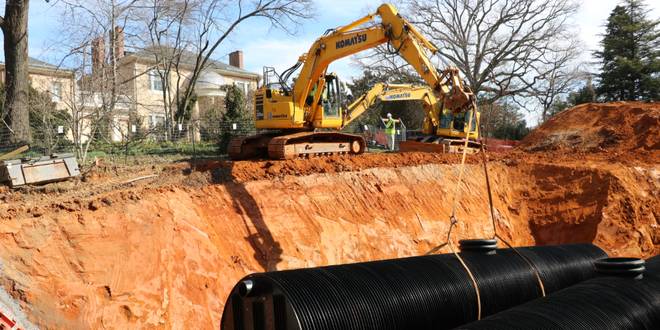 The view of the vast south lawn of one of Georgetown's most revered historic homes is a bit shocking right now. The acreage on the corner of Q and 31st Streets is almost completely torn up.
"It's gonna be great!" Tudor Place Executive Director Mark Hudson told The Georgetowner on the morning of March 11, as two skip loaders scooped out tons of deep red earth from a gigantic hole near the mower shed on the lawn's southwest side.
By next week, two 30-foot-long, eight-foot-high cisterns (water tanks), each capable of holding over 10,000 gallons of water, will be lowered onto a bed of gravel in the hole. They then will be attached to a new line of pipes that will conduct all the water runoff from the historic house and from points along the south garden's steep grassy slopes.
"In a month, we'll be able to not only save and use all our own water to irrigate the lawns. We also will have nearly complete control of all the water runoff which has flowed onto Q Street and into the city's water system and nearby waterways," said Hudson. "We'll be saving money while we save the environment."
The project is part of Tudor Place's long-term sustainability plan. The underground cisterns will enhance the temporary soil-stabilizing matting, silt fencing and jute filter logs that were put in place last year by the Tudor Place Foundation with the help of the Georgetown Garden Club. Those measures were a temporary solution to absorb and redirect the excess water flow from the estate.
The almost half-million-dollar cost of the underground cistern project is being covered by grants and Tudor Place fundraising, which is ongoing. The project also incorporates a multiphase plan to remove invasive species from the southern slope and replace them with historically based groundcovers, shrubs and an understory of flowering trees.
"Tudor Place has long considered sustainability and care for the environment one of the keys to our mission to safeguard this historic place," Hudson said.  Continual input from experts, neighbors and supporters of the estate has been sought for the project, especially those living next to the 32nd Street entrance, where the construction equipment and materials enter and exit.
"But now neighbors, supporters and staff of Tudor Place watch the construction on the south lawn with excitement. It's a little like watching boys with their big yellow toy trucks," Hudson said. "When the huge cisterns were unloaded from road-blocking flatbed trucks and swung onto the lawn, one of the most excited little boys watching was me."
The cisterns are expected to be fully covered by the time of the annual Eggstravaganza! egg hunt and roll on April 13. The new lawn should be in place by the 27th annual Spring Garden Party on May 22.