A Beethoven Tribute by Mutter and Orkis
By
January 29, 2020
0
523
•
---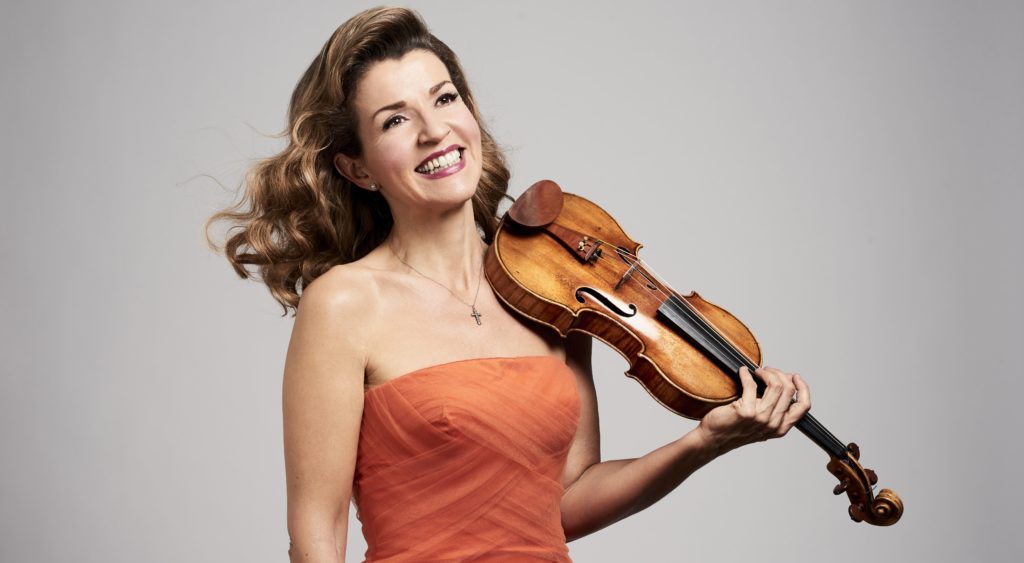 So, in the still spanking new (but slightly astonishing sounding) year of 2020, we have the 250th anniversary of the birth of Ludwig van Beethoven, the German genius composer whose bust is recognizable by all — including those who don't care for or even know his music.
And we have Anne-Sophie Mutter, the German violinist who won a Grammy a number of years ago for an album of Beethoven sonatas, along with her longtime musical partner, pianist Lambert Orkis. Some people with long or possibly short memories still describe Mutter as a prodigy, although she has stood out on the stages of the world's concert halls and recorded a lifetime's worth of musical gifts since first emerging, as if fully formed, at age 13.
This brings us to a concert, presented by Washington Performing Arts. This Saturday, Feb. 1, at 3 p.m., Mutter and Orkis will deliver in the Kennedy Center Concert Hall what amounts to a Beethoven tribute, a program of three Beethoven sonatas: Sonata No. 4 in A Minor, Op. 23; No. 5 in F Major ("Spring"), Op. 24; and No. 9 in A Major, Op. 47 ("Kreutzer").
The concert is part of a tour during the Beethoven anniversary year, but it is also a kind of convergence, a remembrance, a familiar reunion of the Mutter-Lambert-Beethoven axis. And it represents a challenge and a joy for the woman who been called the "queen of violin playing" — finding freshness in what seems like an old garden.
"The work is familiar, but it gives you such an opportunity to reconsider Beethoven," Mutter said in an interview from San Francisco last Sunday. "He reinvented and enlarged the whole world of music. He added new dimensions to what light embraces. You ask, why him? And you are talking about his gifts, but also what he endured in terms of the darkness.
"That imagination, that grandness, brings musicians to try new forms of playing, new heights, I think. And in these times, with big challenges in terms of government, daily life and the global issues, his music rises to those occasions," she continued. "There was an exhibition on his life and work in Vienna, in terms of the darkness and light in his work, how the deafness affected the work and made it remarkable."
There had been talk some time ago that Mutter was considering retiring, but she dismissed that. "I think I have a lot to give, a lot to experience yet. And I also think that music is one of those things, in a big way, and a universal way that has the potential of bringing us together now."
Mutter has performed here often. "I head for the museums right away," she told us once, when we talked to her before a concert in which she showed different sides of her persona, her gifts and presence. Always, she retains an element of grace, style and fashion, which she wears elegantly, but which has become, to some degree, less important to her.
She was here in 2014, presenting her young Mutter Foundation group, Mutter's Virtuosi, and played a rousing and quite fast version of "The Four Seasons" with them. She also gave an example of her increasing interest in contemporary music with a presentation of composer Sebastian Currier's  "Ringtone Varitions," a deft, diverse violin riff on our society's current must-have instrument: the cellphone.
"Music," she said then, "is always about moving forward," and "music is everything."
Born and raised in Rheinfelden, near the Swiss border, she started out playing the piano at the age of 5 but soon switched to the violin. Conductor Herbert von Karajan took an interest in her and, at age 13, she made her stage debut at the Lucerne Festival. Her Carnegie Hall debut came at age 22. Hers is a life, a resume, a recording career with Deutsche Grammophon rich with achievements and honors, from peers and from countries.
Watching her play with her young violinists at the Kennedy Center, you saw an intense, joyful exuberance, words not usually associated with her. She seems always in the service of composer and music, rather than advertising her own gifts. In that sense, Mutter has an authenticity that does each composer justice and makes opportunities for collaboration and partnerships that one might not expect.
There is, for instance, her collaboration with uber-film composer John Williams, with whom she recorded the DG album "Across the Stars," which came out last August. It features a selection of film themes and other compositions by Williams, famous, among so any other things, for the musical universe of the "Star Wars" films, including the latest incarnations.
"I think the thing about John's music is this old and ancient thing about highbrow and lowbrow," she said. "To me, the criteria is that the music is beautiful. I am a big fan, and if you look at all the work, it's varied. There's the amazing music for 'Schindler's List,' 'Memoirs of a Geisha,' 'Cinderella Liberty' and Dracula.'
"Yes. The one with Frank Langella, he was very sexy in that," she said.
Mutter's range of interests was always wide. A reader of García Márquez and French novels, she is also a fan of American-born Parisian jazz singer-songwriter Madeleine Peyroux.
And it's obvious that although she may have had a brief flirtation with thoughts of retirement, she may have just begun moving forward again, just in time for Beethoven's 250th.