Jazzman Jason Moran's Bandwagon
By
January 29, 2020
0
32
•
---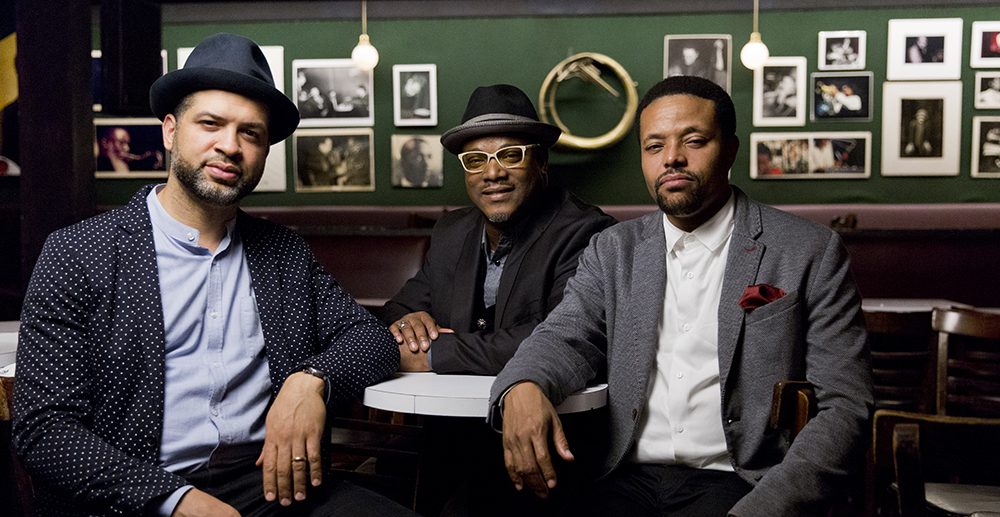 When they picked Texas-born Jason Moran to become the Kennedy Center's artistic director for jazz, they picked the right guy.
When it comes to jazz, Moran — a highly regarded pianist, educator, talker and composer, living a life in music — seems to embody the form, in the sense of its tapestry-like quality. The heritage and future of jazz seems to move through him like a back-and-forth, arms-open-wide wind. In terms of his standing and appeal in the world of jazz, he's a man of many parts in a way that few practitioners are today.
Moran is in the midst of a celebration of the 20th anniversary of the Bandwagon, the trio in which he performs with bassist Tarus Mateen and drummer Nasheet Waits. The group is noted for its penchant for taking chances, stretching boundaries and searching for new ways to collaborate in a form custom made for it.
The anniversary kicked off in November, when Moran and his Bandwagon partners hooked up with German saxophonist-composer Ingrid Laubrock, playing music from Moran's groundbreaking "Black Stars."
Two more presentations to mark the 20th-anniversary milestone are ahead: a performance with haunting and charismatic star vocalist Cassandra Wilson and guitarist Marvin Sewell on Feb. 28 and the "Jazz Doodle Jam!" on March 13 with children's author and illustrator Mo Willems.
It's notable that these three concerts were assigned to three different Kennedy Center venues. The first was performed in the Family Theater, the Wilson concert is in the larger Eisenhower Theater and "Jazz Doodle Jam!" will be in the Club at Studio K, an intimate space in the center's new and splendid addition called the Reach. The Club at Studio K will also be the site for Moran's "Fats Waller Dance Party" on April 25.
Taken together, the anniversary performances for the Bandwagon and the new Reach venue speak to the enthusiasm that Moran has for collaboration, pushing the envelope, spreading the word and expanding the audience and the exposure of an army of gifted jazz artists.
"I think that collaboration has always been a part of the history of jazz. It's a composite, all of the time growing," said Moran. "Jazz is a stew of exported and imported. Its nature is exploratory.
"I think, too, with the Reach at the Kennedy Center, we have a real opportunity to bring the community, the whole community, into the center, and into our particular world of jazz, of hearing new music, of seeing and hearing all kinds of examples of the form — from our trio to great singers to big bands, from local talent to world talent."
Jazz is living out a paradox these days. There have probably never been as many jazz musicians, players, composers, students and performers as are out there today, playing in clubs, recording, on live stages in all sorts of venues and concert halls. Nor has there ever been such an expression of plurality and diversity.
Now more than ever, jazz is a worldwide musical phenomenon, with every note put on paper or given riveting freedom in all of its inventiveness and improvisation. Jazz is as close to a universal language as the world has. The digital age and social media no doubt have had something to do with that.
Not many individuals can embody all that expressiveness in a playground that, while expanding in numbers, lacks the charismatic and admittedly hyper-dramatic legends of the genre's rich history, whose appeal lies as much in the life stories attached to the talent as it does in performances and recordings.
Moran brings a lot of gifts, knowledge, ambition, vision and memory to his role in the world of jazz, and it's not just occupying the prestigious Kennedy Center leadership role. He also has the chops and charisma to go with all that.
He thinks of jazz in a holistic sense. "A trio can expand," he said, "but it's the core of the essential music — three musicians, sharing, sending things to each other. Usually, a trio is not necessarily the core of a bigger group. We started out as sidemen, you know, but also know each other really well."
And he seems to be everywhere. Take a look at his schedule as a solo artist, working with other artists, the concerts, the lectures. He also works with his wife, mezzo-soprano and artistic collaborator Alicia Hall, who brings the world of classical music and her own spectacular vocal gifts to jazz. They are the parents of 12-year-old identical twin sons.
Over the phone and in person, Moran seems both familiar and brand new, not exactly a salesman but a knowledgeable, lightly intense enthusiast and carny barker for the promises and the energy of the jazz world.
Better yet, watch him on the wonderful world of YouTube, where you can see him with the Bandwagon, talking about improvising, new jazz and the cores of rhythm, melody and language, sitting at the piano, always with a hat perched jauntily on his head. ("I've got around 50," he says.)
Or better still, listen to him playing clear-as-cold-spring-water boogie-woogie piano riffs at the Blue Note at 75 concert at the Kennedy Center several years ago (he is a noted star in the record label's firmament and history). Or watch and listen to him play Thelonious Monk, an idol of his.
For Moran, it's clear that jazz in its entirety works like an open door, a two-way door where it's always windy, inside and outside, taking in and sending out something new.