Police Raid Mr Nice Guys Again
By
February 3, 2020
0
6719
•
---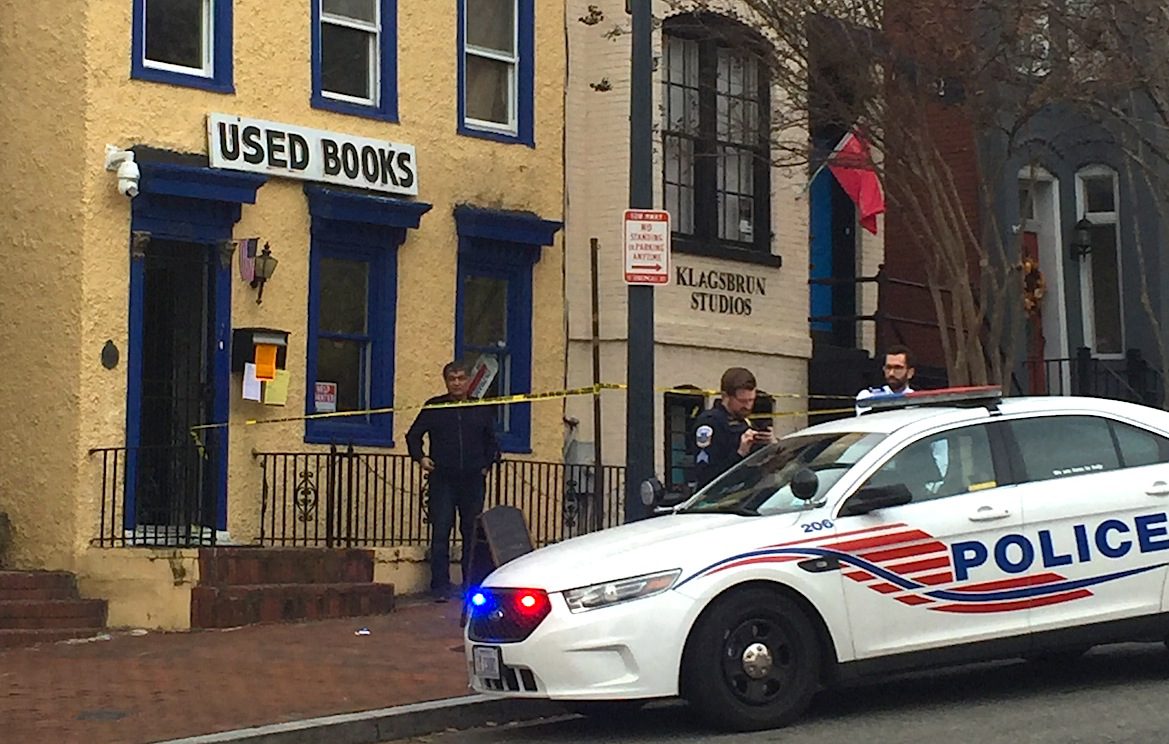 For the second time in three months, Mr Nice Guys — a CBD smoke shop at the corner of 33rd Street and Wisconsin Ave. NW in Georgetown — was raided by police in SWAT gear. Eight armed and helmeted Metropolitan Police Department officers smashed the front door glass of the store on Thursday afternoon, Jan. 30, reportedly seizing marijuana-infused edible products and cash, among other items. No one was inside at the time.
The store had just reopened after being shut down in December in a similar police raid. Co-owners Greg Wimsatt and Damion West went to court on suspicion of selling cannabis (that is, marijuana) at the shop, which is illegal.
But it's complicated.
D.C. marijuana law permits small amounts of marijuana to be grown and used personally on private property by adults over 21 years old. But it does not allow for cannabis to be sold in a store (hemp is different). A clever loophole has seen some shops offer customers up to one ounce as a "gift."
That's what Mr Nice Guys is purported to do. The store sells T-shirts and other products, some for seemingly very high prices. For instance, one might buy a T-shirt for a certain (higher than normal) price, then receive a gift of a packet of marijuana. The shop self-identifies as an Initiative 71-compliant CBD marijuana delivery service. The question is, how much?
There are other complaints, too. Some neighbors clearly believe the shop — located on the corner of a one-way residential street, just off Wisconsin Avenue at the tip of the popular Book Hill shopping block — is breaking the law and creating a public nuisance.
Advisory Neighborhood Commissioner Joe Gibbons said, "Neighbors told me that the smell from the shop is 'ungodly' and that it attracts 'troublesome' customers." Some customers enter and park the wrong way, Gibbons told The Georgetowner. And there are sometimes long lines. In December, what the shop's owners called a heated interaction with neighbors was captured on mobile phone video.
"In Georgetown we want safe, legal businesses," Gibbons said. "We want all the new type things out here. We don't want illegal drug and narcotics sales. But I want this business to succeed, to fly, and will help them with their interactions with the neighbors and the regulatory boards."
Wimsatt denies illegal activity. "We're not harmful," he said. "We're nonviolent people. We're friendly people. We're not no threat to nobody. Nothing bad's happened to nobody here. I mean, it's clearly bias."
"We have our cigarette license," said West, emphasizing that they were not doing anything illegal.
After police raided Mr Nice Guys, the Department of Consumer and Regulatory Affairs boarded up the business with signs saying it is shut down.
"We can work together," Gibbons said. He has invited the owners to address the advisory neighborhood commission meeting tonight, Monday, Feb. 3, if they can make it.