Spring Semester at Georgetown University
By
January 11, 2021
0
1314
•
---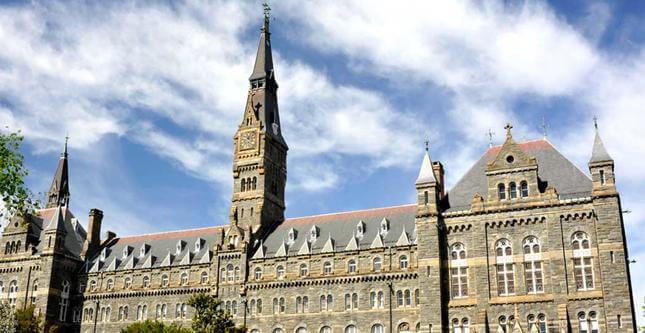 The spring 2021 semester at Georgetown University begins this Wednesday, Jan. 13. As announced by President John DeGioia in November, due to the winter surge of COVID-19 cases in D.C. and elsewhere, all undergraduate courses are being offered virtually. However, the number of students residing on the main campus is to double, from about 500 during the fall to about 1,000. The additional students are mostly members of the senior class who reside outside the D.C. area, plus a few other undergraduates whose housing situations have become unstable.
Per a "Spring 2021 FAQs" webpage: "Reliably maintaining Georgetown's capacity to deliver a very robust set of health and safety protocols — regular proactive testing, active contact tracing, quarantine and isolation and lower density in residential and common spaces — will be challenged as the conditions of the pandemic nationally continue to deteriorate. For this reason we believe caution continues to be called for."
Based on the university's experience with 17 pilot programs in the fall, roughly 200 hybrid courses are to be offered for seniors and graduate students during the spring semester. Other classes with in-person components will be launched for medical, nursing and law students.
A reservation system is in place for on-campus studying and gathering. The university is also providing students with WeWork's All Access Benefit beginning Feb. 1.
As for athletics, students participating in men's and women's soccer, men's and women's lacrosse and men's and women's track and field/cross country are to return for training and competition, joining the women's and men's basketball teams, which began playing in late November.
The fall-semester tuition reductions — 10 percent for undergraduate students and five percent for graduate students — will remain in effect.
As a way for members of this year's freshmen, the class of 2024, to start living on campus together sooner rather than later, the university is planning an optional credit-bearing residential summer session, "if public health conditions allow for it."