No Known Inauguration-Related Threats Yet in Georgetown
By
January 18, 2021
0
436
•
---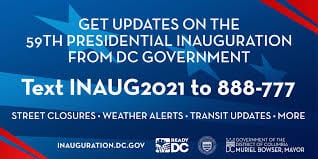 "There will be no camping allowed in Rose Park for protestors or others who come to D.C. to take part in inaugural activities," Second District Cmdr. Duncan Bedlion of the Metropolitan Police Department affirmed at a virtual meeting with the Georgetown-Burleith advisory neighborhood commission on Friday afternoon, Jan. 15.
Rose Park was the only park Bedlion referred to in response to questions about inauguration camping restrictions, since Airbnbs and hotels in D.C. have been ordered not to take reservations for the inauguration. In any event, no camping is allowed in Rose Park because much of it is federal property under management by the National Park Service, with enforcement by the U.S. Park Police. "Other city parks in the District may have other restrictions, enforced by the DC Department of Parks and Recreation," Bedlion said.
In general, during the meeting Bedlion sought to assure participants that there was no known threat on Georgetown from any group. As of Friday, plans were that policing in Georgetown during the days before the Jan. 20 inauguration would be at the usual level with some increased visibility. "We want Georgetowners to know we are there," he said.
But the situation could change. Bedlion urged everyone to be on the alert for anything unusual. "If you see anything that looks suspicious, call 911," he said. "Let us figure out if a crime is being committed or not."
"Despite heavy security around federal facilities, I am concerned about potential terror attacks elsewhere in the city, particularly residential areas," Mayor Muriel Bowser told NBC's Chuck Todd on Sunday, Jan. 17. "Our police department working with our federal law enforcement partners and the United States Army, quite frankly, also has a plan to pivot if we have any attacks in our neighborhoods."
Several questioners at the meeting asked Bedlion if the extended military protections on the Hill would spill into downtown (yes — likely around the White House) and Georgetown (presumably not, at least at this point). On Friday, there were no known plans to close down or block any streets or Key Bridge. But on Sunday, the U.S. Secret Service announced that from 6 a.m. on Tuesday, Jan. 19, through 6 a.m. on Thursday, Jan. 21, there would be no access to Whitehurst Freeway and no right turn permitted on M Street NW. All traffic will have to turn left on Canal Street.
According to the Georgetown Business Improvement District, sections of Rock Creek Parkway would be closed beginning Saturday, Jan. 16, and some businesses were considering closing down on Inauguration Day. Bedlion reiterated that Mayor Bowser urged everyone not to go downtown during the days around the inauguration.
"Keep checking the District websites for real-time updates," Bedlion said. Updates are available by texting INAUG2021 to 888-777.