Wild Thistle Kitchen: Crispy Smashed Potatoes With Pancetta and Herbs
By
February 25, 2021
0
831
•
---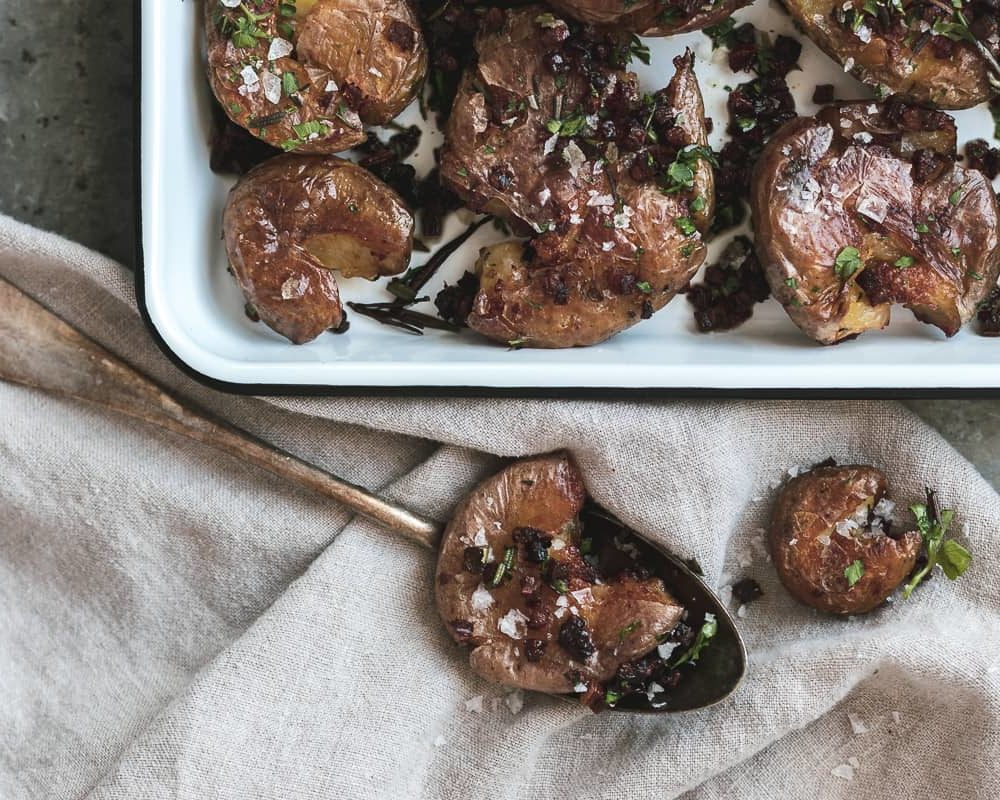 I get really excited about these crispy smashed potatoes. I'm excited right now just typing about them (I wish I had some). And I'm really excited to share them with you! They are obviously meant to be a side dish, but I made them the other day, all by themselves, just because. It seemed like the right thing to do, and it was.
I burn my mouth every time I make them because I have to eat a few of them straight off the sheet pan. Once you make them, you'll understand why. They are crispy and salty, but the insides are still soft and pillowy. And they are so versatile. They can accompany anything: fish, chicken, beef, eggs. Give me a bowl of these crispy oven-roasted potatoes with a runny-yolked egg on top and I'm a happy girl.
Crispy smashed potatoes are all the rage now, but I have been making these for years. I promise I made them before they were trendy! I call these "with herbs" because you can really use any hearty herb while roasting them: bay, rosemary, thyme, oregano or a combination. And you can toss on any soft herb just before serving: chives, parsley, tarragon or dill. You pick!
And if herbs aren't your thing, you can't go wrong with just salt and pepper. The spicing and herbing is completely up to you. Be creative and use what you love. I grew up eating my dad's rosemary roasted potatoes, so I have to add rosemary, and I add salt, bay leaves and garlic to the water anytime I boil potatoes — whether for mashed potatoes, potato salad or these wonderful babies. It really adds something. But again, this is totally up to you.
As for technique … first, we boil these potatoes until they are just tender. Meanwhile, the pancetta is getting crispy in the oven, on the same sheet pan we will roast these taters on. Once the potatoes are tender, we drain them and add them to the sheet tray. This is when the fun starts. Place another sheet tray on top and press down all over to smash the potatoes. Don't go too crazy — we don't want mashed potatoes. You will feel them popping under the pressure (really fun!).
Alternatively, you can use a flat-bottomed jar or a drinking glass to smash each one. Then, just toss them back in the oven and roast until crispy and perfect.
I hope you'll give these tasty taters a try. Let me know if you do by leaving a comment and rating below.
xo — Anita
Crispy Smashed Potatoes With Pancetta and Herbs
Prep Time: 10 minutes
Cook Time: 1 hour
Yield: 6 servings
Ingredients
2 lbs. small potatoes (I prefer Yukon Gold, but any "new" potatoes will be perfect)
8 oz. diced pancetta (or bacon — whatever salty, porky goodness you prefer)
2 or 3 bay leaves
2 or 3 whole peeled garlic cloves
1 tablespoon chopped fresh rosemary (from 1 or 2 sprigs)
4 or 5 sprigs fresh thyme
¼ cup olive oil
Salt and pepper to taste
Fresh herbs for finishing (I like to use a combo of chopped parsley, rosemary and thyme)
Instructions
Preheat oven to 375. Add potatoes to a large pot and cover with water to 1 inch above potatoes. Salt the water generously (like you're cooking pasta), add bay leaves and garlic cloves and bring to a boil. Then reduce to a simmer and cook for 10 minutes.
Meanwhile, place pancetta or bacon and herbs on a sheet tray and roast in preheated oven while potatoes are simmering. After 10 minutes, remove sheet tray from oven and raise oven temp to 425.
Drain potatoes and carefully add to sheet tray with pancetta. Place another sheet tray on top and — gently, evenly — press down to smash the potatoes. You will be able to feel them popping under the pressure.
Once they are all smashed, drizzle with olive oil and sprinkle with salt and pepper (about ½ teaspoon pepper and 1 teaspoon salt, keeping in mind the saltiness of the pancetta or bacon). Return to oven and roast for 30 minutes, flipping halfway through.
If you want them extra crispy, just continue roasting until you've reached desired crispiness.