Weekend Round Up: 7/8 – 7/11
By
July 8, 2021
0
839
•
---
It feels like we just came off the long Fourth of July weekend, doesn't it? Good thing another weekend is on the horizon! This week, check out a collaborative art project with local theaters, a "yappy hour" for your furry friends, see Max Weinberg at Wolf Trap, learn calligraphy with the Smithsonian and more. Enjoy your weekend!
Check out White Ford Bronco at the Bullpen  
This dog friendly event features D.C staple White Ford Bronco playing at the Bullpen near Nationals Park Saturday night. Doors open at 5 p.m. and the show begins at 7 p.m. Tickets are $22 for pre-sales and day-of are $25. Note: the event is cash only and no Venmo or credit cards will be accepted. The concert is rain or shine. Buy tickets here.
See a Collaborative Performance Art Project with Local Theaters 
The Woolly Mammoth, THEARC and Spit Dat are hosting a weekend collaborative called "Homegrown." The event will be performed live outdoors at THEARC at 1901 Mississippi Ave. SE. "Homegrown" will feature poetry, hip-hop and storytelling that celebrates the city and its vibrant neighborhoods and artists. Masks will be required at the performances, which are Friday and Saturday night at 8:30 p.m. and Sunday afternoon at 3:30 p.m. and 7 p.m. Find out more here.
Bring Fido to "Yappy Hour" at the Wunder Garten 
The weather looks great Sunday afternoon for Wunder Garten's "Yappy Hour." Dog owners are welcome to bring their dogs for brewery bones "treat flights" and $5 select beers for humans. There will also be complimentary "puppuccinos" on tap. Yappy Hour takes place from 12 noon until 3 p.m. every Sunday. The Wunder Garten is located at 1101 1st St. NE. Registration isn't required, but you're encouraged to do so here. Woof.
Learn Calligraphy with the Smithsonian Associates 
If you've always admired the beautiful art of calligraphy, the Smithsonian is offering an eight-week course beginning Saturday afternoon from 2 -4:30 p.m. Classes will be held via Zoom and no experience is necessary. Students will learn using dual pencils and then a broad-edged pen. Later, students will begin to understand drawing guidelines, determining heights and correct letter spacing. All you need to bring is enthusiasm and patience! Smithsonian members get a discount for the course at $235. Regular price is $265. Note: Registration closes for this program on Friday at 3 p.m. Sign up here.
Spend the Weekend at Wolf Trap with Max Weinberg's "Jukebox" 
You may know Max Weinberg as Bruce Springsteen's drummer from the E Street Band or for his stint keeping rhythm on Conan O'Brien's TV show. Now, Weinberg's coming to town. His "Jukebox" is an interactive performance where the audience chooses the songs and tells the band what to play. As one concertgoer said, "It's not a concert, it's a party!" In the past, there have been Beatles, Bruce Springsteen and Rolling Stones hits played. This year, tickets will be sold at Wolf Trap in socially distanced pods of two to eight tickets. No single tickets will be sold. More on Max Weinberg's Saturday and Sunday performances here.
Get Fit with "Hot Anyone Summer" 
Sunday morning from 8 to 11 a.m., DC Fray and National Landing are hosting a fitness party — in person! Check in and warm up at 8 a.m. and then enjoy a fitness sample from 9 – 10 a.m. featuring yoga, HIIT and dance. At 10 a.m., cool down and enjoy a juice bar. The event is $35 per person and the first 100 to sign up get free swag. There will be a live DJ set too to get a party atmosphere going. More information and how to register can be found here.
Try a "Fashion Funhouse" at Georgetown Park 
Opening today is a "fashion funhouse" at Georgetown Park. "Inside the Wardrobe" is an experimental installation that explores self-expression through fashion. It's currently located at Georgetown Park (3270 M St. NW) in a 20,000-square-foot space. There are 20 interactive experiences focused on style and of course plenty of Instagrammable moments. For more information, visit here.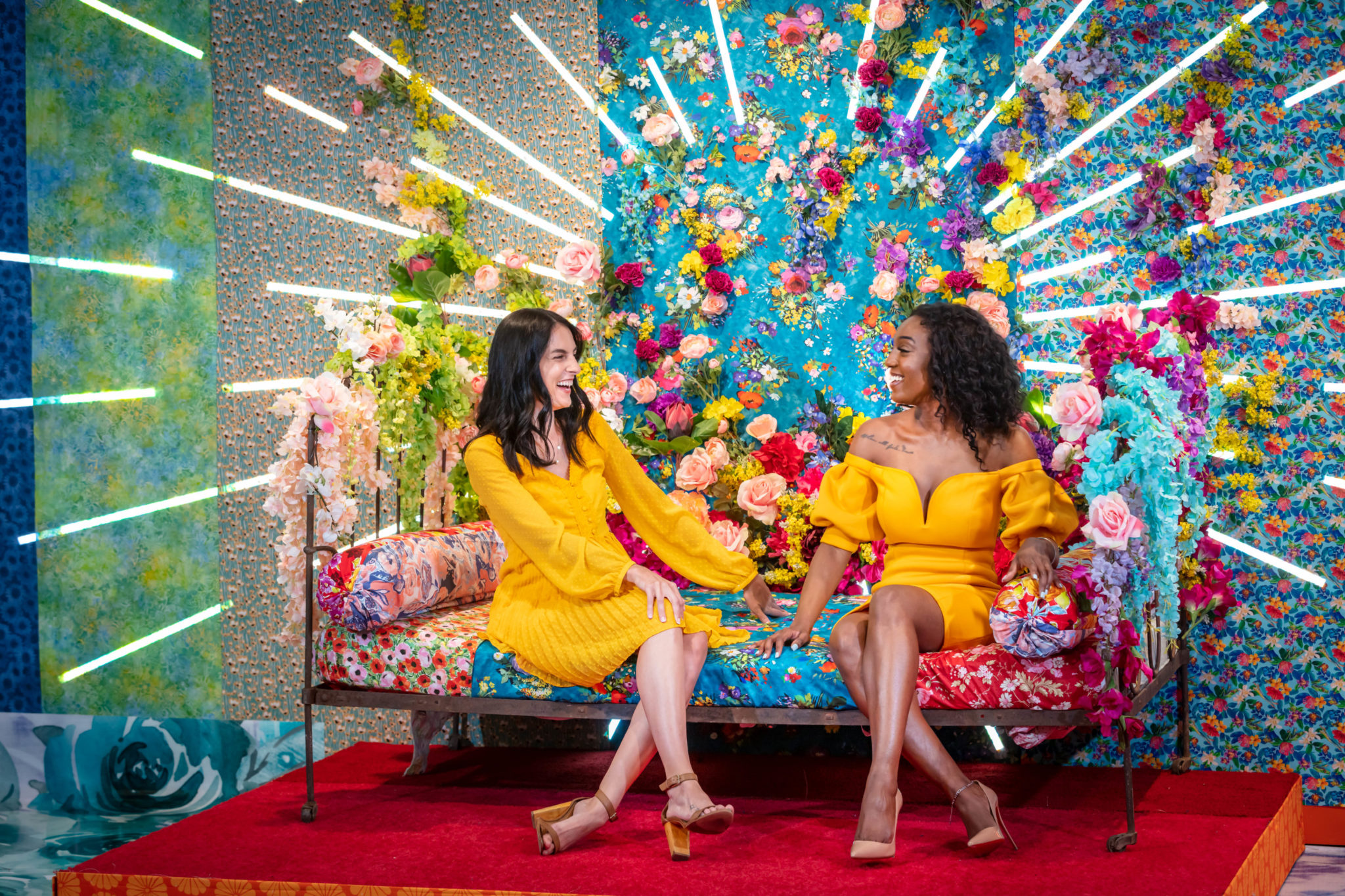 One of the installations at Inside the Wardrobe. Photo courtesy of Cory Frank from Design Foundry.