Weekend Round Up, Aug. 5 – Aug. 8
By
August 5, 2021
0
571
•
---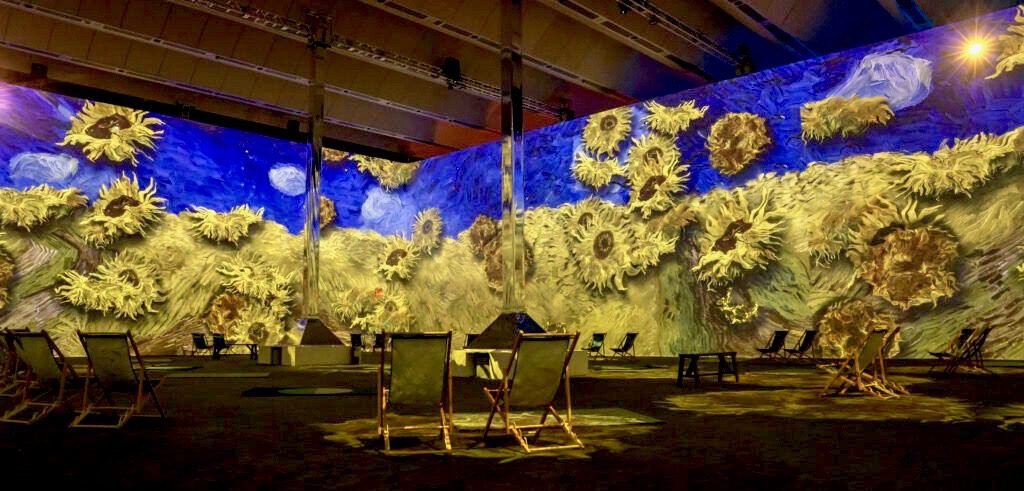 We made it to another weekend! An immersive art experience starring Vincent Van Gogh is coming to town (so, you gotta Gogh!), or perhaps visit the Anthem for Frankie Valli and the Four Seasons. If virtual is more your speed these days, the Smithsonian American Art Museum is having a week-long gaming extravaganza. Also, if you've been wanting to add a furry friend to your family, this is the weekend to do it. Enjoy!
See Van Gogh: The Immersive Experience tonight 
There are limited tickets left for tonight's "Van Gogh: The Immersive Experience." A digital art exhibition, the show is set up at the Rhode Island Center in NE D.C. The experience is family-friendly and Covid-safe, with 20,000 square-foot light and sound projections of Van Gogh's most famous works. A virtual reality portion to the event — a 10-minute "day in the life of Van Gogh" — is also featured. It's a great opportunity to introduce young ones to the wonder and beauty of art!
The location of the exhibit is at Bryant Street. Due to the multi-phase approach of the ongoing Bryant Street project (located just off the Rhode Island Avenue Metro stop), there was the opportunity to use the areas not yet under construction for public and private use, hence, the Van Gogh exhibit! Formerly a big box retailer, the space has pivoted to become a massive digital art exhibit. Make a night out of it at Bryant Street too, currently home to Coda, a boutique with 154 units and a homey feel and metrobar, a new bar concept that features an actual rehabbed Metro car. If you're craving more art post-Van Gogh, there are 5,000 square feet of new mural work featured around the neighborhood, including works by No Kings Collective, Street Theory and local artist Trap Bob. More information can be found here.
See Frankie Valli and the Four Seasons at the Anthem on Saturday 
The Jersey Boys are back! Frankie Valli and the Four Seasons are headlining at the Anthem Saturday night. Despite being nearly 90 years-old, Valli has the energy and pep of a 20-something. Expect to hear all the classics, like "Big Girls Don't Cry," "Walk Like a Man," "Sherry" and more. This concert is the perfect antithesis to the gloom and doom of the ongoing pandemic. Get tickets here.
Check out SAAM: Arcade 2021 
If you're a gamer (or perhaps have a budding gamer son or daughter at home), you'll want to see the Smithsonian American Art Museum's annual celebration of all things gaming. This year the celebration is virtual. Through Saturday, the museum is hosting a weeklong "game jam," inviting people to build their own video and tabletop game on itch.io. The theme for the games is "community and individuality." On Sunday, the games created will be available for play. More on the event can be found here.
Adopt a Pet for Free, Thanks to Max Scherzer 
As a final thank-you to the D.C. area, departing Nats' pitcher and World Series star, Max Scherzer and his wife Erica are covering all adoption fees at the Humane Rescue Alliance through Tuesday. Scherzer is now with the L.A. Dodgers, but his weeklong thank-you gift to the city comes at an important time — the alliance's shelter and foster homes are at full capacity. More information on the Humane Rescue Alliance can be found here.
Speaking of Pets, Check out Georgetown's Crumbs & Whiskers 
The M Street cat café is back open. The dozens of whiskered cats and kittens currently at the café are hoping that guests will aid in the shop's Labor Day goal: for 500 cats to be saved by then. Peak kitten season is from now through October, putting a strain on rescues across the U.S. Between Crumbs & Whiskers' Los Angeles location and the Georgetown outpost, they are hoping to save the 500 cats and kittens. For enjoyment, the café has a small menu from their food partner and fellow Georgetown business Dog Tag Bakery. It first opened in 2015 with a simple pricing system: customers can pay anywhere from $15 to $35 for a timed cat "extravagance." More on Crumbs & Whiskers can be found here.