Mapping Georgetown: Bringing Classrooms to Life
By
August 30, 2021
0
288
•
---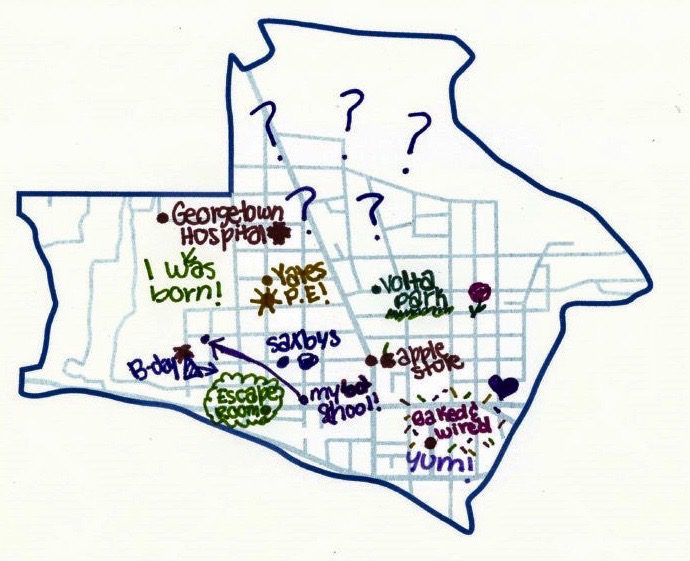 Be still my heart!  When I opened a large manila envelope of stories from Ms. Kate Farmer's 5th and 6th graders at Holy Trinity School, my heart skipped a beat.
On the Mapping Georgetown project, each story we receive, from one and all, is such a treasure — a heartfelt gift from the story's creator and an indelible gift to our local history.
Getting a peak through the eyes of 10-to-12-year-olds, was an extra special treat. In the classroom, the request for a map was only the start. The bonus came with the joyous lessons learned throughout the exercise!
Take yourself back, to one of your fall back-to-school days as a young student, and try to recall your level of awareness — or not — of your local footprint. And then, imagine the learning experience of translating and communicating those ideas, details and recollections using drawings, diagrams and language for others to interpret. And imagine the enlightening discussions created by all of the excitement on this project.
In Ms. Farmer's classroom, the students did such a wonderful job! Upon receiving the students' story-maps, I recalled these words of A.A. Milne, "Piglet noticed that even though he had a Very Small Heart, it could hold a rather large amount of gratitude." Way to bring on the talent, Holy Trinity School!
Now picture teachers and students in classrooms all around Georgetown buzzing with such discussions and activities as students recollect and document their lived experiences, memories and impressions of life in our beautiful and historic neighborhood on the Potomac.
With back-to-school time upon us, the Mapping Georgetown project would love to participate in the untapped enthusiasm and energy of students and educators around this local history project. Imagine all of the curricular areas that can be explored, from language arts to social studies to cross-cultural understanding and even to cartography.
I would be delighted to discuss further, visit face-to-face in the classroom, or partner on any good ideas for gathering future stories. We look forward to working with our extremely vibrant and exceptional educational communities!
Blank maps for your story as well as the entire collection of Holy Trinity School stories can be found at www.mappinggeorgetown.com. Marilyn Butler can be reached at marilyn.butler@gmail.com. To see the Holy Trinity students' posts on the Mapping Georgetown website, go to https://mappinggeorgetown.com/2019/04/08/holy-trinity-school-be-still-my-heart/.
To learn more about the Mapping Georgetown project see https://georgetowner.com/articles/2021/07/19/marilyn-butlers-vision-for-mapping-georgetown/.