December Holiday Community Calendar
By
December 9, 2021
0
144
•
---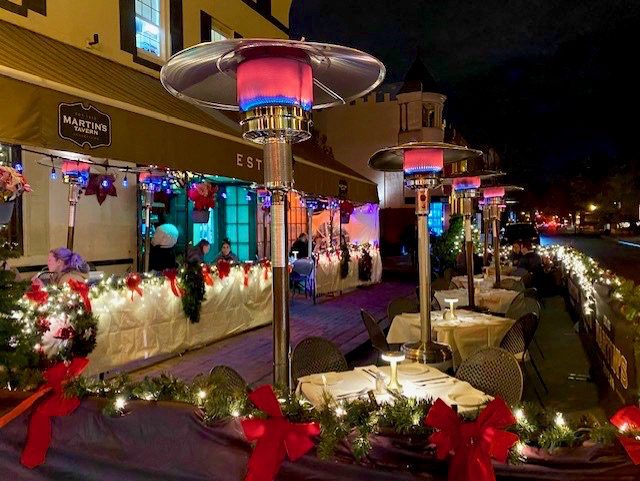 Citizens Association of Georgetown (CAG): Holiday Open House, Dec. 9, from 5 p.m. to 7 p.m. at CAG headquarters, 1058 30th St. NW. For more info, visit to cagtown.org. 
Embassy of Switzerland and Washington Harbour, Dec. 10: The Embassy of Switzerland will host a pop-up stand at the Washington Harbour Ice Rink, 2 to 6 p.m., Friday, Dec. 10. Skate and stop by the Swiss stand for a cup of complimentary Swiss hot chocolate or hot apple cider, Swiss Christmas cookies, roasted chestnuts and more. Follow the Swiss Embassy's social media channels for more info: Instagram, Facebook, Twitter
Grace Street Bonfire: Grace Street Lot, 1044 Wisconsin Ave. NW, Dec. 10, 5 p.m. to 8 p.m. 
Light Up the Season: Holiday Market, through Jan. 2, 2022, noon to 7 p.m. at Four Seasons Hotel, 2800 Pennsylvania Ave. NW. Teddy Bear Holiday Tea, noon to 4 p.m., Dec. 11. For more information on the Holiday Market, read The Georgetowner story here. 
Dumbarton House: Tea with Santa, Dec. 11, 11 a.m. to 1 p.m. and Jane Austen Birthday Tea, Dec. 18, 1 p.m. to 3 p.m. at 2715 Q St. NW. 
Georgetown Public Library: Dec. 13, Evening Book Group, 7 p.m. to 8 p.m. Dec. 15, Afternoon Chess Club, 4 p.m. to 5 p.m. Virtual Program: Christmas in Ireland, Dec. 22, 7 p.m. to 8 p.m.
Georgetown Main Street: Inaugural Georgetown Cookie Tour, Dec. 11, 10 a.m. to 5 p.m. For info, visit Georgetownmainstreet.com.  
Georgetown Holiday Lights, through Jan. 6. More than 25 businesses along Wisconsin Avenue will be decorating their storefronts for the holidays, competing for awards voted on by the public. For more info go here.
Georgetown Community Cookbook Release Party: On Dec. 11, from 10 a.m. to 1 p.m., at Sid and Ann Mashburn, N St. NW. More than 150 Georgetown residents contributed recipes to "Georgetown Cooks."  
Cultural Leadership Breakfast: With Aileen Fuchs, President and Executive Director of the National Building Museum, Dec. 16, 8 a.m. to 9:30 a.m. at the Tabard Inn, 1739 N St. NW. Hosted by The Georgetowner. For tickets and information go here.
Sing-Alongs at Mr. Smith's of Georgetown: Through Dec. 31, 12:30 p.m. to 11:30 p.m. at 3205 K St. NW.