Mapping Georgetown: An Amazing Inauguration Day
By
January 24, 2022
0
526
•
---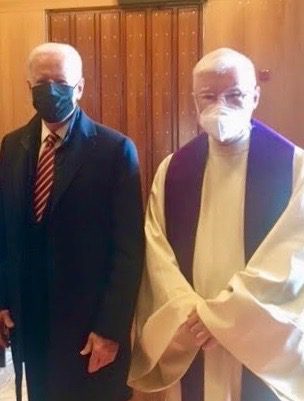 "I went next door at one point and spoke with Jennifer Lopez and Alex Rodriquez. Don't get to do that every day!"
      ~ Fr. McDermott, Georgetown University
On this grand occasion of the 233 anniversary of an even grander institution, Georgetown University, we have a lovely and very personal story from Jesuit Father Brian McDermott, D. Theol., special assistant to the president of Georgetown University.
Fr. McDermott recounted attending the inauguration of president Joseph R. Biden and vice president Kamala Harris at the U.S. Capitol last Jan. 20, 2021 along with Father Leo O'Donovan, S.J. Fr. O'Donovan had served as Georgetown University's 47th president, presided over Beau Biden's funeral, and was chosen by the Biden's to provide the Inaugural Invocation.
It feels almost too personal to share, but with his blessing and with my gratitude, I share Fr. McDermott's story with all of you. I can just feel his Jesuit sincerity between the lines. I hope you can too!
Some Memories of President Biden's Inauguration, January 20, 2021
At 8:15 am, Fr. Leo O'Donovan, S.J. and I were driven from Wolfington Hall (the Jesuit residence on the GU campus and my home) to the Hilton Capitol Hotel by Tom Hanley (McQuaid Jesuit HS, Boston College, presently a master's student at our SFS, where he is Madeline Albright's teaching assistant). There we joined up with the folks staying at the Hotel (e.g., Pastor Beaman, Amanda Gorman, etc.).
From there we had a Capitol police escort to the Capitol. At times our car had to zig-zag past huge Army trucks blocking the streets.
As we waited outside the Capitol to get through security, I met and had a nice chat with Garth Brooks, who was standing right behind me. At one point he said: "You get to go to some interesting places when you know how to sing. But that must be true for you as well, as a clergyman."
We went into the basement of the Capitol and passed many Guardsmen sitting on the floor and even more knapsacks, etc. belonging to Guardsmen. Then we went up some stairs to a small room where Leo and I waited for a good bit of time. The window in our room was covered with plywood. On January 6, some rioters had pushed in the window and entered the Capitol through that window.
I went next door at one point and spoke with Jennifer Lopez and Alex Rodriquez. Don't get to do that every day!!
At one point we were each given a numbered pass to the Presidential Inauguration Platform, which mainly serves as a memento.
When we were led out onto the platform there weren't many folks out there as yet. Very soon we were joined by General Mark Milley, chairman of the Joint Chiefs of Staff. We spoke with him a long time. He described himself as Boston Irish Catholic who went to BC High and told us that his aunt had been superior general of the Boston Congregation of St. Joseph. He was very clear about the meaning of this day for him in his role. He told us how relieved he was that Joe Biden would very soon become his commander-in-chief.
At one point I went up to Lady Gaga and told her that we have a mutual friend, Sr. Angela Buyo, rscj, formerly head of the lower school at the Convent of the Sacred Heart girls' school on Fifth Avenue in Manhattan (where Lady Gaga and Anna Paulsen, my young cousin, went to school). She lit up when I mentioned Sr. Angie's name and told me how much she loves Sister. I told her that I love her also.
At one point, Sen. Patrick Leahy came over to us. He knew Leo from GU and me from Holy Trinity Masses, which he attends regularly. He asked for our prayers, because he is now third in the line of succession. He said he is not interested in becoming POTUS.
It was something to greet George and Laura Bush and Hillary and Bill Clinton, and Michelle and Barack Obama (Michelle was absolutely stunning and I told her so).
When Biden approached Bill Clinton on his way out, Clinton said, with a big smile under his mask: "Hello, Mr. President!!"
I was thrilled to be one of the very first persons to say to newly inaugurated President Biden "God bless you, Mr. President" when we touched elbows and then I told Jill Biden what a thrilling day this was. She was glowing.
At one point I heard the newly inaugurated President say to Leo, who gave the invocation, and Pastor Beaman, who gave the benediction, "You two made the day" or something to that effect. That was sweet of him, considering that his swearing-in ceremony was rather important!!
Before the day of the inauguration, I received letters for President Biden from the nuns of the Georgetown Visitation monastery and from the nuns of the Baltimore Carmelite monastery. At one point while we were on the platform someone called out "Fr. Brian" and it was Missy Owens, one of Biden's nieces, whom I know. I had alerted her by email that I would be at the inauguration and looked forward to seeing her. I started walking towards her but she shouted that I shouldn't approach the family. I found out later that there was concern that the former presidents would be arriving soon and the officials didn't want their path blocked. I had hoped to give her the two letters, but the family was ushered out before I could connect with her.
A lovely staff person named Jackie took the two letters and promised to give them to Biden's chief of communications. I knew I couldn't go home with them still in my pocket!!
That staff person led us out of the Capitol to where a large golf cart was waiting to take us to our car. Joe, the cart driver, got someone to take a picture of the three of us when we arrived at our car, where Tom Hanley was waiting for us. The motorcade formed anew and we were escorted to the Hilton and then we branched off on our own and we arrived at Wolfington Hall close to 2:00 p.m.
What a day!! I was so very proud of my dear friend, Leo and delighted to be his plus-1. His invocation opened the ceremony in a most wonderful way!!
Brian O. McDermott, S.J.
Georgetown University
The Gems of Georgetown, Our Jesuits! May God Bless you, Fr. McDermott, for sharing this precious story! And, thank you, President Biden, for the dignity and legacy you bring to the office of our President of the United States.
---
We invite you to add your story to our Mapping Georgetown collection. Blank templates can be printed from the home page of www.mappinggeorgetown.com, picked up from The Georgetown Public Library or by contacting mappinggeorgetown@gmail.com.
To learn more about the Mapping Georgetown project see https://georgetowner.com/articles/2021/07/19/marilyn-butlers-vision-for-mapping-georgetown/. Marilyn Butler can be reached at marilyn.butler@gmail.com.