Sargent, Whistler & Venetian Glass at SAAM  
By
February 9, 2022
0
2197
•
---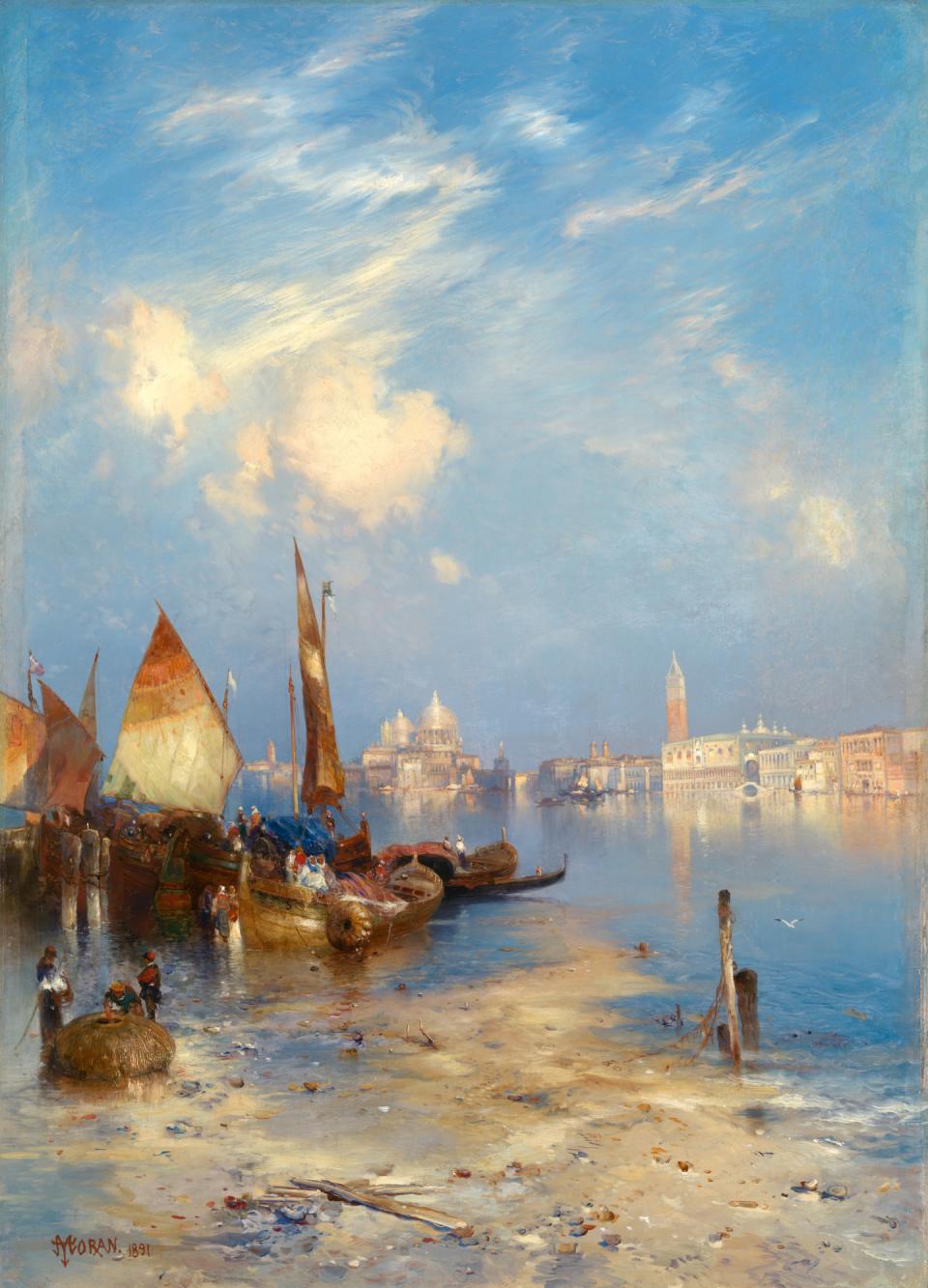 John Singer Sargent and James McNeill Whistler, two fiercely independent late 19th-century American expatriate painters who spent most of their lives in Europe and dabbled in Impressionism without ever capitulating to it, shared a few things in common. One, it turns out, was a deep affection for Venice.  
It was a fixation shared by a broad community of American artists, who were drawn to the ethereal City of Water as it blossomed into a bastion of tourism, art making and collecting for a new age of industry and travel. At the same time, and in many ways concomitantly, the already legendary Venetian glass industry on the island of Murano was undergoing a profound revival, which further inspired artistic production. Prints and paintings of this magical city, in addition to its extravagant glass export ware, became both a prize and status symbol throughout the United States and Europe, transforming Venice into one of the most popular travel destinations of all time.  
"Sargent, Whistler, and Venetian Glass: American Artists and the Magic of Murano" is an engulfing and sumptuous exhibition that brings Venice to life—contrived as that may sound. The title of the show is a bit misleading, as this sprawling exhibition seems to encapsulate every single artistic thing that happened around Venice in that era. There are the familiar Turneresque Venice paintings by Sargent, Thomas Moran and others, prized by wealthy clients. There are etchings and prints, which were more commercially available. There is of course the Murano glasswork (we'll get to it in a moment). There are portraits and grand interior scenes commissioned by private clients, which offer intimate glimpses into the life of the city's aristocracy.
There is also the mosaic boom generated by the revived glass industry (there are ridiculous mosaic portraits of Lincoln and Roosevelt in the show), the Italian lace revival on the Venetian island of Burano (which also happened at the same time), commercial depictions of Venice by American illustrators like Maxfield Parish (head-shakingly good), and even Whistler's Venice Set, which are among the greatest etchings of the 19th century.  
Just as most tourists don't like to feel like tourists, a handful of paintings moved me for their simplicity and easy familiarity. Julius LeBlanc Stewart's "Venetian Market Scene" and Francis Hopkinson Smith's "On the Way to the Public Garden" remind me of that rare moment of connection you can experience with a new city in the most unexceptional location—just rounding a corner and feeling like you are momentarily a part of it all.  
However, it is the Murano glass that steals the show. No doubt that the paintings and prints on display—the more traditional "fine art"—are more stylish and graceful than the glassware, which kind of look like they were designed by a team of five-year-olds tasked with developing decorative concepts for a super fancy mansion (dragons and dolphins and flowers and lots of swirly colors, and also gold!) In a private home, I would probably be drawn to a Sargent painting over a decorative glass swan goblet. But a brilliant subversion takes place in this exhibition, where the glassware, theatrically lit through vitrines in the center of the galleries, catches your eye and does not let go. The rather familiar paintings and drawings are enhanced by the constant glint of kaleidoscopic glasswork, and before you know it you've been drawn away from the tasteful canal scene and back into the unpredictable orbit of Murano.  
 What this exhibition might do best—and it does a lot of things very well—is to open a window into just how much was going on in Venice (and by extension, the rest of the western developed world) at the end of the 19th century. It was an overflow of creative and artistic production at the dawn of industrial production. Furthermore, while many of us have since resumed traveling since the beginning of the pandemic, this author has not. And this exhibition stirred in me the delicious, familiar (and, as of late, strongly suppressed) rumblings of restless wanderlust, which is surely just what these artists intended.  
"Sargent, Whistler, and Venetian Glass: American Artists and the Magic of Murano" will run through May 8 at the Smithsonian American Art Museum. For information go to Americanart.si.edu.