Mapping Georgetown: Local Author Documents Famous Georgetown Writers
By
March 7, 2022
0
814
•
---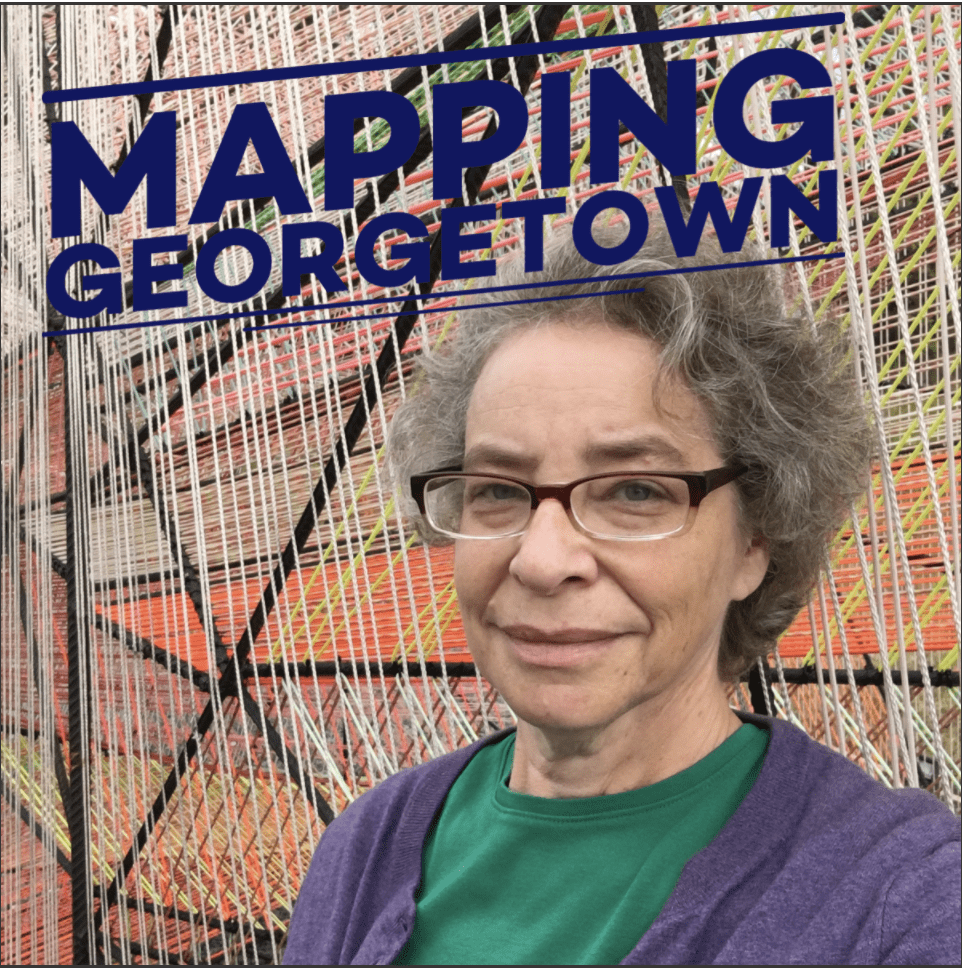 Our Mapping Georgetown story this week welcomes the joys of March, the eminent arrival of spring, and especially Women's History Month.
Kim Roberts, Georgetown author of "A Literary Guide to D.C.," editor of the anthology "By Broad Potomac's Shore: Great Poems from the Early Days of Our Nation's Capital" and co-author of the website DCwriters.org has done perhaps more than anyone to document famous and important women authors who've lived in Georgetown and the nation's capital.
At the 2019 DC Historical Society's annual conference in Washington, D.C., we asked Roberts to share her story for Mapping Georgetown. Spontaneously, she listed off-the-top-of-her-head 19 Georgetown [male and female] authors, without stopping for a breath.
Here's what she wrote:
Kim Roberts's Mapping Georgetown Story:
DC Writers' Home
Writers who lived in Georgetown include:
Elizabeth Bishop, Louise Bogan, Emma V. Brown, Evangeline Bruce, Julia Child, Caroline Healey Dall, Katharine Graham, Ulysses S. Grant, Sinclair Lewis, Myrna Loy, Archibald MacLeish, Saint-John Perse, Katherine Anne Porter, Selden Rodman, Julia Schayer, Leonora Speyer, Mabel Loomis Todd, Reed Whittemore, Emma Willard
 And more…
We asked Roberts to tell us more about what's inspired her journey to document Georgetown and D.C. writers.
From the Author, Kim Roberts:
When I filled out your Mapping Georgetown form at the DC History Conference, I was able to easily name off writers because of a project I co-curate with another writer, Dan Vera, called DC Writers' Homes.
The project documents the homes of literary authors who once lived in the greater Washington, D.C. region. We cover novelists, poets, playwrights and memoirists who lived in the region from the city's founding through the present — although we only include houses that are still standing, and authors who have passed away.
The website, sponsored by Humanities DC, started as an obsession of mine and Dan's over many years — we just wanted to know who our literary forebears were, and go to places that were meaningful to them. We transformed our weird hobby into a formal list beginning in 2008, and made it into a website starting in 2010. You can see more at: https://dcwritershomes.wdchumanities.org/.
Authors are listed not only by name, but by affiliations (such as diplomats, Latinos, society hostesses, Howard University, etc.) and by regions and neighborhoods. We also note writers who lived in houses that were architecturally significant. We thought it would be fun for users to look up the writers who lived near where they live or work. 
Georgetown was home to a particularly large number of writers. Some favorites of mine include early writers: Emma V. Brown, Emma Willard, Mabel Loomis Todd, Elliott Coues, Evalyn Walsh McLean. There are also some writers who were more famous for other pursuits that we loved including, such as Myrna Loy, John F. Kennedy, Ulysses S. Grant, and Julia Child. 
I've been a resident of D.C. since 1987, and a D.C. homeowner since 2004. I began my research into D.C.'s literary history when I first moved here, as a way to feel a deeper connection to the city. During the pandemic, I released my latest book, an anthology called "By Broad Potomac's Shore: Great Poems from the Early Days of Our Nation's Capital." That book includes some of the authors I included earlier in DC Writers' Homes — such as the former Georgetown residents Francis Scott Key, Emma Willard, John A. Joyce, Caroline Healey Dall, and Leonora Speyer. 
Historians traditionally use factual, rather than creative works as their primary texts — and I'd like to argue for the importance of poetry as a significant historical source. Yes, we need to look at those factual records— the census, birth and death records, immigration and military records, etc. But we need poetry to fill out those facts.
People have always turned to poetry at times of great emotion, to help them give voice to grief, to celebrate heroes, to describe falling in love, to commemorate our most important life cycle events. Poetry gives us access to the emotional lives of our forebears in ways that dry records simply cannot. They make the history come alive in ways that are deep and nuanced.
I hope my work as a literary historian of D.C. helps preserve and commemorate our city's stories. 
About Kim Roberts:
Kim Roberts is the editor of the anthology By Broad Potomac's Shore: Great Poems from the Early Days of our Nation's Capital (University of Virginia Press, 2020), selected by the East Coast Centers for the Book for the 2021 Route 1 Reads program as the book that "best illuminates important aspects" of the culture of Washington, D.C. She is the author of A Literary Guide to Washington, DC: Walking in the Footsteps of American Writers from Francis Scott Key to Zora Neale Hurston (University of Virginia Press, 2018), and five books of poems, most recently The Scientific Method (WordTech Editions, 2017). Her chapbook, Corona/Crown, a cross-disciplinary collaboration with photographer Robert Revere, is forthcoming from WordTech Editions in 2023. Roberts's website is: http://www.kimroberts.org.
—
We are very grateful to Kim Roberts for the time and effort she devoted to sharing this rich Georgetown story with us! We honor you, Kim, along with the Women of History of Georgetown, this month and always!
To learn more about the Mapping Georgetown project see https://georgetowner.com/articles/2021/07/19/marilyn-butlers-vision-for-mapping-georgetown/.
To submit your Georgetown recollections to Mapping Georgetown go to www.mappinggeorgetown.com  or visit the Georgetown Public Library to pick up a physical map-story form to fill out.
Marilyn Butler can be reached at: marilyn.butler@gmail.com.