Embassy of Saudi Arabia's New Street Address: 'Jamal Khashoggi Way'
By
June 16, 2022
0
1067
•
---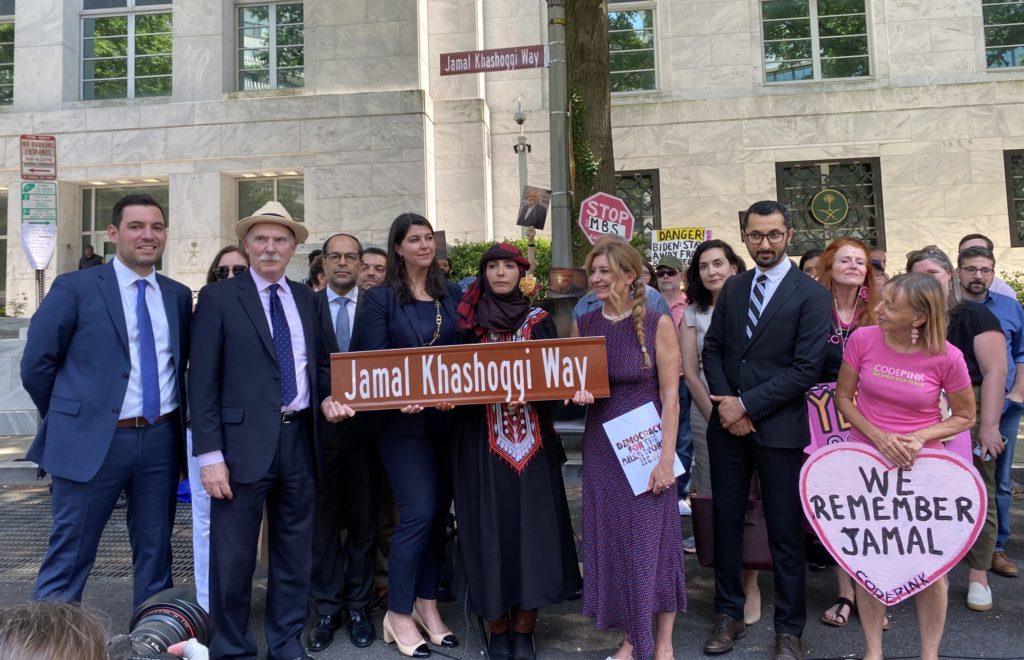 On June 15, at 1:14 p.m., members of Democracy for the Arab World Now (DAWN) alongside D.C. Del. Eleanor Holmes Norton, D.C. Council Chair Phil Mendelson, Ward 2 Council member Brooke Pinto and other guest speakers led a ceremony to designate New Hampshire Avenue NW between Virginia Ave. NW and F St. NW as "Jamal Khashoggi Way," directly in front of the Royal Embassy of Saudi Arabia. 
The murder of Jamal Khashoggi — a staunch advocate for liberalizing oppressive laws under the Saudi regime, a Washington Post contributing columnist  and a resident of the Washington metropolitan area — was confirmed by the CIA as a premeditated assassination authorized by Saudi Arabia's Crown Prince Mohammed Bin Salman.
On October 2, 2018, Khashoggi was lured into the Saudi Consulate in Istanbul, Turkey under the guise that he could sign papers for his impending marriage. He was then tortured and killed by agents of the Government of Saudi Arabia. Surveillance video subsequently surfaced showing Khashoggi entering the consulate — as his fiancee awaited his return —  but never leaving. At the ceremony for the new street name, the timing of the unveiling was set at precisely 1:14 p.m., the moment Khashoggi entered the consulate never to be seen alive again. 
At the ceremony, a DAWN spokesperson read an excerpt from a letter written by Hatice Cengiz, Khashoggi's fiancé. Cengiz asserted that the values and ideals Khashoggi died for live on, while she beseeched the Biden Administration to uphold their vows to justice and human rights and to President Biden not to visit with the Saudi Crown Prince. "No one should get a pass because of wealth or oil or politics," Cengiz said. "We cannot live in a lawless world… We owe it to Jamal." 
Nobel Prize Winner and DAWN Board Member Tawakkol Karman said the new street sign is a "commemoration of all political assassinations," a reminder that "fascism will never be the law we are subject to." 
The choice to re-name the street was passed by unanimous vote of the D.C. Council following introduction by Ward 2 Council member Brooke Pinto and support from Chair Phil Mendelson who presided over hearings on the measure.
Council member Pinto spoke at the unveiling ceremony of the risks Khashoggi was aware of, including his life, when he chose to expose an oppressive regime. "Journalists around the world and here in America face similar dangers every day, and we must never let those who seek to intimidate them succeed," she said.
Michael De Dora, Washington's Manager of the Committee to Protect Journalists, said, "Someday soon someone is going to Google the Saudi Arabian Embassy and see this street name, and that matters." 
Speakers asserted that the commemoration is the first of many streets to be named after Khashoggi around the world.
Council of American-Islamic Relations (CAIR) Executive Director and DAWN's Board Chair Nihad Awad, who worked alongside Khashoggi for 25 years, called him a "marvelous human" whose courage is worthy of our commemoration and dedication.
"He worked in this building," Awad said of Khashoggi. "He served in this building. He was a member of this area. Whenever you have to write this address, you will have to write his name. Whenever you give directions to your embassy, you will have to utter his name."
The Royal Embassy of Saudi Arabia sits across from the Watergate complex and is next to the Kennedy Center.