Laura's Gluten-Free Strawberry Pop Tarts
By
July 28, 2022
0
448
•
---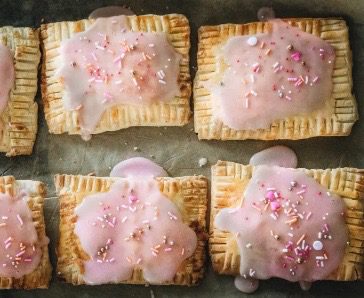 We never had pop tarts in my house growing up. They were considered a junk food and it was not considered a proper breakfast. Pop tarts, for me, were reserved for when I had sleepovers at friends' houses whose parents did allow the delicious pastry treat to be served as breakfast!
Strawberry pop tarts have always been my favorite (as I am a sucker for strawberry jam). So, let's live for our younger selves and make the best gluten-free breakfast (or snack) with this gluten-free pop tarts recipe.
The cook time is 20 minutes but the prep is a bit longer. It's a recipe for which parts can be made in advance.
Frequently Asked Questions
What Tools Will I Need for This Recipe?
Food processor
Rolling pin (for rolling out the dough)
Parchment lined baking sheet
Parchment paper
Fork – to crimp the pastry dough
Small bowl x 2 (one for filling, one for the glaze)
Cooling rack
What's the Most Popular Flavor of Pop Tarts?
According to HuffPost (who appears to have conducted a survey), the strawberry pop tarts are — not surprisingly — the universal favorite. The runner up is Brown Cinnamon Sugar. The thing that's great is, once you know how to make gluten-free pop tarts, you can use whatever filling you wish! The world is your gluten-free pop tarts (who needs oysters right now?!)
Can I Put These in the Toaster?
While traditional pop tarts are toaster pastries, these are best in the oven. If you do not put the glaze on them and keep them in the fridge over night, you're welcome to try to put them in the toaster the next day (I myself have not done this).
Should I Freeze My Gluten-Free Pop Tarts?
I personally would not. It's like freezing a fruit hand pie, but, it's your choice!
Does Kellogg's Make a Gluten-Free Pop Tart?
No. However, we now have you set up so you can make gluten-free pop tarts at home!
Can I Make Any Substitutions or Changes to This Recipe?
Gluten-free baking can be hard enough when you're trying to adapt a recipe. When you add in other dietary restrictions it can be even more difficult. I personally do not have any other dietary restrictions (except for bananas), therefore, I offer only suggestions a lot of the time that I myself have not tried and tested. The gluten-free flour I like best for making gluten-free pop tarts is Cup4Cup. But, this flour has dairy in it — so be advised.
I don't know how this would work dairy-free. Dairy-free pop tarts would be achievable if you can make a dairy-free pastry dough. My pastry dough has butter in it, but, if you could use something like vegetable shortening (such as Crisco) that may be an option.
To make this recipe vegan, you would have to use a vegan butter or supplement in the pastry dough, as well as skip the egg wash that goes on top. In addition, some sugar is not considered vegan. You would need to check your powdered sugar to make sure there's no bone char listed in the ingredients.
The gluten-free flour I like best for making gluten-free pop tarts is Cup4Cup. As stated above, Cup4Cup does have dairy in it. If you need to be dairy free, then it's best you avoid this gluten-free flour blend. If you don't need to be dairy-free, then this is the flour blend I would suggest. Not all gluten-free flour blends are created equal and when you use different flours, you can end up with less than desirable results. If you're not able to use Cup4Cup then I advise using King Arthur Gluten-Free Measure for Measure flour blend. Make sure your mix has xanthan gum in it.
What Toppings Can I Use on My Gluten-Free Pop Tarts?
As stated above, once you know how to make a gluten-free pop tart, the possibilities are many! If you're not a fan of glaze, you could always use granulated sugar on top after you apply your egg wash (the egg wash will help it stick). The granulated sugar will give the gluten-free pop tarts a nice sweet bite when you taste it.
You can also do different types of glazes on top. If you want to maintain the strawberry jam filling but do not want a strawberry jam glaze, then you could make a vanilla glaze by subbing out the jam and using pure vanilla extract.
Sprinkles are entirely optional. I think they just make the gluten-free pop tarts look more festive and fun. I typically advise you let the gluten-free pop tarts cool completely prior to placing the glaze on top. If you don't, the glaze might run off a bit too much.
I only have granulated sugar, can I use this instead of powdered sugar for a glaze?
The answer is no. The glaze requires powdered sugar because of how fine the sugar is. It allows the glaze to be smooth. Granulated sugar makes it grainy. You would not want a grainy glaze on top of your gluten-free pastry!
How Do I Store My Gluten-Free Pop Tarts?
I like to store mine in an airtight container in the fridge for 3 days. Similar to a hand pie. I do not feel the need to wrap them each individually in plastic wrap.
Ingredients
One Pie crust recipe:
– 1 1/2 cups Gluten Free Flour Blend (I like Cup4Cup — make sure whatever mix you use has xanthan gum in it)
– 8 tablespoons Unsalted Butter (cold — not room temperature)
– 5 tablespoons ice water (or milk)
Filling & Glaze:
1/2 cup Strawberry Jam
1 Egg (for the egg wash)
1 tablespoon Cornstarch
1 cup Powdered Sugar
1 teaspoon Milk (add more if you need it- for glaze)
1 tablespoon Strawberry Jam (for glaze)
For full recipe and instructions go to Sift.