TV Dinner with David and Rosalee 
By
August 17, 2022
0
145
•
---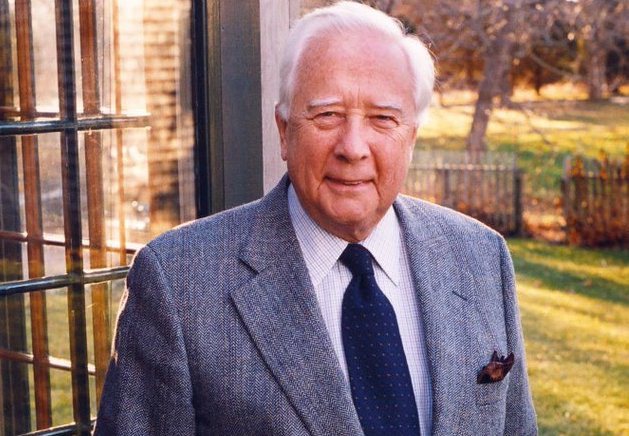 Georgetown, March 16, 2008 —         
Hello, it's David.   
I'd heard the voice before I met the man, but I take a beat too long to recognize my husband's long-time friend.  
It's David McCullough.   
Of course, it was wonderful seeing you and Rosalee last week and "John Adams"!   
Well, the problem is we are back in D.C. after the other premières but we don't have HBO in the hotel. "Adams" is on tomorrow. We want to watch it on TV with everyone else.  
Please, come for dinner. Watch it here. We have HBO.   
I have to warn you: I won't be good company because I will be watching the TV.  
That's fine. We will watch with you. Can't wait. 
It's early spring but late Saturday afternoon. Checking the cupboards in my understocked galley kitchen, I'm jolted into clarity by the Oak Hill Cemetery bells ringing across the street. My husband is out of town with our only car until tomorrow. There's not even time to make a list. I lace into running shoes and take off down the hill towards the Potomac, wondering if Cannon's has anything left. 
Cioppino. Inspiration strikes in front of the sweating fish tanks at the seafood market that's been a Georgetown institution for 70 years. San Francisco fish stew, my hometown staple. The Italian immigrant fishermen never wrote down the recipe, the story goes, adding their day's catch to the communal kettle on the wharf. Crab, clams, mussels, shrimp, scallops, calamari, white fish, whatever. Toting my iced Chesapeake Bay treasures the long mile back up Wisconsin Avenue, I hunt and gather necessities: wine, flowers, baguette, tarte Tatin, vanilla ice cream. 
There are worse ways to spend a Saturday night than chopping, dicing, peeling, stirring, simmering a savory stew; worse ways to hike on a Sunday morning than past Montrose Park's stately tulip poplar Witness Tree, down Lover's Lane along the Rock Creek tributary through Dumbarton Park, up the hill and down to the old Safeway and back. The century-old living-room is under-furnished except for the books crowding the built-in library shelves and growing collection of posed photographs de rigueur in our new town. I move a black and white of David looking dashing in a tux to the front, aim mismatched tray tables and ottomans at the ancient TV, and appreciate the view over three parks to the cathedral. 
I don't remember if we discussed the Civil War generals, President Truman's secretary of state, or other residents of the cemetery across the street or the Dumbarton Oaks Conversations—the 1944 pre-meetings for the founding of the United Nations—that took place down the block. I don't remember what wine we served, what salad or much about the first episode of the historic production. But I will never forget the privilege of watching the McCulloughs watch the story of John Adams as David wrote it, viewing his vision of American history in real time along with millions of Americans, experiencing the power of the words they read aloud to each other until he got them just right. 
I may never forget the mistake I made with the cioppino that night, but take comfort in knowing that my West Coast-Mid-Atlantic Italian fishermen's stew was a lucky guess, confirmed eight years later at a feast at David's favorite Italian restaurant in Beacon HilI. Our last evening with him ended in a musical moment for the ages in the car after dinner: an impromptu quartet singing "Bye Bye Blackbird," starring David McCullough, hilarious harmonies recorded on a phone app that has disappeared beyond any cloud. But that would be another story. 
Cathryn Keller writes about museums, modern art, and modern yoga — www.cathrynkeller.com.