News Bombshells Will Impact Georgetown Migrants, Services
By
October 11, 2022
0
615
•
---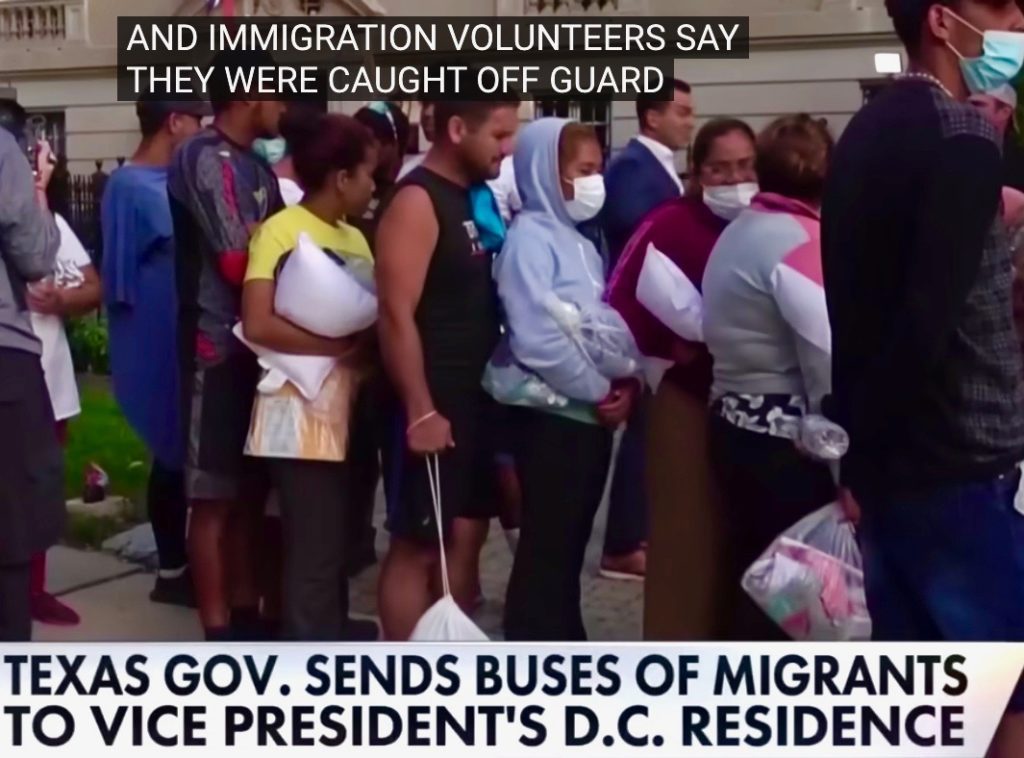 Three news bombshells – two emanating from the D.C. Council and one from a federal court – will significantly impact migrants in Georgetown businesses, services and universities almost immediately.
Office of Migrant Services. On September 8, after contentious debate, the D.C. Council voted 8-1 to approve a $10 million emergency fund to establish an Office of Migrant Services. This was in response to the ever increasing influx of now close to 10,000 migrants who crossed the Mexican border illegally into Texas and Arizona and were offered free bus rides by the states' governors to Washington D.C., (as well as thousands of others to Chicago and New York City). The main purpose of the new office was to segment services and ultimately restrict migrants from accessing D.C.'s homeless services system of D.C.-supported non-profit homeless serving organizations that were at capacity and becoming overwhelmed. The bill makes migrants ineligible for traditional homeless services and protections afforded under the Homeless Services Reform Act.
The Georgetown Ministry Center Program Director Rebecca Killett declined to comment on whether they've been experiencing an increase in the number of migrants seeking their services. Mayor Bowser has also been requesting federal funds to help with services for migrants coming directly from the southern border. 
There is no sign that the influx will stop. The vast majority of the migrants are young men, mostly Venezuelans. The few women and families who make the trek are often given preference for services. The emergency legislation that was passed focuses on administering "time-limited" services including "welcome and other reception services," "food, clothing, and other necessities," "temporary shelter," "medical services," "relocation services," "cash assistance," and "social and legal services and referrals."
A 26-year old Venezuelan who walked from Ecuador to Texas in 45 days before being bussed to D.C. in June, told The Georgetowner in an exclusive interview that all the approximately 600 migrants in her group were given "automaticamente," applications to claim asylum. Since that process takes months to finalize, they were also given a new "discretionary probation" status allowing them to work and receive services for two years without fear of deportation. 
Council Approves Non-Citizens To Vote in D.C. Elections
On Oct. 4, the D.C. Council voted 12-1 to permit all non-citizens who reside in the District to vote in D.C. elections. It is estimated that some 52,000 non-citizens resided in D.C. in 2020, according to the Migration Policy Institute. Non-citizens include permanent legal immigrants (aka: green card holders), all those with temporary visas and the unauthorized. Local elections include those for mayor, the attorney general, school board, D.C. Council members and ANC commissioners – all but federal elections for president.
"The vote would help them feel connected, said Ward 6 Council member Charles Allen. Ward 3 Councilwoman Mary M. Cheh expressed concerns about whether recent arrivals should be allowed to vote — not whether they were legal or illegally in the country; she was the only council member to vote against the bill.
Versions of the non-citizen voting bill have been discussed for some ten years by the D.C. Council but never passed a vote. Hyattsville and Takoma Park in Maryland allow all non-citizen residents to vote in their local elections. New York City passed a bill allowing permanent legal residents to vote, but it was declared unconstitutional by a state judge. The D.C. bill would also have to pass a second council vote and then oversight by Congress.
DACA Declared Illegal
In a not unexpected ruling, the Fifth U.S. Circuit Court of Appeals on Oct. 5 declared the Deferred Action for Childhood Arrival (DACA) program created by an executive memo in June 2012 by President Obama to be unlawful. The program gave some 900,000 migrants living in the country illegally, temporary deferment from deportation and a work permit. Basic requirements included: "came into the United States before the age of 16, before 2007, had earned a high school diploma and had been accepted into a college program. Applicants only had to be in illegal immigration status at the time of application. In August, the Department of Homeland Security rescinded the order and converted it to an administrative regulation.
Some 23,000 DACA recipients reside in the Washington, D.C. area, according to Georgetown University. Half of them are enrolled in schools in the area. "The university is committed to supporting undocumented students and the unique challenges they may face, and has convened a working group of representatives from a variety of offices across campus," wrote GU President John J. DeGioia. It is estimated that some 700 students and scholars are DACA recipients at GU.
For all current DACA recipients, the program continues while court proceedings continue. Pressure is mounting for Congress to address the situation, possibly by legalizing all unauthorized immigrants in the country or the some four million individuals, formally referred to as "Dreamers" – who came into the U.S. before the age of 18 prior to 2018 and currently have unauthorized status.