Business Ins & Outs: Showfields, Bourbon Concierge, Herbivore 
By
November 28, 2022
0
1073
•
---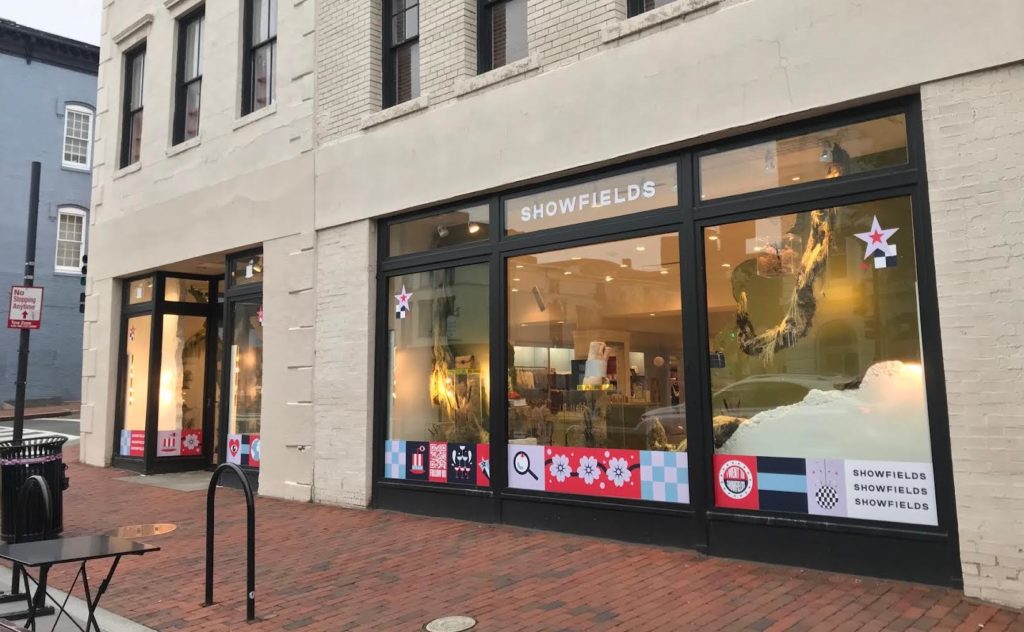 In: Showfields at 31st & M
With a grand opening event set for Dec. 8, Showfields opened the doors at 3077 M St. NW last week in the former Brooks Brothers space as well as retail incubator, Concept 31/M space. Showfields calls itself  "a lifestyle discovery store" and "the most interesting store in the world."
Located at the corner of 31st and M Streets, Showfields brings together, it says, "a unique curation of brands and experiences" in the roughly 20,300-square-foot space, owned by EastBanc, the Georgetown-based real estate developer. The retailer and EastBanc inked a 10-year deal for the three-story property.
"We're ecstatic to bring Showfields to D.C.," said Showfields CEO and co-founder Tal Zvi Nathanel. "This store is a great example of how we approach the future of retail — we can take a heritage retail space, re-work it, and create an entirely new environment that's wholly unique but at its core nostalgic for a classic shopping experience. We re-used a lot of the existing infrastructure of the previous store. For us it was important to re-utilize and re-work as much as possible while introducing D.C. to our signature aesthetic."
The Georgetown store is the fourth store for Showfields. Its other stores are in Manhattan, Miami and Brooklyn. The company adds: "Each brand curation lasts six months to keep the experience fresh."
In: Bourbon Concierge
The Bourbon Concierge has opened at 2816 Pennsylvania Ave. NW in the former Cafe Tu-O-Tu space. The family-owned business was founded in 1995 and specializes in high-end, collectible spirits. Says the company: "Serving specialty-buying customers around the country for more than two decades and generations with hand-crafted, quality liquor for enjoyment and private collections…. The brick-and-mortar shop began with a firm focus on white-glove customer service that created long-time friends who came back again and again to source the most prestigious and rare libations available." While not related, the shop is steps from Bourbon Steak, the restaurant at the Four Seasons Hotel.
In: Herbivore Indian Cuisine
An Indian restaurant opened at 1639 Wisconsin Ave. NW in the former Pho Asian Bistro location on Book Hill. Herbivore Carryout writes: "Our founder, Mr. Balwider Singh, believed that few things bring about a smile of satisfaction like good food. We are opening our business primarily to bridge the gap of the non-existence of a quality vegetarian restaurant." Of course, there are chicken and lamb dishes, too.
In: DC Tasty Corner on Dumbarton
DC Tasty Corner opened at 3147 Dumbarton St. NW in the former District Chicken & Gyro location. The South American-style cafe offers empanadas, choripan, specialty sandwiches, home-style soup and hand-crafted espresso drinks.
Coming: Dig, Under Construction
Long awaited at the old Paolo's side space (once a Little Tavern hamburger joint) at the corner of Wisconsin Avenue and N Street NW, Dig is on a mission of mindful sourcing for its ingredients — with bowls of salads or main dishes of chicken or meatballs with names like the Autumn Harvest or Lime Leaf Salmon. Adam Eskin opened the first Dig Inn restaurant in New York City in 2011. Among Dig's investors is restaurateur Danny Meyer. 
Coming: Nisolo on M
Started in 2011, Nisolo — meaning "not alone" in Spanish — is an eco-friendly, sustainable, living-wage shoe brand. Co-founders Patrick Woodyard and Zoe Cleary are all about their artisans getting their classic products to market. A shop will be opening at 3251 M St. NW. Nisolo is based in Nashville with a main factory in Peru. "The majority of our products come from the factory that we own and have built from the ground up to serve as an example for the industry — an industry that is now the second most pollutive industry in the world and is plagued with injustice throughout the global supply chain," Cleary and Woodyard told Vogue. "This has resulted in an average income increase of over 140 percent for producers in our factory and 173 percent for women."