Laura's Soft Amaretti Cookies
By
January 5, 2023
0
442
•
---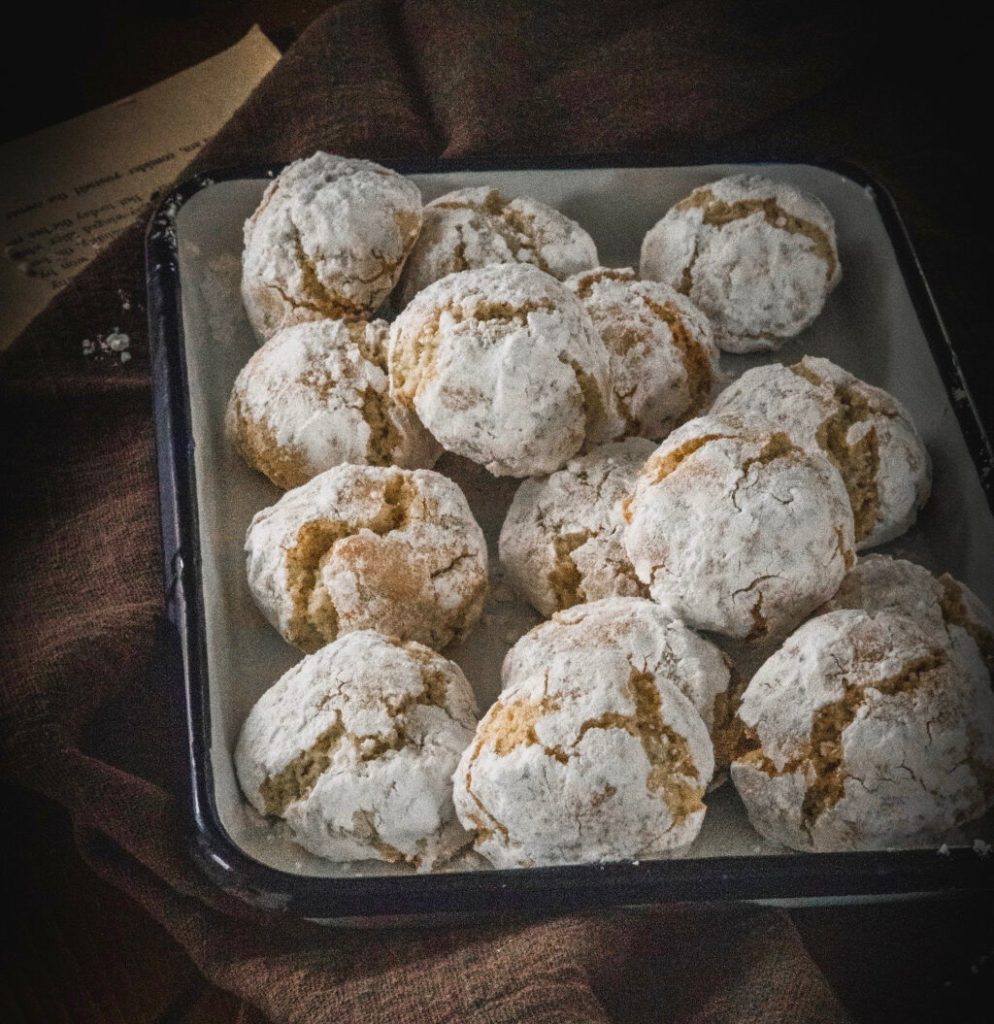 I love the flavor of almond. It comes across, at least to me, as such a natural flavor. It makes me feel as if I'm eating something healthful as it doesn't taste like chocolate, and is based on the almond nut. Amaretti cookies are a quick and easy treat, a soft cookie with the best crunch top. The process of making them, clean-up, and baking time is under an hour! They're delicious, time efficient, and naturally gluten-free. Let's get to it.
What Are Amaretti Cookies? And How Do You Bake Them 'Soft'?
Amaretti are cookies that originate in Italy (I won't get into whether they come from the mainland or from Sicily as each region claims to make the best one!) They're made from almond flour, egg whites, almond extract, sugar, and powdered sugar. The fluffiness of the egg whites are what give the cookies a deliciously chewy interior and the low baking temperature is what allows the cookies to not dry out in the oven. It will dry out the top and give the cookies a wonderful crispy exterior all the while maintaining a soft and delicious interior. Somewhat similar to a macaroon in its description, yet, entirely different in its texture and taste.
Are Amaretto and Amaretti the Same?
While they both possess almonds flavors, no, they are not the same. The liqueur, which hails originally from Sorrano, Italy, is made from apricot pits. However, because the flavor profile is similar, it's often put in amaretti cookies!
Alterations to the Recipe
If you want, there are several alterations that can be made to this recipe. If you'd like a more traditional cookie flavor, you may also add vanilla to the recipe by adding in 1 tsp.
If you would like to add a lemon flavor, add ¼ cup of lemon juice to the recipe.
For soft cherry amaretti cookies, add chopped cherries to the mixture (I would say no more than a cup), and/or top each cookie with an individual cherry.
You can make amaretti cookies with amaretto liqueur. Add ¼ cup amaretto to the original recipe and mix in when you are kneading by hand.
Storage Tips for These Soft Amaretti Cookies
Similar to my chocolate crinkle cookies, these cookies will keep in an airtight container for about a week. If you wish to freeze them, then by all means do so! They should keep for approximately three months in the deep freeze. If you freeze them, place a layer of parchment paper and/or wax paper between each layer of cookie. As they're covered in powdered sugar, you do not want the sugar to come off when they lie on top of each other.
Ingredients
1 cup granulated sugar
2 teaspoons almond extract
2.5 cups almond flour
2 large egg whites
Powdered sugar (enough to cover each cookie)
For full recipe and instructions go to Sift.