90-Year-Old Martin's Tavern Celebrates Its Employees
By
February 9, 2023
One Comment
1724
•
---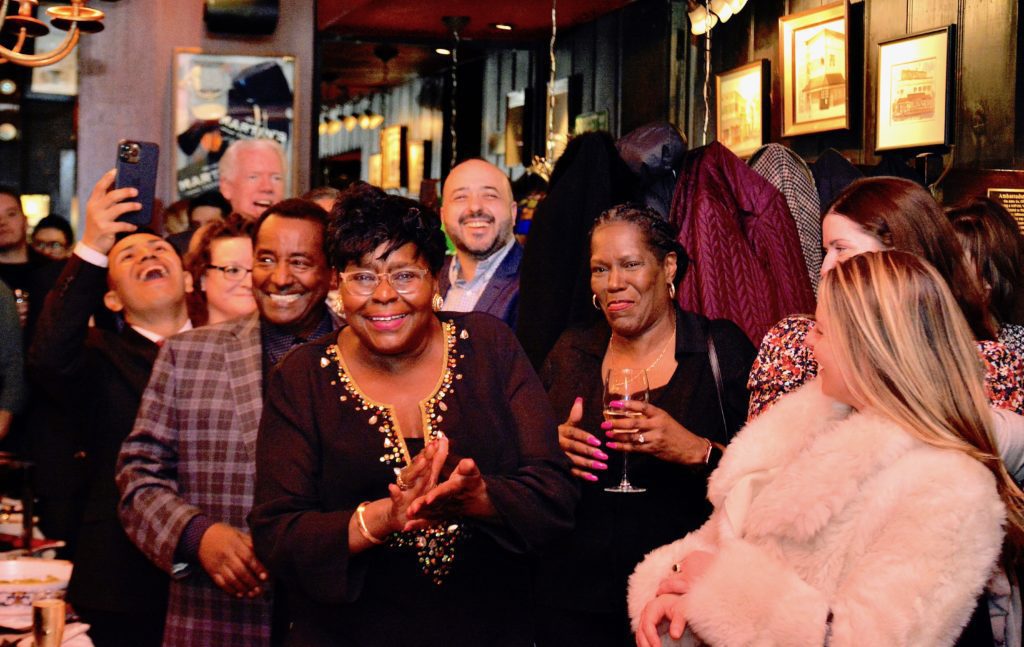 The happy crowd around the center tables piled high with meats, shrimps, crudités and savories at Martin's Tavern on Feb. 7 broke into loud cheers and applause when owner William  A. — aka Billy — Martin, Jr. in a rose tweed jacket took the mic. This night was Martin's annual celebration of its employees, along with invited loyal customers. Of course, there were free drinks as well.
"We are celebrating the resilience of our amazing staff tonight at Martin's — three of whom alone have served Martin's for a cumulation of service for over 150 years!" Martin said.  "Many worked 82 days in a row just to get us through the transforming challenges of Covid."
The crowd cheered long and loud and gave hugs and handshakes to many of Martin's longtime staff who were the honored guests in the crowd. The wait staff and bartenders behind the bar helping out so that regular staff could party clapped and cheered as well when Billy acknowledged them, too — and the crowd cheered again.
Some things have changed at Martin's after the pandemic, of course. More than a dozen outdoor tables, heaters, street protectors and landscaping have been established in the sidewalk streateries on N Street and Wisconsin Avenue, that Martin suggested would be permanent. Less positive were the as yet not known implications of the passage of Initiative 82 in the November 2022 elections that established a minimum wage for all tipped wait staff  — that had already been guaranteed in tip credit D.C. contracts, he pointed out. It is uncertain how the initiative might impact the amount and disbursement of tips (which can be substantial) staff would receive now.
But most of the cheers were for the continuing fun and very existence of Martin's Tavern that is celebrating its 90th year as Georgetown's "Cheers" — certainly with many festivities to come this year. "Our love and gratitude to Martin's staff and to Billy can never be replaced," loyal customer and former Council member Jack Evans told the crowd. "We are all so grateful!"