Mapping Georgetown: Where Will Georgetown Take You?
By
April 3, 2023
0
1099
•
---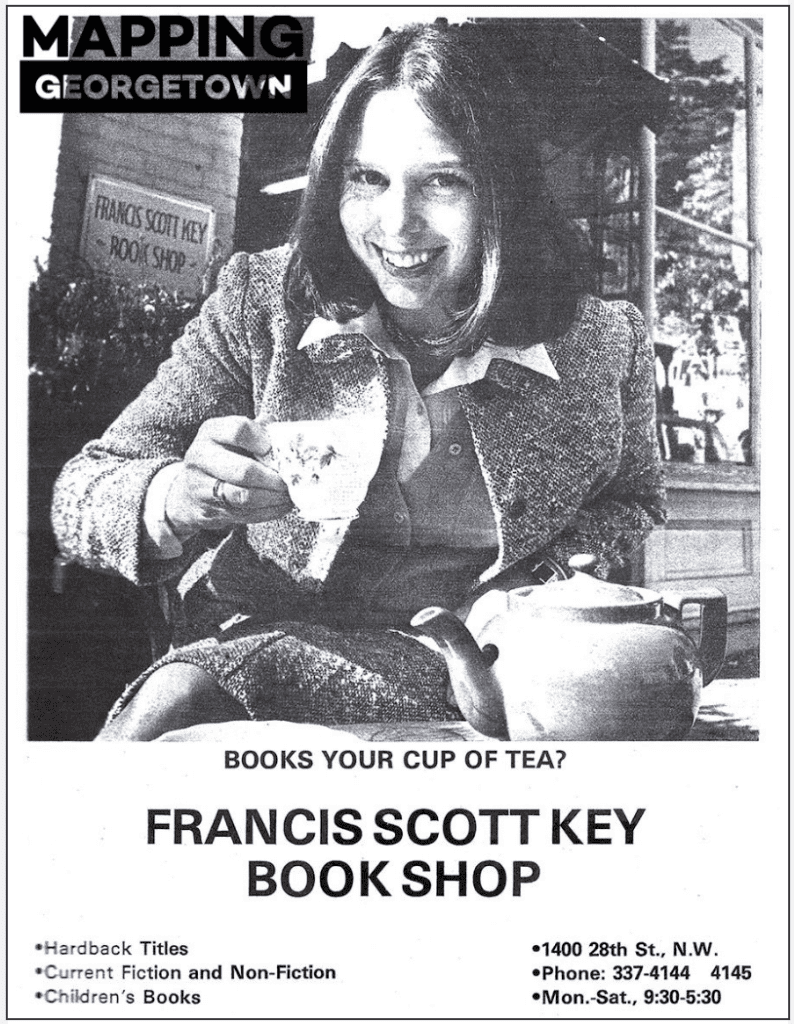 How cute is Georgetown native, Emily Durso — whose Mapping Georgetown stories we feature today — and how clever is her 1960s Book Shop poster for the Francis Scott Key Book Shop in Georgetown?
What's it like to grow up in Georgetown? And, where might it take you? First a little description about Emily followed by her story-maps and fascinating stories to tell.
A Bit Emily Shared About Herself
Grew up at 2527 Q Street, 1950 – 1972
Holy Trinity Grade School, HT High School
Francis Scott Key Bookstore 1967-1977 (became half owner in 73)
Worked for Marion Barry 1978-1985 as Assistant Director of the Committee to Promote DC (1st Tourism Marketing Organization)
Vice President of Marketing for International Developers on the TECHWORLD site (7-9th and H to I Streets) 1985-1990
President of the Hotel Association of Washington 1990-2010: Team leader of EVENTS DC, opened first Charter High School in DC, Hospitality Public Charter High School with deep financial support from Bill Marriott, Clyde's Restaurants Group, Hyatt, Leows and others.
Assistant Superintendent of Education and then Acting Superintendent, DC Government 2011-2013
Chief of College and Career Counseling at DC Public Schools 2013-2017
Education Consultant to: Stand for Children, Citybridge and the National Academy Foundation 2017-2020
Instructor with GU Prison and Justice Initiative at the DC Jail 2018-2021
Moved to SC 2021
A Word about The Francis Scott Key Book Shop
From The New York Times, "Writing the Book on Bookshops," by Barbara Gamarekian, 1984:
"Ask this city's old-timers to name their most beloved institutions and the Francis Scott Key Book Shop surely would make the list.
For 50 years it has flourished in Georgetown, the last 46 years in a century-old, 16-foot-wide, cozy house at the corner of 28th and O Streets where one finds the kettle on at tea time and books of every description piled high.
Over the years it has been a favorite haunt of some of the capital's better-known book lovers.
Adlai Stevenson kept an apartment over the shop in the war years and was a frequent customer; Dean Acheson, when he was Secretary of State, lived just around the corner, and popped in and out to indulge what Martha Johnson, who has owned the shop since 1941, recalls as "his wide range of tastes;" and the writer Edith Hamilton, who lived on Massachusetts Avenue in the 1950's, would arrive with gifts of apple blossoms and day-old eggs, receiving in return a loaf of Mrs. Johnson's freshly baked bread.
A Lover of Flying Saucers
As for other patrons, Alice Roosevelt Longworth, or "dear Alice" to Mrs. Johnson, "just loved books about flying saucers."
"She was an absolute character," Mrs. Johnson recalled. "She'd send her houseman to the bank and she never carried anything but clean bills."
"Every Secretary of State, except for the current one" has been a Francis Scott Key customer, Mrs. Johnson said. "One of our former bookkeepers," she continued, "said she had never worked in a place before where the Green Book was used more than the telephone book." The Green Book is a compendium of the capital's politically and socially elite."
Emily Durso Recalls Rose Park
In the 50s and 60s this was a remarkable place in a very diverse community. My playmates were wealthy upper class kids, though they disappeared every summer, children of the working class (like me), children of the Black Professional Class on P Street and nearby and children of the very poor. I actually remember outdoor plumbing on East Place.
There was no day care and every day after school my Mother sent me to Rose Park. This place was a highly organized and very busy macrocosm of the neighborhood. The 'Play House" was staffed by DC Rec and run by Mrs. Taylor, a middle-aged Black woman who was firmly in control and kind. No bad behavior was allowed, no mouthing off or fights or bad sportsmanship or you would be banned – no one wanted to be banned. And she did not care about your economic or racial status, everyone had to behave.
There were organized activities, softball, tennis, ping pong, basketball.  I was mesmerized by the backboard and spent many hours a week alone just banging away. One day, Mrs. Taylor told me there would be tennis lessons and would I like to participate – my Mother had to sign an approval.  It was two wonderful weeks where I learned there was more to tennis than banging against a wall alone. Many years later, I learned that my instructor was Althea Gibson. If tennis had been integrated she would have been Venus Williams.
Every day the ice cream truck came about 3-4. You'd been playing since 9 am, it was hot, all you had was the water fountain. But most days, I had no money, not even the nickel for the ice cream on a stick. Almost every day, Mrs.  Taylor gave me the nickel. 
—-
These Mapping Georgetown stories can be viewed in full at https://georgetowner.com/categories/mapping-georgetown/
We invite you to add your story to our Mapping Georgetown collection. Blank templates can be printed from the home page of www.mappinggeorgetown.com or picked up from The Georgetown Public Library.
To learn more about the Mapping Georgetown project see https://georgetowner.com/articles/2021/07/19/marilyn-butlers-vision-for-mapping-georgetown/. Marilyn Butler can be reached at marilyn.butler@gmail.com