Code Purple: Haze Postpones Baseball, Ballet, Trash Pickup
By
June 8, 2023
0
883
•
---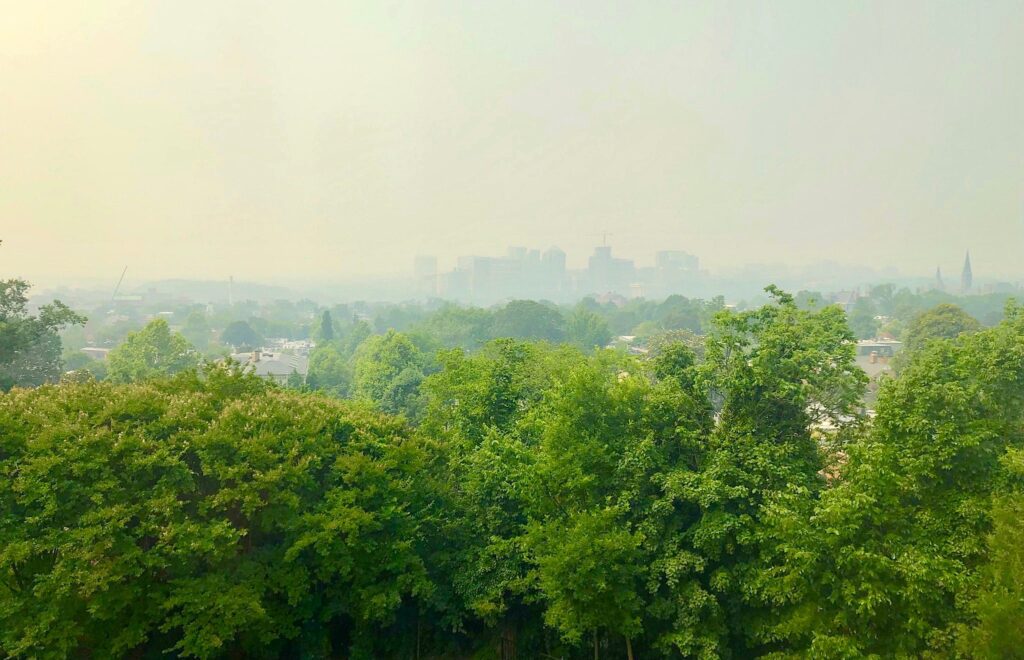 The smoke drifting south from wildfires in Canada caused postponements or closures across Washington, D.C., and beyond today.
The Metropolitan Washington Council of Governments issued a health advisory: "Current air quality in the D.C. region is Code Purple, very unhealthy for all due to ongoing smoke from fires in Canada. Conditions may change today so please check local news and weather apps for updates. For current conditions/forecast: http://mwcog.org/aqi."
The Washington Nationals game today at Nats Park has been postponed. The National Zoo is closed to the public today. A performance at CityCenter by the Washington Ballet has been cancelled. Trash pickup in Georgetown — normally on Friday morning — slides to Saturday because of today's disruption.
In response, Mayor Muriel Bowser has suspended several non-essential citywide services. The following services will be modified: 
The Department of Parks and Recreation (DPR) has closed all DPR fields, playgrounds, and athletic courts. The weekly produce giveaway at Powell Communal Farm (3149 16th Street NW) is canceled. All outdoor activities have been canceled, including outdoor permits.
The Department of Aging and Community Living (DACL) has canceled all outdoor activities at senior wellness centers and community dining sites across the District. All sites remain open.
The Department of Motor Vehicles (DMV) closed its Inspection Station, located at 1001 Half Street SW at 11:00 a.m. Customers who planned to visit the inspection station today because their inspection stickers are expiring will be given a five-calendar day extension to renew. DC DMV's Service Centers will remain open during normal business hours. Many of DC DMV services can be completed online or via the mobile app, allowing customers to "skip-the-trip."
The District Department of Transportation (DDOT) has suspended paving and road operations for its internal crews. Contractors and utilities working on the field are following their own safety protocols and will suspend work at their own discretion. DDOT has team members who are on call to respond to any issues in the field that warrant the agency's attention. Crossing guards will still be supporting schools, but both the guards and traffic control officers (TCOs) will be working with limited hours and will be required to wear masks.
The Department of Public Works (DPW) has noted that effective 10:00 a.m. today, household trash and recycling collection will "slide" to the next day for the remainder of the week through Saturday; for example, trash scheduled for collection today will be collected Friday, June 9.
The Department of Energy and Environment (DOEE) may still conduct scheduled outside inspections at the discretion of the inspectors; however, inspectors will not be required to perform inspections today. Additionally, unless considered an emergency, DOEE field activities will be cancelled for today.
DC Public Schools (DCPS) has canceled outdoor activities. This includes recess, outdoor Physical Education classes, athletic practices and competitions, and any school-specific events or field trips intended for the outdoors.
Staying Safe During the Code Purple Air Quality Alert
When the Air Quality Index is above 200 in your area (Code Purple or Maroon), all groups should stay indoors as much as possible. Those who must work outside should reduce work outside if possible, and if not, wear a mask (N95 or KN95 equivalent).
Other tips that residents should follow while the air quality remains unhealthy:
Avoid long or intense outdoor activities
Consider rescheduling or moving activities indoors
Consider wearing a high-quality mask (N95 or K95) outdoors; but masks should not be considered a replacement for staying indoors
Keep doors and windows closed
Additional recommendations from the United States Environmental Protection Agency can be found HERE.
Shelter Hotline and Emergency Shelter  
Individuals should call the Shelter Hotline (202) 399-7093 to request transportation to shelter for unsheltered residents. Low-barrier shelters remain open 24 hours and are ready to receive residents who need relief from poor outdoor air quality. District and partner agency outreach teams are informing unsheltered residents to seek relief from poor outdoor air quality in shelters and service centers.
Adams Place Day Center (2210 Adams Place NE), 7:00 a.m.-7:00 p.m.
Downtown Day Services Center (1313 New York Avenue NW), normal hours are 9:00 a.m.-5:00 p.m., but the center will remain open until 7:00 p.m. on Thursday, June 8
801 East Day Center Day Center (2722 Martin Luther King Jr. Avenue SE), 9:00 a.m.-5:00 p.m.