Debuts: District Doughnut, Alo Yoga; M St. Work, Sidewalk Pilot
By
June 8, 2023
0
1271
•
---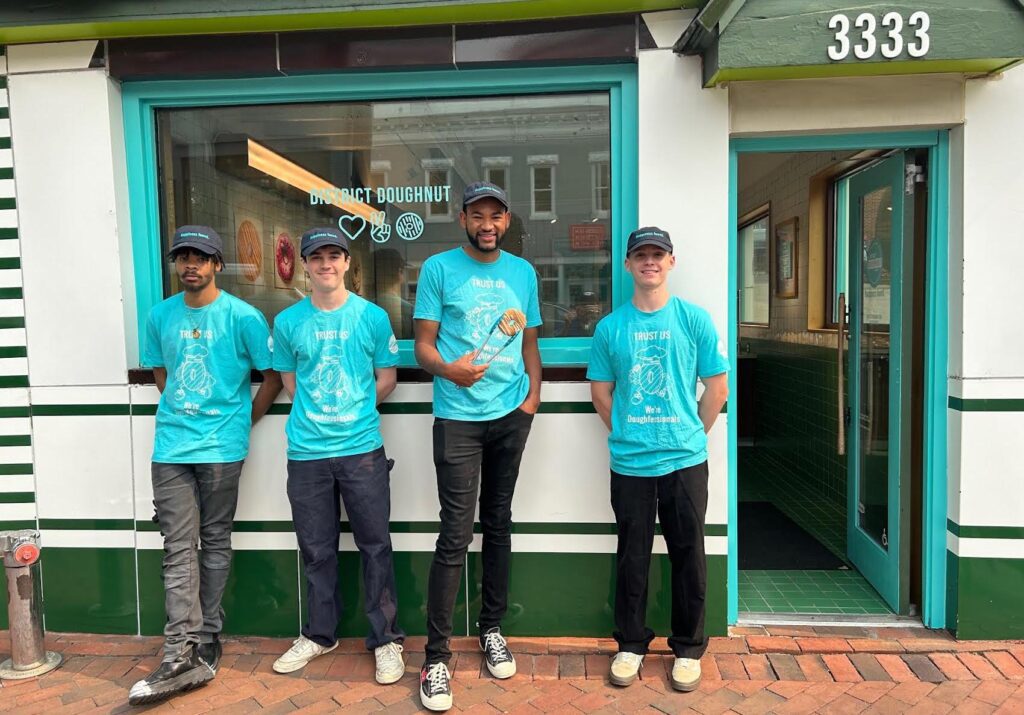 District Doughnut Reopens
District Doughnut, formerly at 3327 Cady's Alley NW, has  — at long last — reopened at 3333 M St. NW, once home to Sweetgreen, and long before that, a Little Tavern. Every day, doors open at 9 a.m. and remain open until the doughnuts sell out. As the company proclaims, "Happiness Found (Again)!" Its official reopening is Friday.
Alo Yoga's Opening Festivities
The popular yoga clothing and accessory company Alo has taken over the prime Georgetown retail space previously occupied by Banana Republic at the corner of Wisconsin Avenue and M Street — 3200 M St. NW. It will open on June 9 with a special event — and "VIP shopping night" — that includes "free gift with purchase for the first 100 guests." Welcome "studio-to-street sweet."  
Pasha Castle's Opening Delayed
Mediterranean food rules … apparently. But Pasha Castle Sweets & Tea has not yet opened Friday at 3279 M St. NW, as previously reported. We'll have to wait a bit longer for the shop's "unparalleled Mediterranean sweets and tea experiences."
BID Sidewalk Rearrangement Pilot
You may have seen streateries in front of a few restaurants that have moved the pedestrians to the outside next to the street traffic, while tables and diners have shifted onto the regular sidewalk, next to the business. People now walk on the sidewalk extensions. What do you think of the new arrangement? Take the survey by the Georgetown Business Improvement District here.
Mid-block Crosswalk and Light on M St.
The District Department of Transportation is installing a mid-block crosswalk on the 3200 block of M Street NW in front of Sephora, on the north side, and Marine Layer, on the south side of the street. Activation is expected next month.
The following is the note from DDOT.
Mid-Block Signalized Crosswalk Installation on M Street Between Wisconsin Avenue and Potomac Street, NW 
An independent determination has been made by the DDOT/Traffic Engineering and Safety Division to install and operate a Mid-Block Signalized Crosswalk Installation on M Street Between Wisconsin Avenue and Potomac Street, NW. Traffic signal control can provide for the safe and efficient movement of vehicular, bicycle, and pedestrian traffic operating through and in the immediate vicinity of this location. The proposed new traffic signal will be timed to operate in harmony with adjacent traffic signals on the M Street corridor to minimize disruptions to through traffic. 
The proposed improvements also include:
Construction of ADA ramps to complement the new crosswalk,
Removal/adjustment of east tip of streetary flower bed set up of 3236 M Street, NW (Clyde's Restaurant).
Relocation of an existing MPD camera from in front of 3239 M Street, NW to potentially an adjacent pole east, in front of 3237 M Street, NW (Sephora Store). DDOT has begun reaching out to MPD and GBID for this effort.