Crime: Gun Violence Raises City Homicide Tally to 20-Year High
By
August 7, 2023
0
887
•
---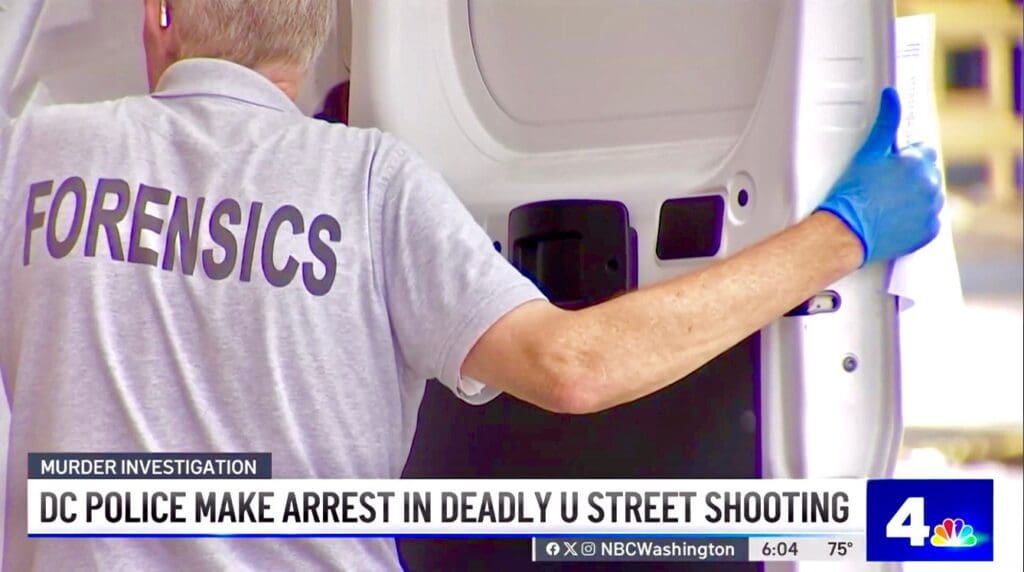 In addition to police sirens wailing around the city in the early days of August, national newspaper headlines again blared messages of out-of-control shootings and homicides in the nation's capital. 
"And we are waking up this morning to renewed calls to stop the bloodshed after a violent weekend in D.C… Between Saturday and Sunday, at least 14 people were shot in D.C. and 6 of them died," an NBC local news anchor greeted the morning TV audience, Sunday morning.
"Surge of homicides in D.C. leaves 13 dead in August's first 5 days," the Washington Post reported yesterday August 6, "[rattling] neighborhoods from Adams Morgan to Anacostia, with each new victim a grim reminder of the city's failure to contain violent crime. Nothing officials try seems to have much effect…" 
Over the weekend, the nation's capital saw a spree of violence with 6 dead on Saturday alone – the highest number killed in a single day in the District this year. In the morning, three men were shot on Ontario Road NW in Adams Morgan, near the busy shopping and dining spots along 18th Street. Two of the victims died and a third was critically wounded. Names have not been released.
Then, later on Saturday morning, MPD reported the fatal shooting of 19-year-old Andre Baker of Southeast, near the popular nightclub area at 12th and U Streets NW. In the case, police reported the arrest on first-degree murder charges of 20-year-old David Botchway of Maryland. 
Then, late on Saturday evening, three more people were shot and killed at 16th Street and (ironically) Good Hope Road in the Anacostia neighborhood of Southeast, D.C. No word yet on the names of the victims.
On NBC 4 news, reporter Derrick Ward described Acting Police Chief Angela Smith's press conference at the scene of the Good Hope Road shooting as combining "all-too-familiar indignation" with an "all-too-familiar plea:"  "Let me be clear," Smith said to assembled reporters, "This gun violence has to stop… It is incredibly frustrating. We know that someone in the community knows what's happening. Please reach out and provide us with any information [you] can to ensure that our citizens, our residents are safe within their communities." 
"At least 30 white circles could be seen marking apparent evidence in the case," the Post reported, describing police shell-casing investigations following the shooting. "A car had a bullet hole in its driver side door. There were packages of Narcan, a nasal spray to reverse opioid overdoses, in the grass. Beneath a wooden awning were remnants of a violent night: a wound seal kit, a bottle of liquor and a pack of cigarettes. People sat on the steps of a church nearby, appearing to inject themselves." 
Derrick Ward of NBC News interviewed Earnest Hainesworth, a resident and anti-violence activist who lives near where the Good Hope Road shooting took place. "I've seen blood all outside my bedroom window," Hainesworth said. The shootings were likely heard on Frederick Douglass's historic front porch nearby, Ward noted poignantly. ""If Frederick Douglass were here today to see what's going on, he would be, like, what was it all for?," Hainesworth remarked.
Notably, D.C. Council members resistant to tougher policing measures following the Black Lives Matter protests in the District are now sounding alarmed enough about violent crime in the District to call for boosting the police presence. Council Chair Phil Mendelson (D) was quoted by the Post calling for "more resources for the police" and Ward 8 Council member Trayon White even suggested calling out the National Guard. "The crime is out of control and getting worse by the day," he told the Post. 
On August 3, close to 100 people attended a packed meeting, organized by the Chair of the D.C. Council's Committee on Public Safety and the Judiciary, Ward 2 Council member Brooke Pinto, at the Martin Luther King Jr. Memorial Library downtown to allow concerned residents to pose questions to Acting Chief Smith and other city officials on gun violence and rising crime in the Chinatown neighborhood and across the District.  "The city as a whole has seen surges in homicides, robberies and carjackings, and violent crime is up 37 percent this year over the same time period in 2022," the Post reported. 
On July 11, the D.C. Council passed emergency crime-fighting laws to allow pre-trial incarceration of suspected violent offenders and other measures to quell the city's rising crime and homicide numbers.
With 158 homicides so far this year, D.C is on track to have more murders per year than at any time in the past two decades.