Cocktail of the Month: 1933 Drinks to Celebrate 90 Years of Martin's Tavern
By
September 7, 2023
0
645
•
---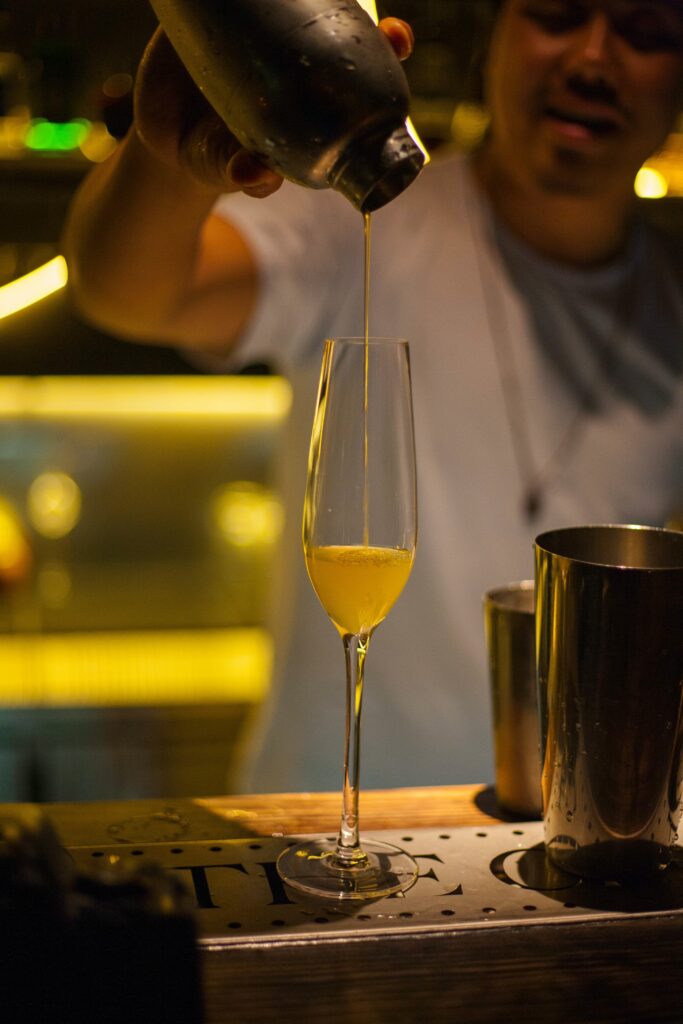 It's a Georgetown landmark. You might know it as the place that serves brunch every day of the week… or for its display of sports memorabilia in the "dugout" room which served as a hangout for baseball greats such as Yogi Berra, Mickey Mantle and Ty Cobb. Maybe you're a fan of the oyster stew which was named the best on the East Coast…  or know its storied history as the meeting spot for Supreme Court Justices following deliberations of in the Brown v. Board of Education decision. And any true Washingtonian will tell you it's where Sen. John F. Kennedy proposed marriage to Jacqueline Lee Bouvier. 
Martin's Tavern is Washington, D.C.'s oldest family-run restaurant. With its yellow façade, and green shutters, Martin's has been perched on the corner Wisconsin Avenue and N Street NW since 1933. It was founded by family patriarch great-grandfather William Solomon Martin, and grandfather, former Major League Baseball player, William Floyd "Billy" Martin, and opened as Prohibition ended.  
This month marks the beginning of a 90th anniversary celebration for the legendary venue that will last until the end of the year. Customers have been asked to share their favorite memories of dining at Billy Martin's and the recollections will be collected for a special digital scrapbook to be displayed at the tavern.  
And, of course, what would a party at a tavern be without cocktails?
From Sept. 12 through the remainder of the year, Martin's Tavern will feature three 90th-anniversary cocktails, which will be "a proprietary reset of 1933 drinks with 2023 sensibilities."  
The first cocktail, the French 75, actually dates back to the First World War in France. A mixture of  gin, lemon juice, simple syrup, and Champagne, this classic tipple was invented by Harry McElhone, proprietor of Harry's New York Bar, another legendary watering hole which still stands in Paris.  
Because this potable packed a powerful punch, it was named after the Canon de 75 Modele 1897, the French 75mm field gun. At that time, this shooter was a formidable weapon. It was capable of firing 15 rounds per minute and it's been credited with playing an important role in the victory of Allied Forces. The French 75 cocktail is said to have had such a kick that it felt like being shot by one of these guns. 
The second cocktail, the Sidecar, also has origins in WWI. Some stories also trace it to Harry's Bar or the Ritz, but its exact origins are unknown. According to David Embury of "Difford's Guide for Discerning Drinkers, " It was "invented at a bar in Paris and was named after the motorcycle sidecar in which a captain customarily was driven to-and-from the little bistro where the drink was born." This cocktail is composed of Cognac, Cointreau, lemon juice, and sugar with an orange twist.  
The Last Word was a popular cocktail during Prohibition when it was forged from "bathtub gin." It's our third special to celebrate Martin's 90th anniversary. It's been called " about as close to perfect as cocktails can be" by Liquor.com.  The mixture of gin, green Chartreuse, maraschino liqueur with lime juice and garnished with a cherry was originally developed at the Detroit Athletic Club. It appeared on the club's menu in 1916 for a whopping 35 cents, and was the establishment's most expensive drink at that time. 
This trio of specials will cost you a little more in 2023. Each are priced from $12 to $14.  
Proceeds from these three special cocktails are going to Georgetown Ministry Center.  "Martin's Tavern is a community institution," states Kelly Andreae, Executive Director, Georgetown Ministry Center.  "The Georgetown Ministry Center is honored to celebrate their commitment to the Georgetown community." 
The French 75 
1 ounce gin 
1/2 ounce lemon juice, freshly squeezed 
1/2 ounce simple syrup  
1 ounce Champagne or sparkling wine 
Add the gin, lemon juice and simple syrup to a shaker with ice and shake until well-chilled. Strain into a Champagne flute. Top with the Champagne. Garnish with a lemon twist.