The Georgetowner's 2023 Holiday Theater Guide
By
November 8, 2023
0
497
•
---
LAST CHANCE THIS MONTH …  
You can put on the Ritz with Dr. Frankenstein ("It's pronounced Franken-STEEN!") and his monster, but not for long. The Little Theatre of Alexandria's production of "Young Frankenstein" — based on the Mel Brooks film and directed by Frank D. Shutts II — closes this Saturday (through Nov. 11).  
History buffs may want to spend part of Veterans Day afternoon in the Kennedy Center Eisenhower Theater watching "Defining Courage," an "immersive DocuTheatre experience" about World War II's segregated Nisei (second-generation Japanese American) units (Nov. 11).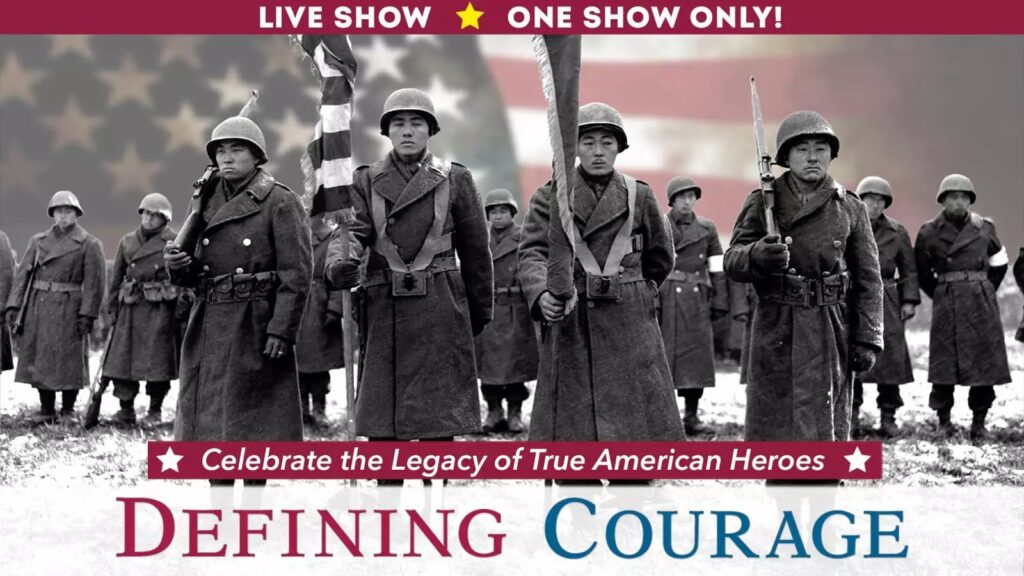 Another overseas conflict, the Troubles in Northern Ireland, provides the context for Leo McGann's "The Honey Trap," set in Belfast in 1979. Matt Torney directs this Solas Nua world premiere at the Atlas Performing Arts Center (through Nov. 19).  
Also at the Atlas, resident partner Mosaic Theater Company's season continues with "Confederates" by Dominique Morisseau, directed by Stori Ayers, focusing on two women "who stand on the frontlines of freedom," 160 years apart (through Nov. 19).    
Theater J, based at the Edlavitch DC Jewish Community Center, is about to mount three one-person plays in a row. First up: the world premiere of "See You Tomorrow" — written, directed and performed by Iris Bahr — in which a mother in Israel and a daughter in L.A. interact on WhatsApp (Nov. 14 to 22).  
The U.S. premiere of "Strong Wind," a surreal one-act play by Norway's Jon Fosse, is underway at the DC Arts Center. This Scena Theatre production is directed by Scena Artistic Director Robert McNamara (through Nov. 26).  
For the kids: Bluey, Bingo, Bandit and Chilli — the canine stars of an animated TV series from Australia — will be bounding into the Kennedy Center Eisenhower Theater in puppet form. "Bluey's Big Play" features new live music by "Bluey" composer Joff Bush (Nov. 21 to 26).  
OPEN OR OPENING SOON AND PLAYING ON …  
Though the ink isn't quite dry, so to speak, on the Folger Shakespeare Library expansion, its Elizabethan Theatre has reopened for "The Winter's Tale." (What do you mean you don't know that play? Were you raised by shepherds?) The director is Tamilla Woodard, chair of the acting program at Yale's Geffen School of Drama (through Dec. 17).  
James Ijames had the outlandish idea to set "Hamlet" at a backyard barbecue. The result? A Pulitzer Prize. Directed by Taylor Reynolds, "Fat Ham" is on the grill at Studio Theatre (through Dec. 17).  
Also part of D.C.'s Shakespeare Everywhere festival, the Bard of Avon meets the Maestro from Roncole in "The Promised End," In Series' lauded interweaving of Shakespeare's "King Lear" and Verdi's Requiem (Nov. 18 to Dec. 10 at Source Theatre; Dec. 15 to 17 at Baltimore Theatre Project).  
Woolly Mammoth Theatre Company is staging Shayok Misha Chowdhury's "Public Obscenities," a bilingual — English and Bangla — play about a queer studies student who brings his Black boyfriend home to Kolkata (Nov. 13 to Dec. 23).  
 Four versions of Charles Dickens's "A Christmas Carol" will haunt area stages this holiday season. First to get clanking (Marley's Ghost: "I wear the chain I forged in life!"): the 2023 edition of Michael Wilson's spooky, music-filled Ford's Theatre adaptation. Craig Wallace first donned Scrooge's nightcap in 2016 (Nov. 17 to Dec. 31).  
A week later and 20 miles due north, Paul Morella will hit the Olney Theatre Center stage playing 50 characters, give or take, for the 14th season of his one-man show, "A Christmas Carol: A Ghost Story of Christmas" (Nov. 24 to Dec. 31).   
What about musicals, you say? Now running are productions of two much-honored shows: "Ragtime," based on E. L. Doctorow's colorful depiction of the early 20th century, at Signature Theatre (through Jan. 7); and "Fiddler on the Roof," set about the same time in the "underfed, overworked" Russian village of Anatevka, at Olney (through Dec. 31).   
This month, Arena Stage will premiere a musical about a whaling ship that goes down in a storm. Directed by Michael Mayer, with a book by John Logan and choreography (dancing on the raft?) by David Neumann, "Swept Away" features music by roots band the Avett Brothers (Nov. 25 to Dec. 30).   
More for the kids: Adventure Theatre at Glen Echo Park will present a dramatization by le Clanché du Rand of C. S. Lewis's "The Lion, the Witch and the Wardrobe," directed by Tom Story (Nov. 17 to Jan. 7); and the Kennedy Center Family Theater will host "The Dragon King's Daughter," directed by Chongren Fan, a world-premiere musical with an original story and songs by Marcus Yi and martial arts-infused choreography by Billy Bustamante. Audience members can converse with the cast and creative team after the opening-afternoon show (Nov. 18 to Dec. 17).   
COMING IN DECEMBER …  
Two more adaptations of "A Christmas Carol": Donna Ferragut's, directed by Jonathan Mulberg, at the Little Theatre of Alexandria (Dec. 2 to 16); and, continuing a Keegan Theatre tradition, "An Irish Carol," Matthew J. Keenan's reimagining of Dickens in a Dublin pub with a Scrooge-y owner. Keegan Founding Director Mark A. Rhea directs (Dec. 2 to 31).  
Set not in a Dublin pub but in a New Orleans club is the Black vaudeville-style review "One Mo' Time" by Vernel Bagneris, bringing the Big Easy of the 1920s to the Anacostia Playhouse (Dec. 2 to 31).  
Appearing in "Drag the Halls" at Olney, for two wild nights only: Evon Michelle Dior, Tiara Missou and Echinacea Monroe (Dec. 8 and 9).  
More Shakespeare Everywhere in December: Daryl Cloran's Fab Four/flower power adaptation of "As You Like It" in Shakespeare Theatre Company's Harman Hall (Dec. 2 to 31); and, across town, a three-week stint in the Kennedy Center Theater Lab by the Chicago-based Improvised Shakespeare Company (Dec. 4 to 23).  
A second world-premiere, one-person show, "Moses" by Michele Lowe, directed by Johanna Gruenhut, will bring one man's search for "forgiveness, a long-lost dream and himself" to Theater J (Dec. 1 to 24).  
In Bethesda, Round House Theatre Artistic Director Ryan Rilette will direct Conor McPherson's "The Seafarer," a "mystical journey of redemption" set on the Irish coast on Christmas Eve (Dec. 6 to 31). And in Arlington, Synetic Theater will present adaptations of two beloved Russian stories: "The Tale of the Fisherman and the Golden Fish" (Dec. 8 to Jan. 7); and "Snow Maiden," created and directed by Synetic Founding Associate Artistic Director Irina Tsikurishvili (Dec. 9 to Jan. 6).  
Speaking of snow maidens, Elsa herself, Princess (later Queen) of Arendelle, will sing out ("Let the storm rage on!") at the Kennedy Center Opera House in Disney's "Frozen" (Dec. 20 to Jan. 21).  \
The National Theatre's end-of-year show is "Pretty Woman: The Musical," with an original score by Bryan Adams and Jim Vallance rocking up the Gere-and-Roberts rom-com (Dec. 12 to 17).  
 "Both Sides Now" at Signature will pay tribute to Joni Mitchell and Leonard Cohen (Dec. 5 to 17). Another Sixties troubadour inspired "Girl From the North Country" — written and directed by Conor McPherson and orchestrated by Simon Hale — in which Bob Dylan tunes tell a tale of 1930s Duluth, closing out 2023 in the Kennedy Center Eisenhower Theater (Dec. 12 to 31).  
One more for the kids: Discovery Theater's annual "Seasons of Light" will return to the Smithsonian's Ripley Center, celebrating seasonal holiday festivals from around the world (Dec. 1 to 20).  
P.S.  
Landlady Elizabeth Czerny has been getting murdered above the Georgetown hair salon in the Kennedy Center Theater Lab since the Reagan administration. It's "Shear Madness," I tell you!