Saudi Women Pitch Their Dreams at Halcyon
By
August 20, 2018
0
596
•
---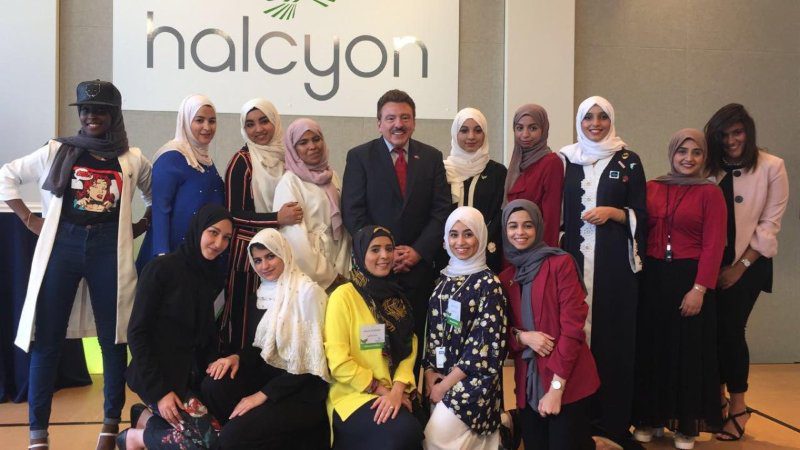 Dreamers from all over the world are imbued with an unshakeable sense of hope. This held true for a group of plucky Saudi Arabian women who took part in a Halcyon Incubator Intensive in Washington, D.C., this summer.
Sakhaa Bandar Alsaedi, the founder of Medvation, spoke about a girl who was encouraged to write every single idea on a piece of paper. "This girl is me," she said.
She and the other Saudi women who shared their stories at an Aug. 16 pitch event are aware that the country they know and love has room for improvement. The founder of Medvation said that the inspirational community she lived in isn't a given in Saudi Arabia, especially since only eight percent of children experienced the kind of environment that she did in Medina.
Heba M. Zahid, co-founder of GreenDesert, remembers how much she complained and was pushed to do more than just complain. The result is a venture towards making Saudi Arabia a country that recycles more than it currently does. "We have great trust in the Saudi community," she said.
Aliyaa B Zaidan, founder of LabOnClick, doesn't seem like the kind of person who would complain, but her struggles as a general dentist when it came to communicating with dental labs were readily apparent, understandable and easy to relate to. She, too, decided to pursue a path towards resolving this issue, which she says affects other dentists as well.
In a sense, the pursuit of doing something more than simply complaining can indicate signs of heroic behavior. Zainab Hawsa, co-founder of BitGo, asked people in the audience whether or not they ever felt wished that they had superpowers. With about half the audience raising their hands, Hawsa responded: "I can relate."
These Saudi women offer proof that having an idea about how to make some sort of difference in society is indeed like discovering a superpower. The issue that comes up, though, is how to nurture that superpower so that it can be useful in some way and not fizzle out.
The idea that fuels BitGo is one that looks into the potential of an often underappreciated group: the gamers who can spend as many as 10,000 hours playing video games by the time they reach 21 years old. The goal of this venture is to encourage these gamers to come out of hiding, so that they can actually impact their nearby communities in meaningful and positive ways. The way to do that is by providing specific game play that will achieve that goal.
All of these pitches included goals, but some women were more explicit than others in explaining how they were going to fund their ventures. Ebtehal Nayef AlMohammadi, founder of Exteer, wants to tackle the issue that many recent graduates face, that of needing experience before attaining significant employment. Companies and individuals who want to register to use the service will have to pay fees in order to do so, but sponsored advertising is also included in the plan for funding.
These women came to Halcyon, a Georgetown-based nonprofit that "galvanizes creative individuals aspiring to promote social good," in the hopes that they will get the support they need to make their dreams come true. After all, as David Hamod, president and CEO of the National U.S.-Arab Chamber of Commerce, said at the pitch event, the top three priorities in the Arab world are "jobs, jobs and more jobs."