Recipe from Sift: Summer Classic Tomato Tart
By
August 19, 2021
0
428
•
---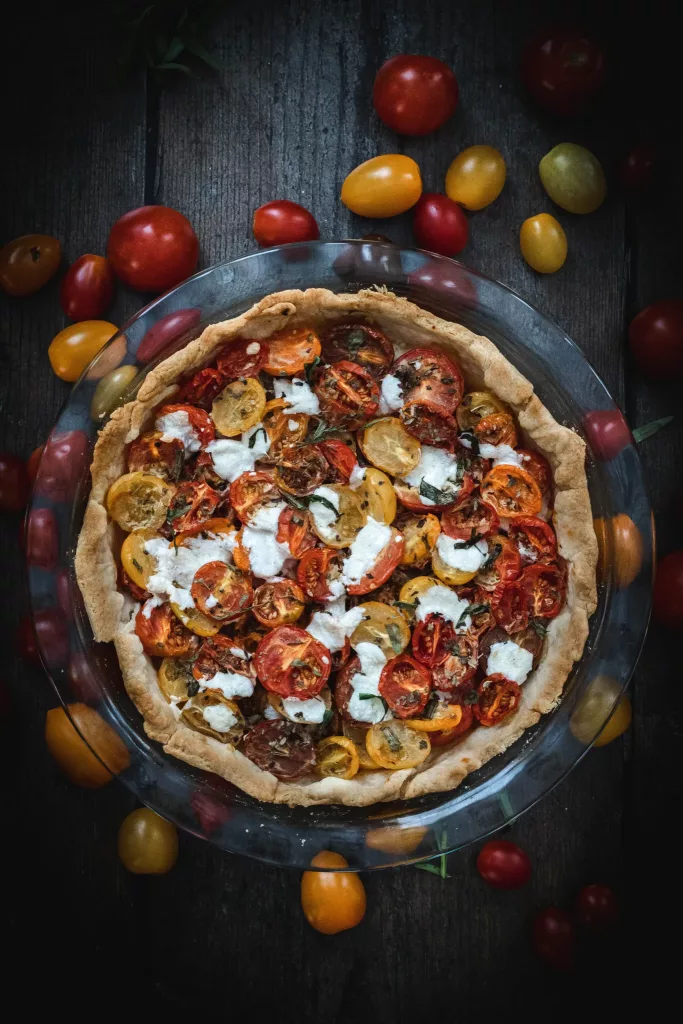 Summer Classic: A Gluten-Free Recipe for Tomato Tart
Welcome to Sift. I help home bakers and cooks achieve impressive and delicious recipes. You and your guests will be asking, "are you sure this is gluten free?"
I am going to share a secret with you. I love all things tomato when they are cooked. The secret is I hate raw tomatoes. I have never loved the taste of a fresh tomato off of the vine, which I know many people love.
My grandmother used to grow tomatoes and she was always successful with them. This was always a surprise as she lived 1.5 hours north of Montréal. The summers were nice but they were never too warm. Her secret, she told me, was eggshells. She would keep eggshells and put them into the soil.
Why You Should Make this Recipe?
It's amazing how those who have touched our lives have their influence in places you could never imagine, like tomatoes. Another secret when it comes to this recipe, I cheat a bit and use a pre-bought pie tart. You can of course make your own, which is just more time consuming. I have been trying to find ways of making delicious recipes that cut down on time so I can continue to go about my day without having to be in the kitchen for hours on end.
I was watching an old television series called Brothers & Sisters. One of my main characters goes to France to look at vineyards. It made me recall a recipe from a French author I enjoy, Mimi Thorisson, who once posted a recipe for a tomato tart. Her post motivated me to create this. It is colorful, and with each bite you get an explosion of flavor (it may be the tomatoes bursting as you bite into them).
I imagine as I eat this that I am sitting at a vineyard in southern France looking out at beautiful fields with a glass of wine in one hand and a fork with tomato tart in the other.
I hope it transports you, too.
-L
Tomato Tart
This gluten free recipe for tomato tart is a 1:1 recipe. It is the epitome of summer and will have your taste buds tingling.
Author:Sift
Prep Time:20 minutes
Cook Time:30 minutes
Total Time:1 hour
Yield:1 tomato tart 1x
Category:Main Course, Side Dish
Cuisine:French
Diet:Gluten Free
What You Will Need
1 Pie Tart (I used a gluten free pie tart)
1 Pint Cherry Tomatoes
1/2 TBSP Fresh Tarragon
1 TBSP Dijon Mustard (For the Tomatoes)
1/2 TBSP Dijon Mustard (For the base of the tart)
1/2 TBSP Herb de Provence (Scattered in the layers)
Mozzarella (To your Taste)
A little introduction:
Hi! I'm Laura, and welcome to my little space on the internet. This is my place of sharing my favorite tried and true gluten free recipes. I was told to stop eating gluten in 2010 and have spent the past 11 years learning to recreate all of the recipes I loved growing up.
In 2017 I moved to Richmond, Virginia and started my first blog, The Gluten Free Southerner. Over time, the look and recipes changed (the RVA for Richmond has stayed – at least for now) but the love and passion behind the recipes is the same.
This website is really an homage to the two women who taught me to bake and appreciate food, my mother Dianna, and my late grandmother, Adele. Both women shared the importance of tradition through food, and how putting love into what you make really does make a difference.
Here you will find a variety of sweet and savory recipes, 100% gluten free, 100% not able to detect it is gluten free.
Thanks for stopping by,
x Laura