Wild Thistle Kitchen: Chicken Marsala Pasta
By
August 26, 2021
0
596
•
---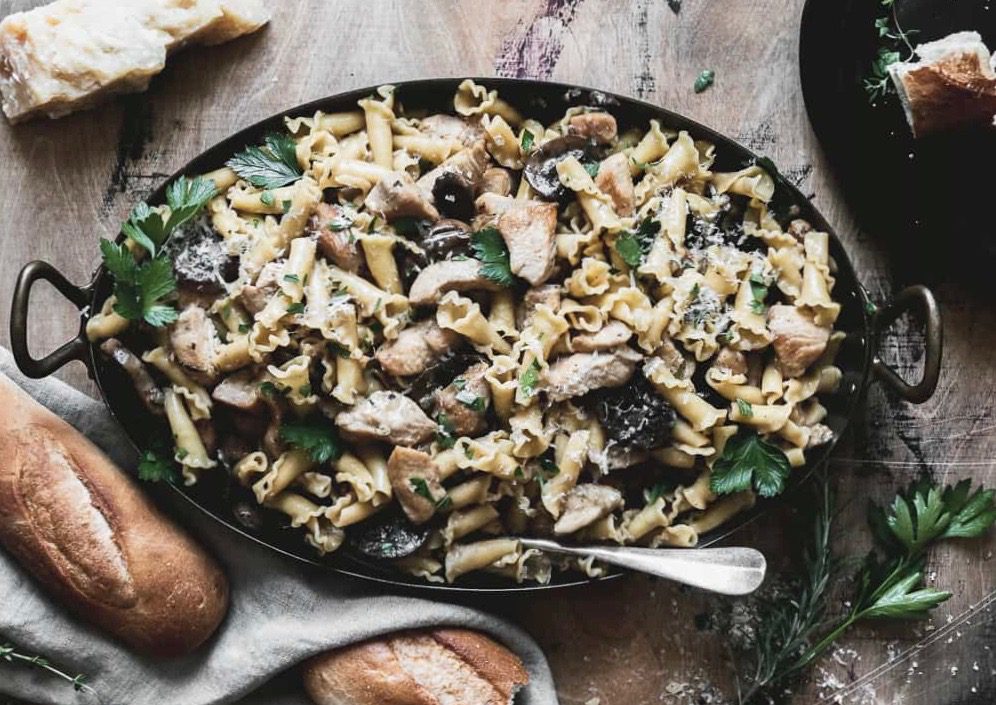 Chicken Marsala Pasta is quick to prepare and packed with such harmonious flavors. Mushrooms and marsala belong together — make it and see why!
Made with a handful of weeknight fridge and pantry staples, this Chicken Marsala Pasta is also one of the most flavorful dinners around.
It's just as good for a quick family meal as it is for a fancy date-night at home. Feel free to customize the noodle — I love to use campanelle as you see here, but any pasta works.
Mushrooms and Marsala – A Love Story
I've been food obsessed my entire life, and as a result, I have lots of little notebooks full of thoughts, recipe ideas, flavor combinations and doodles. I found one the other day where I had scribbled "Mushrooms + Marsala = Love." It made me laugh and shake my head at myself, but it's so true. They are such complimentary flavors; they belong together. This Chicken Marsala Pasta allows their flavors to really shine and it couldn't be easier.
Mushrooms are one of those things — one of those polarizing things. Either you love them or hate them, but I'm a long-time mushroom lover. I was the weird child who begged my grandmother to make homemade cream of mushroom soup. I grew up within walking distance of a river, and my dad used to take me mushroom hunting along the mossy fern-covered trails that led to it. He even had a little mushroom field guide to make sure we weren't coming home from our adventures with a bundle of poisonous fungi. I loved it, and I always felt like we were being sneaky and living dangerously.
Chicken Marsala Pasta — On a Whim
So, one night, I came home and assessed what I had in the fridge. With three chicken breasts I had pulled out of the freezer the night before — not knowing what I would use them for (story of my life) — and two containers of cremini mushrooms, I thought "hmmmm… chicken marsala?"
I love good chicken marsala. (Isn't it silly when people say things like that? As if anyone would ever love bad chicken marsala.) But, it's such a flavorful dish, made up of just a few simple ingredients that work so harmoniously together.
Knowing I had a bottle of marsala in my trusty pantry, my mind was made-up (I keep an inexpensive bottle around, just for cooking; it comes in handy). So, I started to wonder what I would serve it with, and pasta was the obvious choice, as you need something to soak up the yummy juices. Then I decided I would combine them, rather than cook the chicken and serve it atop the pasta.
It was a really good idea. And my family loved it!
Here's how I made it.
For the full recipe, go to: https://wildthistlekitchen.com/chicken-marsala-pasta/.
Prep Time: 10 minutes
Cook Time: 20 minutes
Total Time: 30 minutes
Yield: 4 – 6 generous servings