Laura's Gluten-Free Raspberry Blondies
By
March 24, 2022
0
320
•
---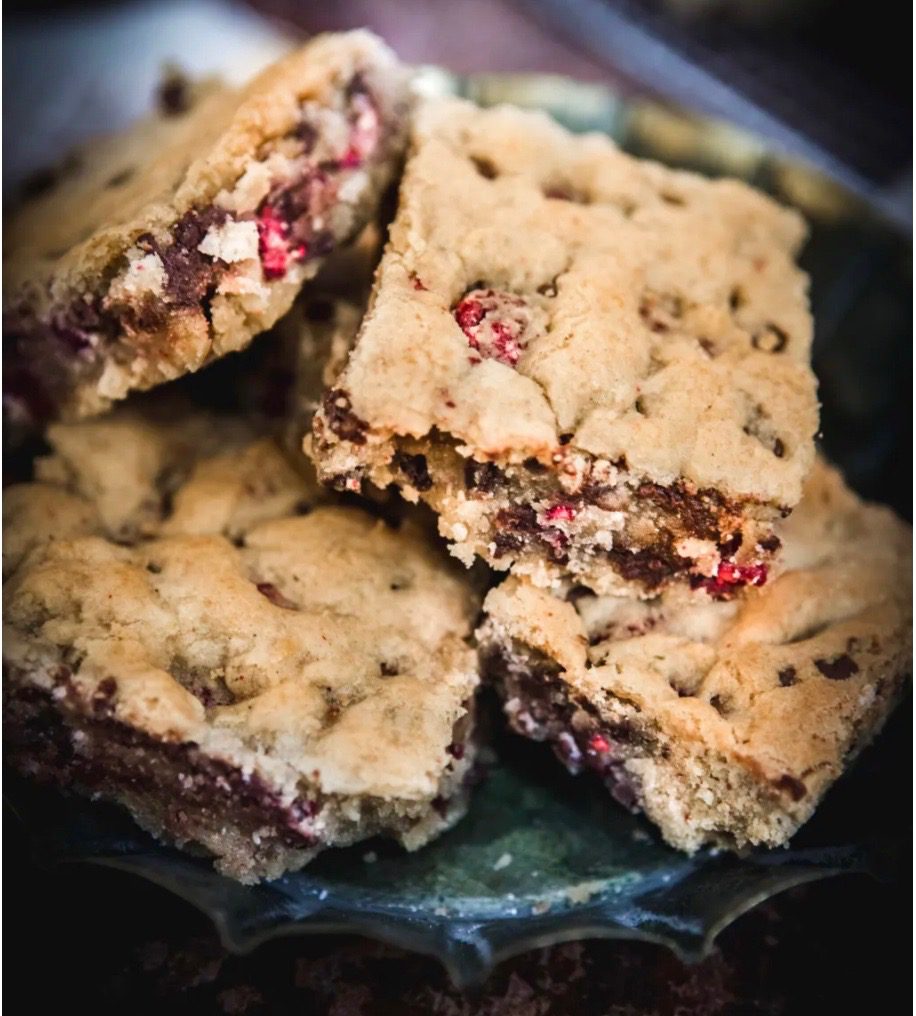 I love blondies! I do. This is such a great recipe because it can appeal to so many. Blondie bars are an absolutely delicious snack, and they are great as a dessert or ideal as a lunchtime snack. This is a one-bowl blondie recipe — all you need is a large mixing bowl and a few ingredients and you're good to go!
Let's dive in to this original recipe and make these chewy blondies.
Can I Use White Baking Chocolate Instead of Mini Semi-Sweet Chocolate Chips?
Yes! This recipe works just as well as a raspberry white chocolate blondies recipe. White chocolate and raspberry pair together really beautifully as the white chocolate chips are really sweet and the raspberries can be tart. You can also use white chocolate chips or white chocolate chunks if you'd like. Obviously, if you wish the chocolate to be chunkier, then by all means use the white chocolate chunks! If you like tart raspberries, then white chocolate chips may be a good option for you.
What Substitutions Can I Make?
For this raspberry blondies recipe, you can use fresh or frozen raspberries or you can use what I have which is freeze-dried raspberries. However, fresh raspberries or frozen raspberries are completely fine. They'll add a bit of juiciness to the blondies recipe.
The freeze-dried raspberries add amazing raspberry flavor but if you want to use fresh berries or frozen berries that's entirely your call!
If you do not have vanilla extract, you could try using almond extract. I have not personally tried this, but, an almond flavor would likely pair quite nicely with the chocolate and raspberries!
If you'd like to add a bit more bite to your raspberry blondies, you could also add some chopped almonds.
Can I Use Almond Flour Instead?
I would not suggest it for this recipe. You really will want to use a gluten-free flour mix. Remember, not all gluten-free all-purpose flour brands are equal and if you use a different flour then you may end up with different results.
Are Blondies Supposed to Be Gooey?
Yes, to an extent. Obviously, they need to be baked, but like brownies, they share a gooeyness about them.
And, How Do Blondies Differ From Brownies Anyway?
Blondies tend to have a slight caramel flavor to them (added by the brown sugar in the recipe) and do not typically have cocoa powder. And if you're wondering how a blondie is different from a cookie, well, it's typically labelled a "cookie bar"!
How Do I Store These Raspberry Blondies?
In an airtight container on the counter for 3-5 days is just fine. You can also freeze them. Again, I would suggest an airtight container and/or a ziploc type bag that is good for freezing. Mark the date on them, and make sure to eat them within 3 months! If you want to refrigerate blondies then that's fine as well, I would still say around 3-5 days.
What Do You Need to Make These Raspberry Blondies?
Ingredients:
8 tablespoons unsalted butter, it should be melted butter (no need to worry about room temperature)
1/4 cup olive oil
1 cup light brown sugar
1/2 cup white granulated sugar
1 tsp pure vanilla extract, if you cannot find pure vanilla extract, then any vanilla extract will do
8 oz freeze-dried raspberries, if you want, you can use fresh raspberries or frozen raspberries (if using frozen, you may want to thaw overnight and bring to room temperature)
1 cup mini chocolate chips, you can substitute white chocolate chips or white chocolate chunks
2 eggs, room temperature is fine but not necessary
2 cups all-purpose flour (gluten-free of course), I used King Arthur Measure for Measure flour, make sure whatever mix you use has xanthan gum in it
1 tsp baking powder
Tools: wire rack, measuring cup, parchment paper (parchment paper is optional if you do not have a nonstick spray), baking pan
For the full recipe and instructions go to https://siftrva.com/raspberry-blondies/.