Georgetown Canal to Be Drained Much Longer Than Anticipated, Through 2025
By
October 3, 2022
One Comment
3054
•
---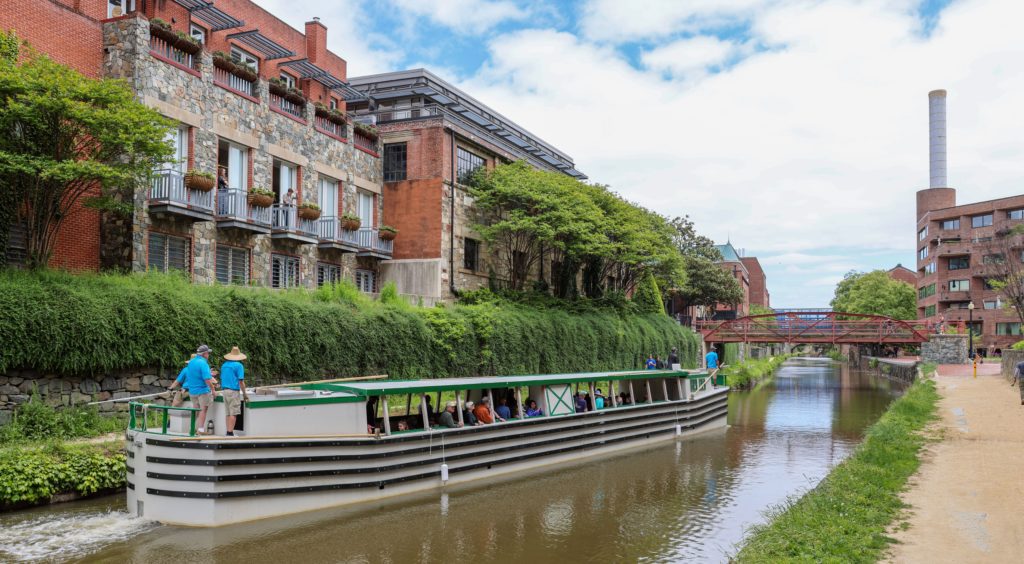 Disappointing news from the C&O Canal National Historic Park and Georgetown Heritage today: Georgetown's section of the C&O Canal will be drained soon and remain potentially dry for as long as 30 months, through 2025. 
At the celebratory April 2022 launch of the new C&O Canal boat, various officials had raised hopes that the winter months drainage for repairs of the Georgetown section of the Canal would only extend to next season's warmer weather. Now, however, residents and visitors excited by the restored vessel's historical navigations through water-filled locks will have to endure a sad and lengthy dry spell.
"You know, this is part of the Georgetown Canal Plan," according to Christiana Hanson, Public Information Officer at the C&O Canal National Historic Park, reassuring the public that while the repair work may take many months, it's vital to the overall restoration plan. "There will be impacts. We're not sure what they are. But as always we will work to minimize impacts to the public. And it will lead to a stronger and better looking Canal in the future… That's the goal: to restore and enhance that first one mile of the Canal. "
Hanson reassured Georgetowners and visitors, however, that closures for repairs are par-for-the-course and don't mean the Canal itself will be closed. "October is when we traditionally de-water the Canal. And we do that anywhere there's water in the Canal. So that's when boat programs up and down the Canal tend to wrap up because we're protecting the Canal walls from freeze. Currently, [however] the park is planning a large-scale project to rehabilitate multiple sections and multiple historic assets along the Canal in the D.C. area. We anticipate that that construction will run from 2023 to 2025, but we don't have any information about closures or really much more about that project since we're still in the early planning stages for that." 
The repairs so far look to be extensive. "The repairs we're looking at include Locks 1, 2 and 5, inlet Lock 1, the Guard Lock 1, Level 4, the north and south walls up stream on Wisconsin Avenue, that area, and then the wall at 34th Street NW. So, it's a lot of stuff. Which is one of the reasons we say it'll have a pretty long construction time. But some of that may be able to happen at the same time. We don't know," Hanson said.
From an outsider's perspective, however, prospects for quick repairs seem to be just trawling along at a mule's pace. "This hasn't gone out to any solicitations from contractors yet," Hanson said. "So, we don't know [our] timeline at this point."
Meanwhile, at Georgetown Heritage, the nonprofit historical preservation organization that runs the C&O Canal Boat Tours and has exceeded all expectations in tour ticket receipts for The Georgetown Heritage this inaugural season, the repair work should perhaps not be seen as overly alarming. The C&O Canal Restoration Project, "made possible through funding and planning from the National Park Service (NPS)" will help "pave the way for The Georgetown Heritage boat tours to resume in Spring 2025," said Georgetown Heritage. 
The repairs will include a "major restoration of Locks 1, 2 and 5, as well as critical valve and wall repairs," Georgetown Heritage said. "This will enable the Canal to continue to hold water and host the boat program for generations to come." 
NPS will be hosting a virtual public meeting this fall to share additional details, per Georgetown Heritage. Visit NPS's website here for meeting announcements, "coming soon." 
"We've had an incredibly successful inaugural season for our new C&O Canal boat," said S. Rex Carnegie, Director of Education and Partnerships for Georgetown Heritage. "Ridership was twice as high as projected, and the feedback has been wonderful."
"In addition to visitor accolades, the Canal boat has been featured in media outlets across the world over the past six months – most recently on "CBS Saturday Morning," which reached more than 1.5 million viewers," Georgetown Heritage reported.
"The inaugural boat season was designed with the restoration project in mind, as Georgetown Heritage took the first year to learn more about the vessel, test interpretive programs, develop operating procedures, and give visitors a first look at the new boat program." 
According to Hanson of the C&O Canal National Historic Park, Georgetown Heritage will still be holding educational and informational programming, even if there's not water in the Canal. "Georgetown Heritage will be doing programming during this period. It may be on the boat. There may not be water for the boat to be floating on. But I know that they are looking at how to utilize the boat and all of their other assets during those times," she told The Georgetowner.
Boat tours are estimated to return in April 2025, and future Canal boat seasons will run annually from April – October. During the 2023 – 2024 seasons, Georgetown Heritage will "partner with NPS to host an interpretive program while the boat is in dry dock near Lock 4 of the Canal – offering visitors a unique way to experience the boat," they said. 
Of course, this raises the question: Is having the Canal Boat in dry dock all that unique?
See here for The Georgetowner article about taking a ride aboard the new canal boat.