Cocktail of the Month: Bejeweled Wonders Inspired by T-Swift
By
December 1, 2022
One Comment
2018
•
---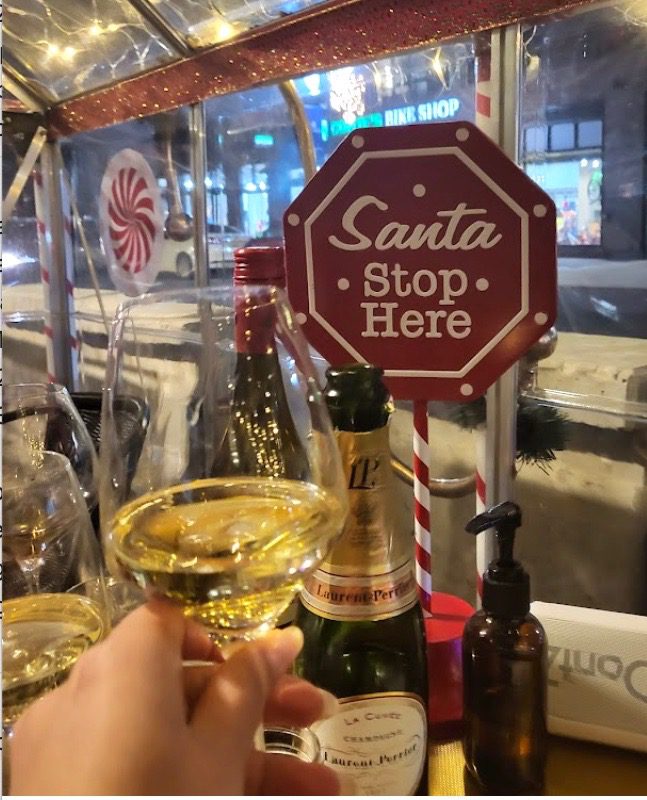 "In my heart is a Christmas tree farm where the people would come to dance under sparkling lights," croons Taylor Swift in her holiday classic smash "Christmas Tree Farm." The carol is about remembering when the yuletide season was a simpler time. In this case, Swift reminisces about her childhood growing up on an evergreen nursery in Pennsylvania "where every wish comes true."
Unfortunately, many D.C.-area fans who were wishing for T-Swizzle concert tickets in their stockings this year are going to have a blue Christmas. First, the Queen of Bridges, skipped the Capital City on her tour schedule. Next a horrible debacle by Ticketmaster left many fans unable to purchase tickets. During the pre-sale phase, the company's website — unable to keep up with the unprecedented demand — crashed, leaving countless fans heartbroken. Two days later, Ticketmaster announced that ticket sales to the general public were canceled due to insufficient ticket inventory.
Legions of Swifties have been left out in the cold with feelings akin to the opening line of her holiday hymn, 'My winter nights are taken up by static, stress, and holiday shopping traffic."
Not all hope is lost, however. Fans can "shake it off "and drown their sorrows by channeling T-Swift in a pop-up bar this December, inspired by the music video for her latest knockout video "Bejeweled."
Creative mastermind Adriana Aspiazu has transformed the popular Navy Yard wine bar Maxwell Park located at 1346 4th St. SE into a Christmas Prince and Taylor Swift-inspired wonderland for guests to enjoy all season long, without the wait on Ticketmaster.
Pop-up bars are nothing new in D.C. The trend started in 2014 with Derek Brown of Drink Company's festive Noel-themed "Miracle on 7th Street" in Shaw which spawned several imitators. Brown parleyed that success into other wildly popular get-in-before-they're-gone watering holes channeling cherry blossoms, the musical band Gwar and Game of Thrones.
Aspiazu has reproduced the dazzling Cinderella ball atmosphere from Swift's fantasy video "Bejeweled" by filling the wine bar with twinkle lights, jewels, glass, glitter and a plethora of sparkly things. The music will feature seasonal songs along with Swift's music on repeat. Instagrammers can record themselves emulating Swift's dance moves before a glimmering backdrop.
However, the true treasures at this twinkling tavern are the themed-cocktails. The menu features some holiday standards such mulled wine, eggnog and Champagne. On a charitable note, $1 from every peppermint shooter purchase will be donated to "Girls on the Run," a national non-profit organization, that designs curricular programming that "strengthens third- to eighth-grade girls' social, emotional, physical and behavioral skills to successfully navigate life experiences."
Swift devotees can also drink their way through her playlist with tipples named after some of her biggest hits. The "Fearless" is a smoky twist on an old-fashioned forged from Filibuster bourbon, bitters and oolong tea. The "Midnight Rain" espresso martini features Three Olives Vodka, Luxardo espresso and cold brew. You won't lose any sleep over "Champagne Problems," a riff on the French 75, and those who are stressed out from the holiday season can try a "You Need to Calm Down," a hot gluhwein comprised of red wine, Grand Marnier, Luxardo and amaretto mulled with aromatics.
Like Swift herself, the Bejeweled bar, promises to be immensely popular. In addition to cocktails, there's a small menu of party favorites. This destination opened on Nov 23 and will remain open until New Year's Eve. Groups have the option to reserve an Instagram-worthy private outdoor heated hut. Tis' the season to eat, drink and bejeweled.
Maxwell Park is located in Navy Yard at 1346 4th St. SE.