Have You Visited the Peabody Room?
By
December 29, 2022
One Comment
2033
•
---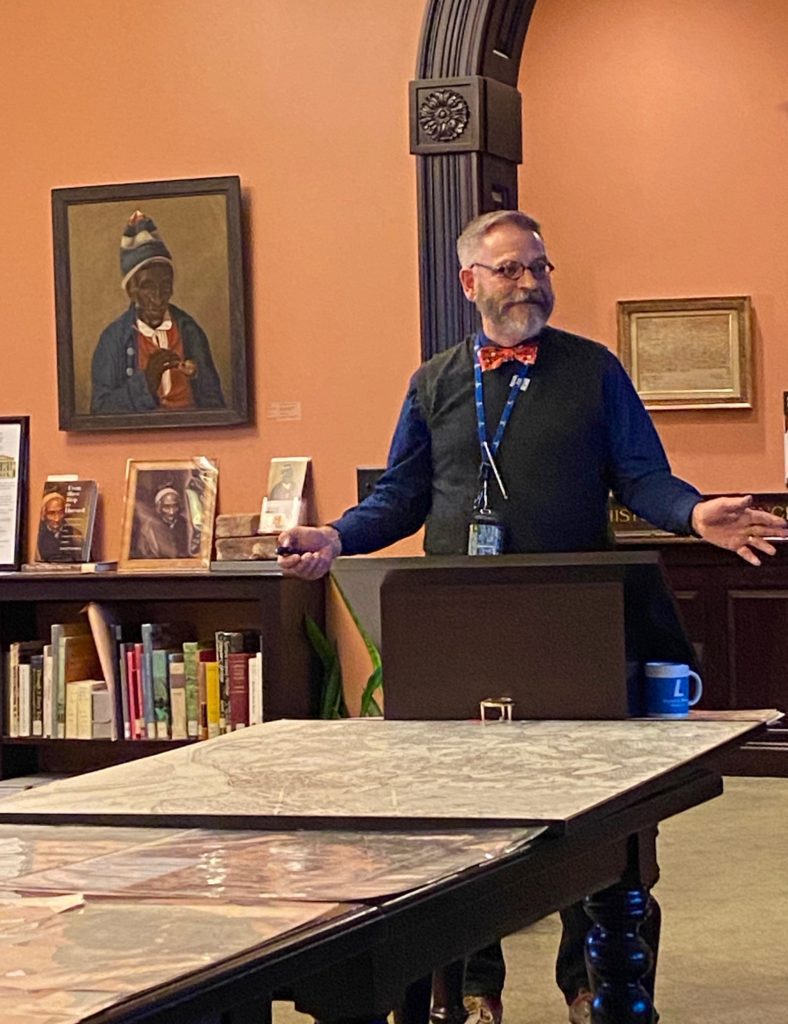 As the oldest neighborhood in the nation's capital, with early 17th-century colonial origins, Georgetown has a deep, complex and ever-emerging history. So, wouldn't it be wonderful to have a Museum of Georgetown?
Well, actually, the Peabody Room on the 3rd floor of the Georgetown Neighborhood Library at 3260 R Street NW – under the dedicated stewardship of Special Collections Librarian Jerry McCoy – serves brilliantly in that role.
As part of the People's Archive of the DC Public Library, the room offers a "special collection of Georgetown neighborhood history," according to the library's website. This prized assemblage features "photographs, maps, neighborhood microfilmed newspapers, paintings, engravings and artifacts," as well as in-depth subject files, property records, and so much more.
Thanks to McCoy's dogged and creative curatorial work in the Peabody Room over the past 22 years and his brilliance as an archivist and raconteur of Georgetown's unique history, a visit to this "Museum of Georgetown" is always a fresh and enlightening experience – a must-do for every Georgetowner.
The Georgetowner spoke with McCoy about the Peabody Room's fascinating artifacts on display, some of the rich stories behind their curation, and why Georgetowners should make a point of touring the room.
Upon entry, visitors can immediately tell it's anything but a musty old library collection. A fresh and thought-provoking menagerie of displays surrounding a lushly wood-paneled reading room with lengthy tables and natural lighting provides a haven for studious solace seekers.
Visitors immediately spy signed and framed photos from film legends Robert Redford and Gene Kelly, donated by the Biograph Theater.
But, it's not just a curio collection. A "visit to the library would give Georgetowners an incredible opportunity to learn more about the history of their [homes]."  McCoy said. While residents of Virginia and Maryland don't necessarily have access to their home's historic records, by law the District collects such information. McCoy likens home-owning to special collections stewardship. "I'm just here for a short time and then it all turns over to someone else and all that history builds up over the decades," he said. Georgetowners with homes built in the early-18th century are also acting as stewards to their historic residences.
It's perhaps no surprise that the biggest draw to the Peabody Room has been James Alexander Simpson's 1822 oil on canvas portrait of Yarrow Mamout, the most significant Muslim freedman (enslaved 1736-1796), businessman and financier in Georgetown's history. On loan to the Smithsonian American Art Museum from 2016-2019 and viewed by nearly a million visitors, the painting is on permanent display under McCoy's watchful eye. "The crown jewel" of the collection "is the Yarrow Mamout painting," he said. "Its importance is so far-ranging in terms of American history, and yes, Georgetown history."
One of McCoy's best stories, however, is how the painting was almost lost in the library's catastrophic fire of 2007. "I always had this premonition that this [fire] was going to happen," he said. "And, I'm not a premonition kind of guy. But, from the first year I started here, I had this premonition that the building was going to go up in flames. I had always assumed it was going to be an electrical short in the wiring. I've always been fearful of old wiring in old buildings. So, I'd actually gone out to purchase one of those aluminum chain ladders you can put in the window sill to get out a window if the building's on fire. The old Peabody Room only had one entrance and exit… So, I thought the only way I was going to be able to save my own life would be to jump out a window…"
So, McCoy always wondered what items in the collection he would rescue in case of a fire. He imagined two treasures he would somehow maneuver down the chain ladder with him. "I always knew it would be the portrait of Yarrow," he said. "And, the other item would be this bound newspaper volume we have of the Maryland Gazette from 1776. That was a weekly newspaper. And, in the July 11, 1776 issue – which was only 4 pages – buried on page 2 was basically this press release out of Philadelphia of the Declaration of Independence… So, those were the two things in my fantasy I was going to grab… You know, put Yarrow under one arm and the bound volume of the Maryland Gazette under the other and somehow Spiderman [myself] down this ladder without flipping and falling and killing myself!"
On April 30, 2007, McCoy's premonition was tragically realized. A contractor using a heat gun to remove old paint from window moldings "caught the wood on fire on one of the window frames," he recalled. Though the employees "tried to put out the fire themselves," they hesitated to call 911, so ended up "failing miserably.'
Fortunately, for McCoy's safety, he wasn't in the Peabody Room at the time but "three miles away down at the Martin Luther King Library" when he received a phone call about the fire. Without McCoy to Spiderman the Yarrow to safety, the treasured painting required $6000 in restoration costs. But, miraculously, the 1776 Maryland Gazette "didn't get a drop of water on it," McCoy said. "It was actually sitting on an open shelf… in a box. And the shelf was up against the wall… and the water just blasted right past it."
Today, McCoy keeps the Maryland Gazette locked up in a safe in the back office and he's happy to see "Yarrow, as fresh-looking as he is now" hanging on the wall.
While the 2007 fire was a major tragedy, it was also a learning opportunity for McCoy, ever-on-the-lookout for collections and educational materials. A video of the fire captured onlookers gasping at the shocking sight of the library's cupula collapsing into the rush of flames. After the conflagration, McCoy was sure to be on the lookout for the Lamp of Learning Weather Vane atop the structure, to be found somewhere in the smoldered ruins.
On display, McCoy has put various artifacts from the fire with explanatory texts. Findings such as some of the building's architectural dentils that didn't burn that day and other odds and ends can be viewed by visitors. "I had a big garbage bag and it was like, 'well, I'm going to put this in here and keep that one, and that one's going in a display case, and these two little ones over here are going to be saved," he remembers. Today, McCoy's great joy is watching children's eyes light up with curiosity about the fire. Phoenix-like, the Lamp of Learning Weather Vane also adorns one of the Peabody Room's walls.
A stained-glass church window is perched in the dormer window frame to capture incoming light to the Peabody Room. But the window offers up another marvelous curating story from McCoy. His neighbor had originally put the antique window out with the trash. When McCoy spotted it walking by, however, he knew he had a possible treasure. "It was just serendipity I picked up that window," he said. Careful photographic research revealed that the window had come from a "Georgetown church that had been demolished" to become a gas station. When the window fit perfectly into the space, McCoy knew "it was just meant to be: that I found that window in my neighbor's trash heap and that I work where I work." It's a delight to see McCoy's window display today.
Another serendipitous treasure credited to McCoy: a significant piece of historic Georgetown street architecture. Mounted in the corner of the Peabody Room on a stand of his own devising – a 1751 Georgetown street sign, installed in 1951 to commemorate the 250th anniversary of Georgetown's founding.
"Somebody had posted a photo" of the abandoned and discarded old sign on Facebook. From the picture, McCoy could immediately tell where the sign was propped up, on the Park Service sign along Rock Creek Park near Pennsylvania Ave. "And I just thought, after about 45 minutes, it's still got to be there and I've got to rescue it." Though it was difficult for McCoy and a friend to drag the sign into the car and get it to the library's third-floor, he couldn't let the opportunity go to waste. "It just would have pained me if we had not rescued it and it would have disappeared forever," he said.
Of course, a "Museum of Georgetown" would not be complete without a display of memorabilia of John F. Kennedy and the Kennedy's days in Georgetown. Near other artifacts from the Camelot years a JFK-signed copy of "The Historic Homes of J.F.K". by Paul Kelsey Williams.
Historic newspapers and broadsides are also open for perusal with dramatic, insightful, and noteworthy entries matching the calendar. McCoy posts some of them on the Peabody Room's website which he manages. Here's one marking the birthday of Georgetown's most famous 19th century novelists:
Dec. 26, 2021
Today is the 202nd birthday of Georgetown author E. D. E. N. (Emma Dorothy Eliza Nevitte) Southworth (1819-1899). She was the most popular American novelist of her day, writing more than 60 novels in the latter part of the 19th century. Mrs. Southworth is buried at Georgetown's Oak Hill Cemetery… 
And, here's an amusing one from The Georgetown Courier of March 30, 1872:
If the Guardians of the Public Nose will take a walk up Fayette street [35th Street], they will observe (unless they wear rose-colored spectacles) on the east side of that highway, lying in the gutter, the mortal remains of a discouraged hen. Why are the rites of sepulture denied? Continuing their walk they will observe the melancholy wreck of a felis domestic, otherwise pussy cat. The odors from both of their remains, notwithstanding the cool weather, is overpowering. "Take them up tenderly, for they are very tender, and bury them with care."
For McCoy, it's not just about collecting treasures and putting them on display. It's about sparking in others the joy he feels learning about history. "I'd like to think that maybe in that brief time" of a person's visit to the Peabody Room, "maybe somehow I've flipped some kind of switch in their brain that will send them on this lifelong journey of wanting to discover more about the past, be it their personal family history or the history of the community they're living in."