2023 Spring Performing Arts Preview
By
February 8, 2023
0
1374
•
---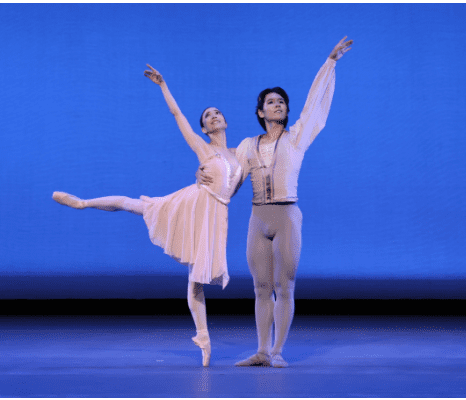 OPERA  
The Kennedy Center Opera House curtain will rise next month on Jeanine Tesori and Tazewell Thompson's "Blue," about a police officer — a "Black man in blue" — whose activist son is killed by a white officer. Directed by Thompson and conducted by Joseph Young and Jonathan Taylor Rush, the Washington National Opera production features Kenneth Kellogg as the Father, Briana Hunter as the Mother, Aaron Crouch as the Son and Reginald Smith Jr. as the Reverend (March 11 to 25).  
Verdi fans know Babylonian King Nebuchadnezzar II as Nabucco, to be sung by Lester Lynch in Washington Concert Opera's spring performance in George Washington University's Lisner Auditorium, with Antony Walker conducting. Also in WCO's "Nabucco" cast: Alexandra Loutsion as Abigaille, Peter Volpe as Zaccaria and Andres Acosta as Ismaele (March 4).   
CHORAL 
This Saturday at Mount Vernon Place Methodist Church is the final performance of "The Ordering of Moses," a spiritual-infused oratorio from the 1930s by Nathaniel Dett, staged for the first time by In Series and Heritage Signature Chorale, with Stanley Thurston conducting (Feb. 11).   
Washington Master Chorale's "Poetry Into Song" program at the National Presbyterian Church will feature a David Conte world premiere (March 5). At Washington National Cathedral, the Cathedral Choral Society's upcoming concerts will center on William Byrd (March 5), Rachmaninoff (March 19), Duruflé and Poulenc (April 2) and Monteverdi (April 30). The Washington Bach Consort will present Handel's Messiah (March 19) and Bach's Mass in B Minor (April 30) at Strathmore; the Washington Chorus will pay tribute to Martin Luther King Jr. in the Kennedy Center Concert Hall (April 4); and, late this spring, the Choral Arts Society will perform Eric Whitacre's "The Sacred Veil" at 10th & G (May 6).  
CLASSICAL  
What's the collective noun for conductors? The National Symphony Orchestra needs to know, thanks to upcoming appearances by Sir Mark Elder (Feb. 16 to 19), Christoph Eschenbach (Feb. 23 to 25), Dalia Stasevska (March 2 to 4), Stanislav Kochanovsky, with pianist Stephen Hough playing Rachmaninoff (March 23 to 25) and Kevin John Edusei, with violinist Midori playing Korngold (March 31 and April 1). When the cherry blossoms drop, NSO Music Director Gianandrea Noseda will return to the Kennedy Center Concert Hall with pianist Daniil Trifonov, who will play Prokofiev and Scriabin (April 13 to 15).   
More orchestras in the Concert Hall, presented by Washington Performing Arts: Orchestre Symphonique de Montréal, with pianist Yefim Bronfman playing Bartók (March 6); and the Taiwan Philharmonic, with violinist Paul Huang playing Bruch (April 19).   
In the Eisenhower Theater, the National Arab Orchestra will open a weekend titled "Taking Back Our Narrative" (Feb. 17).  
The Baltimore Symphony Orchestra has a muchness of Mahler planned for Strathmore: Mahler's First Symphony, conducted by Music Director Laureate Marin Alsop (Feb. 18); his Fifth Symphony, conducted by Fabian Gabel (March 10); and "Mahler and Klezmer" (March 12). Also at Strathmore, the National Philharmonic will present a Chopin recital by Brian Ganz (Feb. 25) and Beethoven's Seventh Symphony (April 15).  
Pianists brought to you by Washington Performing Arts: Charles Richard-Hamelin (April 2) and Yefim Bronfman (April 4) in the Kennedy Center Terrace Theater and Emanuel Ax at Strathmore (April 16).   
Singers: Leah Hawkins in the Terrace Theater (Feb. 12); Emily Pogorelc with pianist Chris Reynolds, presented by Vocal Arts DC in the Terrace Theater (Feb. 19); Denyce Graves and Justin Austin with pianist Laura Ward performing Damien Geter's song cycle "Cotton," presented by Washington Performing Arts in the Terrace Theater (Feb. 28); Elizaveta Ulakhovic and Fanyong Du with pianist Vera Danchenko-Stern in a Rachmaninoff 150 tribute, presented by the Russian Chamber Art Society at the Embassy of France (April 4).    
In addition to the Phillips Collection's Sunday and Thursday concerts, two performances by pianist Conrad Tao and cellist Jay Campbell of a Rachmaninoff sonata and a commissioned work by Catherine Lamb — with Tao on midi-keyboard — will take place on a Saturday (April 8).  
More chamber music: Fortas Chamber Music Concerts in the Terrace Theater will feature the Calidore String Quartet (Feb. 15) and the Boston-based chamber orchestra A Far Cry (March 5). At St. Mark's Church, the Folger Consort will present "Shakespeare in Step and Song" (Feb. 17 to 19). Back in the Terrace Theater, Washington Performing Arts will welcome the Danish String Quartet (April 21).  
Next up for Angel Gil-Ordóñez's PostClassical Ensemble in the Terrace Theater: "Entwined: A Double Feature," marking the centennial of Manuel de Falla's chamber opera "El retablo de maese Pedro (Master Peter's Puppet Show)," to be performed with animation by Kevork Mourad. The other half: a new work by playwright Derek Goldman about the friendship between Falla and poet Federico García Lorca (April 19).  
Here in Georgetown: St. John's Episcopal Church will host the British a cappella group Voces8 (Feb. 12). Coming to Dumbarton Oaks: cellist Seth Parker Woods and pianist Andrew Rosenblum (Feb. 12 and 13); Baroque ensemble On the Breath of Angels (March 12 and 13); and harpist Lavinia Meijer and violist Nadia Sirota (April 2 and 3). In the concert series at Dumbarton United Methodist Church: the Lewis-Martins Duo of cello and violin (March 4); the Balourdet String Quartet with flutist Adam Sadberry (March 25); and — tango, anyone? — the Lysander Piano Trio with bandoneonist JP Jofre (April 29).  
POP, HIP HOP, JAZZ, WORLD AND ROCK   
For that hearts-and-flowers holiday: Washington Performing Arts will present Jessica Vosk with pianist Michael Mitchell in "A Broadway Valentine" at Sixth & I (Feb. 14).   See our recent interview with Vosk here. 
The Gay Men's Chorus of Washington, DC, will celebrate Whitney Houston at the Lincoln Theatre (March 11 and 12).  
Hip hop at the Ken Cen? Check it out: Igmar Thomas' Revive Big Band (Feb. 24); Black Girls Rock BGR!FEST Opening Night Party (March 9); Hip Hop Showcase (March 25); and MC Lyte and Warryn Campbell present "My Block" (April 9).  
The Capital City Blues Festival will take place at Constitution Hall (Feb. 24). Washington Performing Arts will present the Jazz at Lincoln Center Orchestra with Wynton Marsalis in the Kennedy Center Concert Hall (Feb. 26); the Monterey Jazz Festival On Tour at Strathmore, which is co-presenting (April 20); and, also at Strathmore, Béla Fleck, Edgar Meyer and Zakir Hussain with Rakesh Chaurasia (April 23).  
More Strathmore events: Afro-Cuban All Stars (Feb. 24), Goran Bregović (March 9), The Manhattan Transfer (March 24), and the "collaborative soundscapes of meditation and yearning" of Arooj Aftab, Vijay Iyer and Shahzad Ismaily (April 14).  
Notables in The Club at Studio K (as in Kennedy Center): alto saxophonist Logan Richardson (Feb. 10) and Brazilian bandolinist Hamilton de Holanda and South African pianist Nduduzo Makhathini (Feb. 23).  
Highlights at Georgetown's own Blues Alley: Kim Waters (Feb. 23 to 26), the Billy Harper Quintet (March 9), Kenny Garrett (March 16 to 19), Stanley Jordan (April 12 to 16), Jane Monheit (April 20 to 23) and Jon Faddis (April 29 and 30).  
The Birchmere sadly lost its founder, Gary Oelze, last month. A few reasons to visit the legendary Alexandria venue: Keb' Mo' (Feb. 20 and 21); Lyle Lovett (March 8 and 9); The Smithereens with Marshall Crenshaw (March 17); Stanley Clarke N 4Ever (March 29); The Wailin' Jennys (April 16 and 17); Graham Nash (April 18 and 19); and Average White Band (April 21 and 22). 
Something for everyone at the Barns at Wolf Trap in Vienna: Loudon Wainwright III (March 12), Ladysmith Black Mambazo (March 21 and 22) and Marty Stuart (April 6 and 7). 
At the Warner Theatre: Tedeschi Trucks Band, co-presented with the Birchmere (Feb. 16 to 18 and March 2 to 4); Shawn Colvin, Marc Cohn and Sarah Jarosz (Feb. 19); Elvis Costello (March 9); and Regina Spektor (March 15). At the Anthem at the Wharf: Maggie Rogers's Feral Joy Tour (Feb. 13 and 14); Bush and Candlebox (Feb. 15); and Betty Who (March 10).  
Big acts at Capital One Arena: Carrie Underwood's Denim & Rhinestones Tour (Feb. 15); SZA's SOS Tour (Feb. 27); Journey's Freedom Tour (March 1); My '00s Playlist Tour with Ashanti, Ja Rule and others (March 25); and, yes, the Boss, Bruce Springsteen & The E Street Band (March 27).  
THEATER  
The amount of live theater in D.C. is shear madness. So take some in! And speaking of "Shear Madness," it's still sharp as ever in the Kennedy Center Theater Lab (through June 11).  
Two women who shaped the 20th century will take centerstage this spring. At Theater J, Holly Twyford will direct Emily Mann's "Gloria: A Life," about second-wave feminist Gloria Steinem (March 8 to April 2). Less familiar is rock-and-roll pioneer Sister Rosetta Tharpe, the subject of Cheryl L. West's "Shout Sister Shout!" at Ford's Theatre, directed by Kenneth Roberson and starring Carrie Compere (March 15 to May 13).     
Ending soon at Arena Stage: "Ride the Cyclone," the cult musical by Jacob Richmond and Brooke Maxwell, directed by Sarah Rasmussen, about teen choir members who find themselves in limbo after a roller-coaster accident (through March 5).   
Olney Theatre Center is presenting "Kinky Boots," starring Solomon Parker III as Lola (through March 1). Upcoming musicals at the National Theatre: "New Jack City" (Feb. 16 to 18), "Jagged Little Pill" (March 14 to 26), "My Fair Lady" (April 6 to 9) and "Disney's Aladdin" (April 19 to 30).  
Sondheim acolytes can flock to "Into the Woods," directed by Lear deBessonet, in the Kennedy Center Opera House (Feb. 13 to March 19) and "Pacific Overtures" at Signature Theatre (March 7 to April 9). Signature will follow that with "Passing Strange," directed by Raymond O. Caldwell, a show incorporating punk, blues, gospel and jazz by Stew (Mark Lemar Stewart) and Heidi Rodewald (April 25 to June 18).  
"The Lifespan of a Fact," by Jeremy Kareken, David Murrell and Gordon Farrell, directed by Susan Marie Rhea, about a magazine fact-checker, is now at the Keegan Theatre (through Feb. 25). Then comes "Push the Button," a world-premiere hip-hop musical by Drew Anderson and Dwayne Lawson-Brown (March 25 to April 7).  
Not a musical, exactly, but a "song-play," with music by John Adams and texts by June Jordan, is "I Was Looking at the Ceiling and Then I Saw the Sky," a poetic take on the Northridge, California, earthquake. D.C. performances of In Series' new production will take place at the Atlas Performing Arts Center (April 22, 23, 29 and 30).  
In Idris Goodwin's "Bars and Measures," Mosaic Theater Company's next show at the Atlas, directed by Reginald L. Douglas, a classical pianist and a jazz musician communicate across prison bars (Feb. 2 to 26). Later in Mosaic's season: Mona Mansour's "Unseen," directed by Johanna Gruenhut, about an American conflict photographer who wakes up in her ex-girlfriend's Istanbul apartment (March 30 to April 23).  
More international fare: Sanaz Toossi's "English," directed by Knud Adams at Studio Theatre, takes place in an English class in Iran in 2009 (through Feb. 26). Back at Signature in Arlington, Shadi Ghaheri directs "Selling Kabul" by Sylvia Khoury, set in Afghanistan in 2013 as the Taliban close in (Feb. 21 to April 2).   
Favorite American playwrights: Candis C. Jones will direct Lynn Nottage's "Clyde's," at Studio, about a truck stop where the woman owner hires former convicts (March 1 to April 9). Arena will present "Angels in America, Part One: Millennium Approaches," the first part of Tony Kushner's AIDS epic, directed by János Szász (March 24 to April 23). And Marsha Norman's mother-daughter drama "'night, Mother," adapted as a 1986 film with Anne Bancroft and Sissy Spacek, is coming to Anacostia Playhouse (April 19 to May 14).   
Opening this month at Arena is "The High Ground" by Nathan Alan Davis, directed by Megan Sandberg-Zakian, a love story on the site, more than 100 years later, of the Tulsa Race Massacre (Feb. 10 to April 2).  
In Spanish with English surtitles, GALA Hispanic Theatre is presenting "Jardín Salvaje (Native Gardens)" by Karen Zacharias, directed by Rebecca Aparicio, about a garden dispute in a D.C. neighborhood (through Feb. 26).   
Did we forget anybody? Oh, yes, the Bard of Avon. Vying with "Hamlet" for the single greatest play in English, "King Lear" will thunder into the Shakespeare Theatre Company's Klein Theatre, directed by Artistic Director Simon Godwin and starring Patrick Page (Feb. 23 to April 2). Another of Will's best, "Macbeth," will be presented at George Washington University's Corcoran School in an hour-long condensed version devised by the STC Academy Class and directed by Emma Jaster & Marcus Kyd (March 10 and 11).  
STC and Woolly Mammoth Theatre Company will bring the migrant-camp drama "The Jungle" by Joe Robertson and Joe Murphy, directed by Stephen Daldry and Justin Martin, to Harman Hall (March 28 to April 16). Woolly Mammoth is currently presenting the Royal Court Theatre production of Jasmine Lee-Jones's "Seven Methods of Killing Kylie Jenner," directed by Milli Bhatia (through March 3). Expect "profanity, racial slurs, graphic and descriptive mentions of murder, mentions of sexual acts, mentions of non-consensual sexual dancing, homophobia, racism, colonialism and the use of marijuana." After that: Aya Ogawa's "The Nosebleed," an autobiographical look at the generational divide (March 31 to April 23).  
As part of its National Capital New Play Festival, Bethesda's Round House Theatre will present Mary Kathryn Nagle's "On the Far End," a Native American activist's story, directed by Margot Bordelon (March 28 to May 7), and Morgan Gould's "Jennifer, Who Is Leaving," set in a Dunkin' Donuts (March 30 to May 7).    
More new plays: Graziella Jackson's "The Wilting Point," addressing climate change, will have its world premiere at the Keegan (April 13 to 30). Anacostia Playhouse is hosting a New Voices New Works Play Festival of 10-minute plays (April 24 and May 1 and 8). And Scena Theatre will present "Strong Wind" the latest from Norwegian playwright Jon Fosse, directed by Robert McNamara (dates to be announced).  
DANCE  
The Atlas Intersections Festival is returning with music, theater, spoken word, comedy and, most of all, dance (Feb. 18 to March 26, plus April 22). A few of the companies to appear: Glade Dance Collective, Silk Road Dance Company, Jane Franklin Dance, Elements Dance Company, Black Leaves Dance Company, Word Dance Theater, Gridlock Dance, Furia Flamenca Dance and Prakriti Dance. The Atlas will also host the one-day Versatility Dance Festival, featuring, among others, the Dana Tai Soon Burgess Dance Company (April 15).  
The Kennedy Center Opera House will welcome Alvin Ailey American Dance Theater (Feb. 7 to 12) and American Ballet Theatre, performing Kenneth MacMillan's "Romeo and Juliet" (Feb. 15 to 19).   
"Balanchine!" — exclaims The Washington Ballet, celebrating the George who fathered American ballet with performances in the Kennedy Center Eisenhower Theater (Feb. 22 to 26). Later this spring, TWB will cross the Potomac to present "Aurora's Wedding," a family-friendly gathering of beloved characters, along with Balanchine's "Theme & Variations," at Capital One Hall in Tysons (April 7 to 9).   
FILM 
Two green film festivals will unspool in March. Solas Nua's 17th Capital Irish Film Festival will screen 15 feature films and various shorts at the AFI Silver Theatre in Silver Spring (March 2 to 5). Later that month, the 31st DC Environmental Film Festival will present dozens of in-person screenings and discussions at venues including Smithsonian museums and the National Gallery of Art (March 16 to 26).