Celebrate Día de los Muertos in D.C.
By
October 26, 2023
0
427
•
---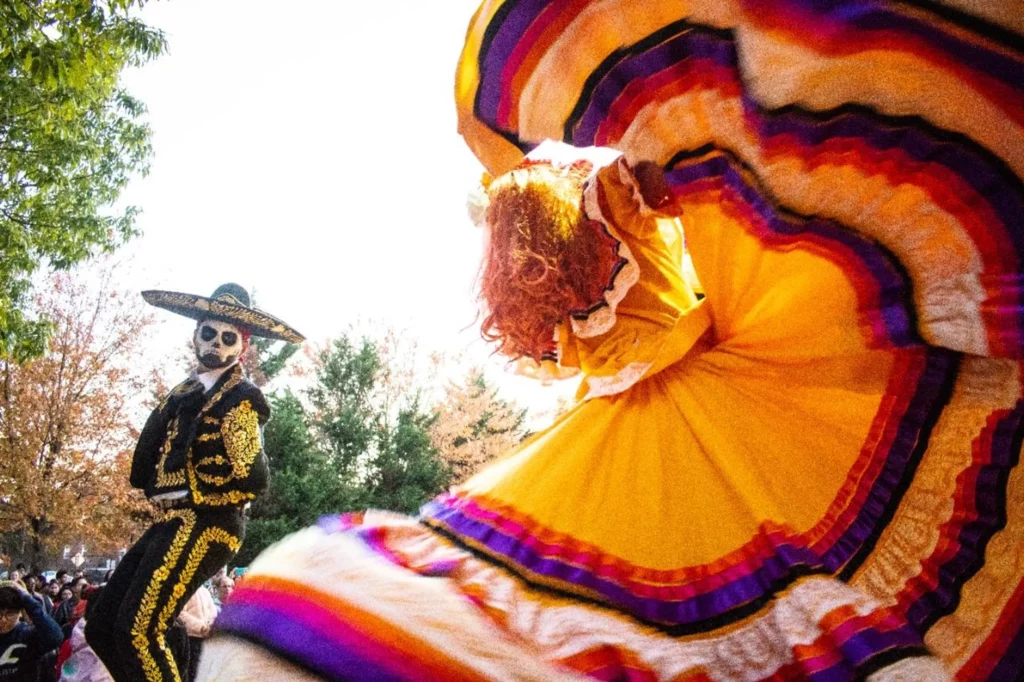 Sugar skulls, Ofrendas, and Marigolds are just a few cultural trademarks of the celebration of Día de los Muertos or "Day of the Dead." Día de los Muertos is a Mexican holiday that celebrates the life and spirit of lost loved ones and ancestors. Families and friends come together to enjoy traditional Mexican dishes, dance performances, art, and music. The holiday is celebrated November 1-2 and in the District, there are many opportunities to join in the festivities! 
Día de los Muertos Celebration, National Museum of the American Indian
Saturday, Oct. 28, 10 a.m.-5 p.m. 
Bring the kids downtown to celebrate with various cultural crafts and enjoy live music and dance performances. Activities include 'Make a Paper Marigold;' whose petals hold special meaning in Mexican households. On Día de los Muertos, Marigold petals are scattered to line a path from the front door to the Ofrenda, or "offering" that the family has prepared for their deceased loved ones inside the home. Ofrendas typically consist of photos, food, beverages, flowers, and candles among other symbols of life on earth. 
There will also be traditional dance performances including Danza de los Tecuanes (Dance of the Jaguar) and The Danza de los Viejitos (Dance of the Old Men) at 12 p.m., 2 p.m., and 3:30 p.m. 
Día de los Muertos Family Day, Smithsonian American Art Museum
Saturday Oct, 28, 11:30 a.m.-3:00 p.m. 
Join in the fun with the entire family at the Smithsonian American Art Museum. The kids can partake in arts and crafts, face-painting, and a scavenger hunt while enjoying talented performances from a variety of local artists. There will be a Mexican folk dance by Ballet Folklorico Mi Herencia Mexicana, mariachi by Mariachi Aguila DC, and various Latin American musical performances by Sol y Rumba.  
Día de los Muertos – an Evening Picnic!, Museum of Contemporary Art Arlington
Wednesday November 1, 5-8 p.m. 
Journey across the Potomac to attend the Día de los Muertos Evening Picnic. There will be live music by Grupo Fénix as well as various dance performances. La Tingeria and other food trucks will be present, providing tacos and other signature dishes. Local artist David Amoroso will be creating a community altar where photos of passed loved ones can be displayed and honored.  
Día de los Muertos Festival, National Portrait Gallery
Thursday Nov. 2, 5-8:30 p.m. 
The annual Día de los Muertos Festival put on by the National Portrait Gallery features a variety of arts and crafts and dance performances. Additionally, there will be a live video art presentation of "La Común Unidad: Caminando con los Ancestros," by Mas Paz and Guache. Within the Gallery, there are many exhibits featuring Hispanic artists and portraits with labels and descriptions in both English and Spanish. In the Kogod Courtyard, a community altar will stand so loved ones can be honored from 5-8 p.m. 
There are many events to bring the community together for the annual celebration of Día de los Muertos. All are family-friendly and free to enjoy. Visit event websites for more information.