Chef of the Month: Jeff Gaetjen of BlackSalt
By
July 26, 2017
0
1358
•
---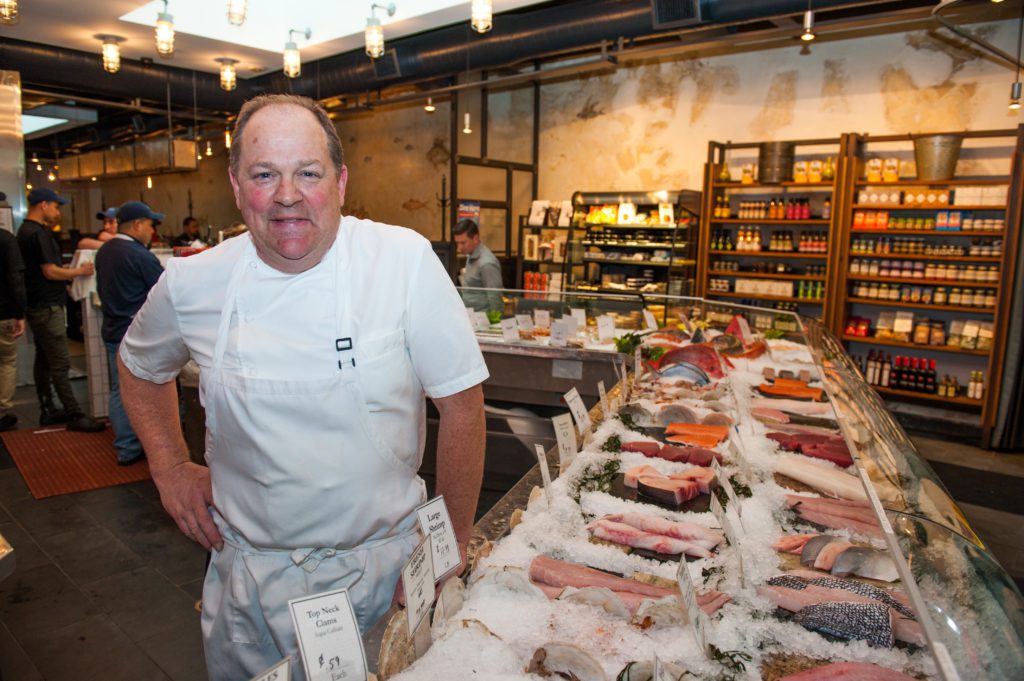 Each month, Evan Caplan speaks with a chef of a Georgetown-area eatery. In July, he
chatted with Jeff Gaetjen, fishmonger and chef at BlackSalt Fish Market & Restaurant
on MacArthur Boulevard. Jeff Gaetjen started his career as a dishwasher at a steakhouse in Fairfax, Virginia. After graduating from the Culinary Institute of America, he took some time to play rugby in France while honing his culinary skills. Returning to D.C., Gaetjen became executive chef of Kinkead's in 1995, channeled his sports chops as the "Taste of the NFL" chef for a decade, then landed at Black Salt in 2015. He was recently named a James Beard Rising Star.
Tell us a bit about yourself.
Jeff Gaetjen: I worked as a dishwasher when I was 15. I cut my teeth working in
restaurant and catering kitchens. The very first week on the job, we did a party for Prince
Charles and Lady Diana. I still remember — we served them venison with a red wine
sauce. I went to the Culinary Institute of America in Hyde Park, New York, graduating
in 1988. I bounced around, working in New York and then France for a small hotel.
When I came back to D.C., I worked for Bob Kinkead for 20 years, opening Kinkead's and
Colvin Run Tavern in Tysons Corner.
Dig deeper into that background. What's influenced you from your youth?
JG: I believe a lot of what we love when it comes to food is from how we grew up —
your grandmother's cooking or, in my case, my father's cooking. I was a teen living in
Alexandria, Virginia, in the early '80s, and we often went to Maine Avenue for crabs.
Back then, they were only $25 per bushel for no. 1 male hard-shell crabs. Now it's close to
$200! I have always loved the native blue crab of our mid-Atlantic region, and produce like
Silver Queen corn, Eastern Shore melons and strawberries.
What's the best part of your job?
JG: My current role as fishmonger has given me the access to seafood from all over the world. It is a dream job. I learn more and more about seafood every day — sustainability, market trends, seasonal availability, pricing and costing.
What's your favorite dish?
JG: My favorite dish to cook is roast duck, either Peking style or French style, in which
you confit the leg and sear the breast. I like to use the liver to make a sauce. I also have the freedom to bake breads. It's a passion of mine. I enjoy making French country sourdough, pumpernickel, croissants and Danish.
What's your most interesting experience at a restaurant?
JG: About 20 years ago, I was working a brunch service alone, cooking and expediting.
Both sous chefs were no-shows and I had to butcher all the fish and meat for the whole
day.
What does it mean to you to cook in the Georgetown area?
JS: Georgetown is steeped in history that is centuries old. Some of the best chefs have
cooked in this part of the city, so it's an honor to be a part of that legacy. Georgetown is
great because you might be cooking for a student or a congressman — you never know!
What should people try at your restaurant? What makes it unique?
JS: Our fish market makes us unique. We source the best fish from all over the world
with a focus on sustainability. With our resources, we acquire the most sought-after
products. Our menu changes almost weekly, but we always have the best oysters, ranging
in size and salinity, and also fine caviar.
What's the most interesting dish you've served?
JS: Lionfish. It is an invasive species, so serving it is actually also doing a service to
the environment. The flesh is white, sweet and delicious. Many customers are surprised
about how great it is.